Take the Best Colorado CDL Practice Test To Get Your CDL With Ease
If you need to operate one of the following types of vehicles, you'll need a commercial driver's license (CDL):
Commercial motor vehicles with a gross vehicle weight rating (GVWR) of 26,001 pounds or heavier

Commercial vehicles transporting 16 or more passengers, including the driver

Vehicles transporting hazardous material
The quickest route to successfully pass the CDL test is by taking practice tests. Find out why DoNotPay's CDL practice tests are the most reliable and get insight into the process of obtaining a CDL.
The
Colorado CDL Test
Explained
The CDL test is a stepping stone to becoming a commercial vehicle driver. It is based on the Colorado Commercial Driver License Manual.
The test has a few variations depending on the job, i.e., which class license you need, but what they all have in common is the written general knowledge test. Another part of the test all CDL applicants must pass is the skills test for the type of vehicle they intend to operate.
Here's a breakdown of the Colorado CDL test:
CDL Test
Class
Written Test
Skills Test
A

—Combination vehicles with a gross combination weight rating (GCWR) of 26,001 pounds or more if the GVWR of the vehicles that are towed weigh more than 10,000 pounds

General knowledge

Combination

Air brakes (required for a vehicle with air brakes)

Vehicle inspection

Basic control skills

Road test

B

—Straight trucks and any vehicles with a GVWR of 26,001 pounds or more or any vehicle towing a vehicle that does not have a GVWR weighing over 10,000 pounds

General knowledge

Air brakes (required for a vehicle with air brakes)

C—Single vehicles less than 26,001 GVWR or any single vehicle or combination of vehicles that are not Class A or B but that transports 16 or more passengers (including the driver) or is used for transporting hazardous materials

General knowledge

Passenger (required if carrying 16 passengers or more)

HazMat test

(required if transporting hazardous materials)
Ace the
CDL Test
in
Colorado
With DoNotPay's Practice Tests
Getting a CDL involves a lengthy and complicated application and testing process. The last thing you want to worry about is whether you're prepared or not. With DoNotPay's help, you'll get the confidence you need to ace the CDL test.
All you have to do is open our app in a and follow these instructions:
Type out

CDL Test

in the search bar

Decide on the practice test length

Take the practice test
You'll get cracking in no time. Buckling down with our CDL practice tests comes with even more benefits:
Answering questions one by one

Taking practice tests on any device

Retaking the same test multiple times

Tweaking the test length—10, 20, or 30 questions

Retrying a question immediately or upon the completion of the entire test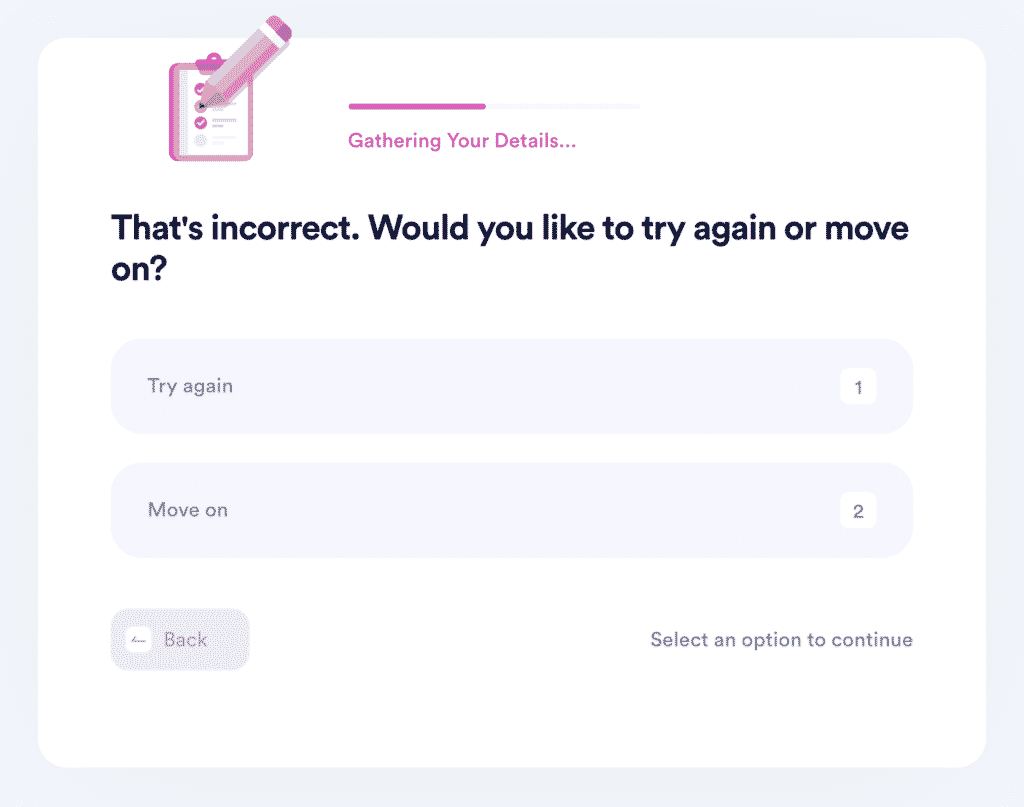 Conquer More Government Tests With DoNotPay's Help
Passing a CDL test and being a CDL driver doesn't mean you need to hold that position forever. You can learn, train, and get a license for different exciting jobs. Count on DoNotPay's assistance if you want to achieve the best results on the following tests:
When you're not familiar with a test, DoNotPay swoops in with all the necessary info, such as a rundown on the ASVAB test scores.
In case the testing process is too complicated, we'll be your guide. Whether you need to compose book a driving test appointment or pass the written driving test, DoNotPay is here to help. Access our app from a , and we've got it covered!
How To Get a CDL in Colorado
Obtaining a commercial driver's license is no easy feat. The paperwork you need to provide alone is extensive, and the steps you need to take in the application process are not less complicated. It can be overwhelming, but luckily, you don't have to do it on your own—DoNotPay will be your assistant!
Check how the CDL process goes in the table below:
Steps
Description

Make sure you're eligible to have a CDL

Be at least 18 years old

Have a valid non-commercial driver's license from Colorado or another state or a commercial learner's permit (CLP)

Have a medical examination for your DOT medical card

Visit a DMV in Colorado

Bring the following documents:

Driver's license or CLP

Proof of current physical Colorado address

documents

Social Security number

DOT medical card

Take a CDL skills test

Get a CDL

Go back to the DMV

Bring a skills test completion form

Purchase your commercial driver's license
Admin Issues Giving You a Headache? Resolve Them With DoNotPay!
Scheduling a DMV appointment, applying for clinical trials, requesting refunds from companies, and getting in touch with your loved ones in prison are all difficult and time-consuming tasks. You have to take many steps before you can get any of these over with, and that's why our robot lawyer app is here to help.
No matter if you need assistance with appealing parking tickets, signing up for free trials, canceling various subscription services, or maybe preparing for government tests, DoNotPay will provide you with easy solutions.
Having Financial Struggles? Rely on the World's First Robot Lawyer
Many Americans struggle to make their ends meet at the end of each month. With that in mind, we've created plenty of features that will save you both time and money in the most efficient way.
Using our AI-driven app, you can get help with bills, get refunds from airlines, find unclaimed money in any state, or earn off annoying robocalls or stalkers and harassers. If you want to fight for your right, DoNotPay will also assist you in suing any person or company in small claims court.
No matter the admin task at hand, our robot lawyer will provide swift and effective assistance.