Pass Your Indiana CDL Test With No Sweat
If you are thinking of getting a commercial driver's license (CDL) in Indiana, you might be wondering where to start, what documentation to collect, how much money to prepare, or where to study from.
DoNotPay can help you! We provide information on various government tests and offer practice tests for real exams in different states, including Indiana.
What Is the Indiana CDL Test?
If you would like to operate a commercial motor vehicle (CMV) in Indiana, you need to pass the CDL exam. The exam consists of the written test(s) and the skills exam in a CMV you intend to operate.
All the material you need to cover is available in the Indiana CDL manual, which is the basis for your CDL exam.
Indiana CDL holders can operate:
CMVs or combinations of vehicles with declared gross vehicle weight ratings over 26,000 lb

Vehicles designed to transport at least 16 people, including the driver

Vehicles used to transport hazardous materials (with a

HAZMAT

endorsement to the CDL)
Requirements for Getting the Indiana CDL
To meet the minimum requirements for obtaining an Indiana CDL, you need to be:
18 years old to drive a CMV within Indiana

21 years of age to operate CMVs across Indiana state lines and transport passengers or hazardous materials
You also need to have a valid Indiana driver's license for at least one year, as well as the following:
Proof of U.S. citizenship or lawful permanent residency

Two documents proving your Indiana residency

Passing written exam score

Passing skills test score
Another requirement is to file a request with the Indiana State Police to verify you have not been involved in any crashes during your application review.
You can have only one driver's license with valid driving privileges in Indiana or any other state to obtain a CDL.
What To Do Before the Indiana CDL Test
Before you can obtain your CDL, you need to get a commercial learner's permit (CLP). Here is what you should do:
Submit proof of:

U.S. citizenship or permanent residence

Indiana residence

Provide medical documentation

Pass a vision test proving you have at least 20/40 vision in each eye

Pay the CLP fee

Pass the written knowledge test
You need to possess a CLP for a minimum of 14 days before you can take the CDL skills test.
You can take the skills exam at an examination site authorized by the BMV. The exam includes a pre-trip inspection, basic control skills, and the road trip exam. The examination site will send your results to the BMV electronically.
If you are or were part of military personnel with truck-driving experience within one year of applying for an Indiana CDL, you can get the skills test waived by filling out the waiver form. For more information, visit this BMV's page.
How To Submit the MER and MEC
The MER and MEC need to be completed by a medical examiner certified by the FMCSA National Registry of Certified Medical Examiners. To submit your completed MER and MEC, use one of the following:
Visit a Bureau of Motor Vehicles (BMV) branch

Fax them to

317-974-1613

Email them in PDF format to

BMVCDL@bmv.in.gov

Mail them to:
Indiana Bureau of Motor Vehicles
Attn: CDL Programs
100 North Senate Avenue, IGCN, Room N 481
Indianapolis, IN 46204
Should you need any further information, contact the BMV at 888-692-6841.
How Much Are the Fees for Your Indiana CDL?
Here are the fees you need to pay for an Indiana CDL:
| | |
| --- | --- |
| License | Fee |
| Commercial learner's permit (CLP) | $17 |
| Commercial driver's license (CDL) | $35 |
| Changed or duplicate CLP or CDL | $9 |
| CDL endorsement added or removed | $19 |
When you decide to add a HAZMAT endorsement to your Indiana CDL, DoNotPay can help you prepare for that exam by providing an Indiana HAZMAT practice test.
How Can You Transfer Your CDL From Another State?
The BMV in Indiana will check your driving record in the Commercial Driver's License Information System if you apply for transferring your CDL from another U.S. state to the State of Indiana.
Once the BMV gathers the required information, they will notify you about further steps, including passing the general knowledge tests.
How To Prepare for the Indiana CDL Test on Your Own
You can prepare for the Indiana CDL test by:
Using DoNotPay practice tests

Reviewing the CDL manual

Going through all required regulations

Gathering as much study material as possible

Buying handbooks or tutorials

Paying for a driving school.
Make sure the material you use for your practice is up-to-date and relevant and that the driving school you have picked has the BMV's license. Otherwise, you will waste your money and time.
DoNotPay is the best self-study resource since it uses relevant information from the Indiana CDL manual to provide you with the best possible practice. You can use our test as it is up to date with the required regulations. When you make a mistake, it will show you what parts of the CDL manual you should review.
Prepare With DoNotPay's Indiana CDL Practice Tests
DoNotPay assists with different government exams by supplying useful practice tests to help you ace the real ones. Do you need help with your Indiana CDL test? Take our practice test and confirm all the regulations you have covered in the Indiana CDL manual.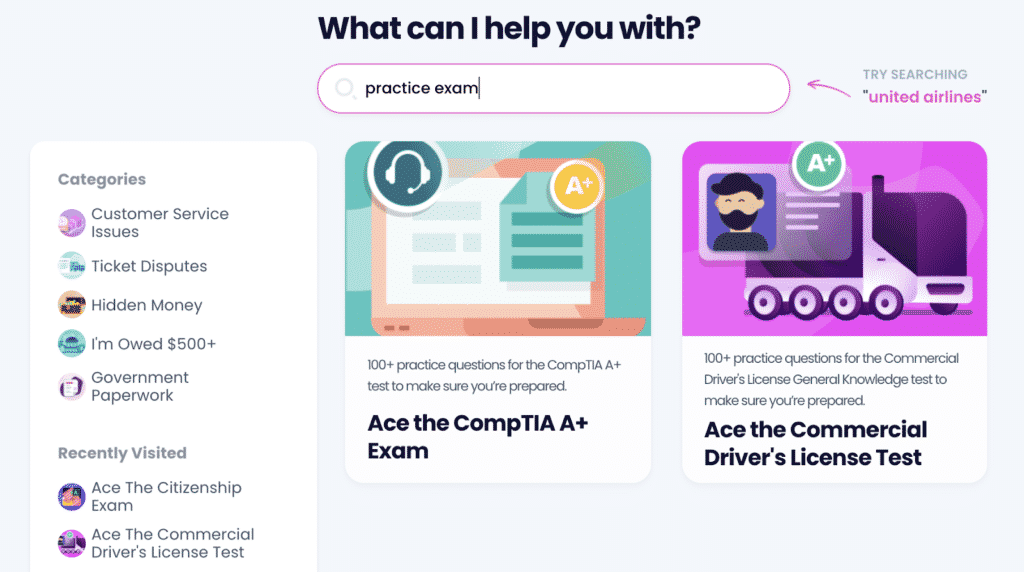 You can take our Indiana CDL practice test by following these steps:
Open DoNotPay in your

Pick the practice test by entering

CDL

or

commercial driver's license

Choose the Indiana CDL practice test

Indicate the length of your test—10, 20, or 30 questions
Do not fear mistakes since you can learn a lot from them. With DoNotPay, you can make mistakes to see what knowledge areas you should brush up on and then retake each question or the whole test.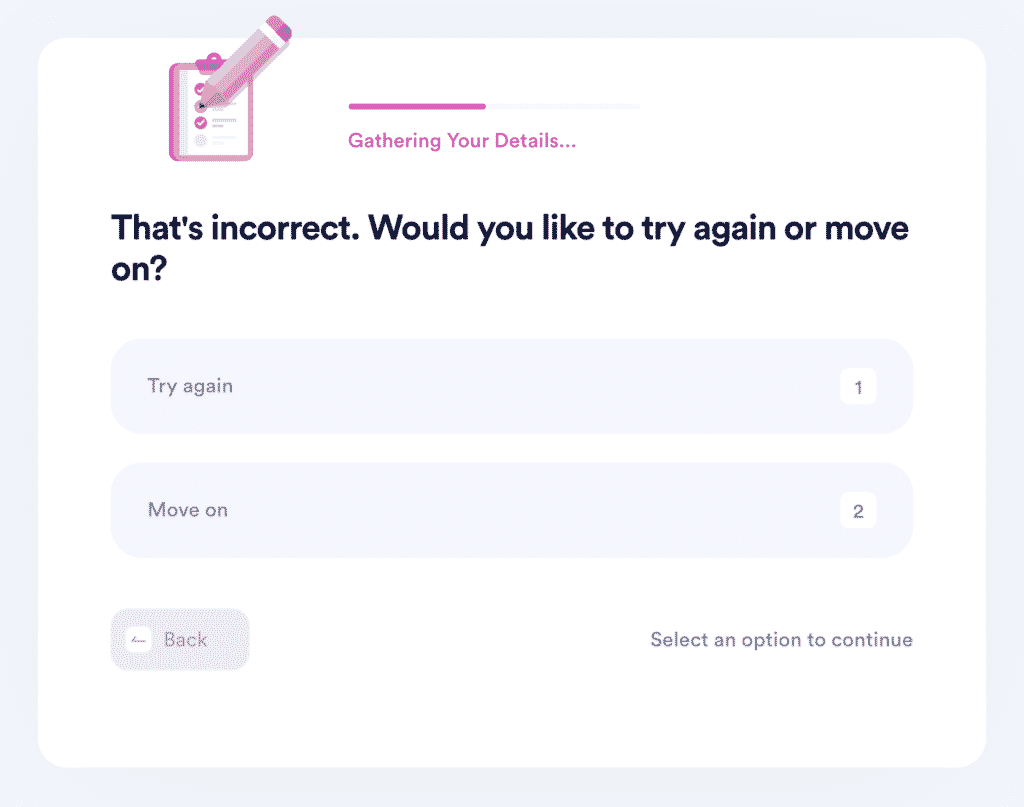 Now that you have seen how easy and convenient this process is, you might want to check out other practice tests we provide.
DoNotPay helps you pass Postal, Notary, U.S. Citizenship, CCAT, ASVAB, CompTIA, and DMV exams.
DoNotPay Is Your Trusted Assistant
DoNotPay shows you a way to schedule your DMV driving test appointment or pass the written driving test. We also provide information on ASVAB test scores.
Indiana residents can benefit from DoNotPay even more. We can help you find the best clinical trials or claim lost money in your state.
Take a look at other services our app offers. Go to DoNotPay in your and explore all of our nifty features:
Disputing traffic tickets

Disputing speeding tickets