Take the Best
Idaho CDL Practice Test
To Boost Your Results
Obtaining a Commercial Driver's License (CDL) opens up numerous job opportunities, especially if you add a HazMat endorsement to it by passing a HazMat test. The best way to ensure you get your license is by studying and practicing with practice tests. This article will show you the ropes so that you can ace your Idaho CDL test.
What Is the CDL Test?
To become a commercial driver—whether it's with a Class A, B, or C license—you need to pass the CDL test. The Idaho Transportation Department (ITD) will test your knowledge based on the Commercial Driver's License Manual. At the beginning of the manual, you'll see which chapters you should study depending on the license types and endorsements you wish to get.
Check out the breakdown of the CDL test in the table below:
CDL Test
Class
Written Test
Skills Test

A

General knowledge

Air brakes (for vehicles with an air brakes system)

Combination vehicles

Vehicle inspection

Basic control skills

Road test

B

General knowledge

Air brakes (for vehicles with an air brakes system)

C

General knowledge

Air brakes (for vehicles with an air brakes system)
The written general knowledge test has 50 questions. You need to answer at least 40 correctly to pass it. The skills test takes about two to three hours to complete.
Why Are Practice Tests a Good Idea?
For any test, practice is a must. Studying is not enough—it should go hand in hand with practicing. You need to check and revise what you learned, and practice tests are a perfect way to accomplish this.
CDL practice tests won't have the exact questions you'll get on the actual test, but you'll get a feel of the real deal. You'll also memorize different variations of the same questions and learn how to check for traps and deal with dilemmas faster.
Practicing to get ready for the test shouldn't be your only goal. You're not only looking to get a good score, but you're learning to do your job well, which will benefit you and other drivers.
Last but not least, if you get nervous before taking a test, being well-prepared will ease your mind, and you'll start your CDL journey with confidence.
Get Ready for the
Idaho CDL
Knowledge
Test
With DoNotPay
DoNotPay is the best study buddy to have when preparing to take the Idaho CDL test. Our practice tests come with different perks:
Seeing one question at a time

Accessing tests from all your devices

Retaking the same test with no restrictions

Redoing a question right away or after completing the test

Choosing the number of questions (10, 20, or 30) depending on your time and preference
You don't have to go down an online rabbit hole to find the perfect CDL tests! All you have to do is open DoNotPay in a web browser and follow these instructions:
Enter

CDL Test

in the search bar

Choose the practice-test length

Take the test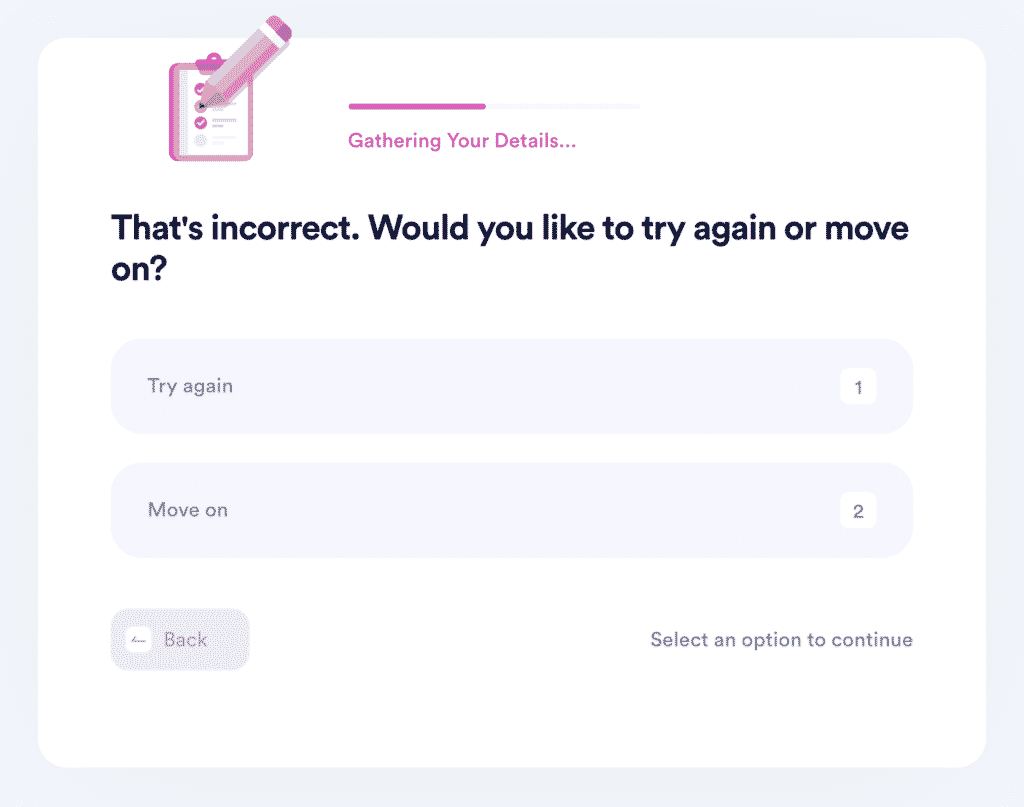 Other Government Tests Made Easy With DoNotPay
Government tests can be so complicated and demanding that many people give up before they even start. DoNotPay not only provides practice tests for the following government tests but also gives the necessary info, hacks, and instructions on how to nail them:
The Process of Obtaining a CDL in Idaho
Getting your hands on a commercial driver's license in Idaho can be a lengthy and costly process, and DoNotPay will guide you through it! Follow our detailed overview of all the steps and requirements below:
Steps
Details

Check if you comply with the CDL requirements

Be at least 18 years old (21 if you'll drive across different states)

Own a valid Idaho non-commercial driver's license

Have at least one year of licensed driving experience

Review medical requirements

Check Section 1.2 in the manual if you need to have a DOT medical card

Get a

medical examination

if applicable

Pass a vision test

Find your local DMV county office and visit it to start the application process

Complete a CDL application

Bring the following documents:

Driver's license

Social Security Card

Proof of Idaho residence

Birth certificate, a U.S. passport, or proof of lawful presence in the U.S.

Pay the test fee of $3

Take the CDL knowledge test (If you fail the test, you can retake it in three days and pay the test fee again)

Get a Commercial Learner's Permit (CLP)

Purchase the CLP if you pass the written test ($29)

Wait 14 days before taking the skills test

Practice and prepare for the skills test

Make an appointment with a skills test examiner at your county DMV

Pay the skills test fee of $10 and pay the examiner up to $190

Take the test at the scheduled time

Wait for the ITD to process your results and issue your CDL

Pay $40 for the license issuance
Admin Issues Giving You a Headache? Resolve Them With DoNotPay!
Scheduling a DMV appointment, applying for clinical trials, requesting refunds from companies, and getting in touch with your loved ones in prison are all difficult and time-consuming tasks. You have to take many steps before you can get any of these over with, and that's why our robot lawyer app is here to help.
No matter if you need assistance with appealing parking tickets, signing up for free trials, canceling various subscription services, or maybe preparing for government tests, DoNotPay will provide you with easy solutions.
Having Financial Struggles? Rely on the World's First Robot Lawyer
Many Americans struggle to make their ends meet at the end of each month. With that in mind, we've created plenty of features that will save you both time and money in the most efficient way. 
Using our AI-driven app, you can get help with bills, get refunds from airlines, find unclaimed money in any state, or earn off annoying robocalls or stalkers and harassers. If you want to fight for your right, DoNotPay will also assist you in suing any person or company in small claims court.
No matter the admin task at hand, our robot lawyer will provide swift and effective assistance.