Use This Maryland CDL Practice Test To Achieve the Best Results
Having a commercial driver's license (CDL) can help people secure a well-paid job, which is why many decide to embark on a journey of attaining one. The entire process is somewhat more complicated than for the non-commercial license, so you must get ready properly.
We will tell you all about the rules and regulations related to obtaining a CDL in Maryland and the best practice test you can use—DoNotPay!
What Is the
Maryland CDL Test
?
A CDL test you need to take in Maryland is the test that will bring you a commercial driver's license. These tests are similar in any other state, but there are certain differences, which is why you need to prepare for the state-specific one.
The CDL knowledge test consists of 50 multiple-choice questions, and you need to get 40 (80%) correct answers to pass. This test will check your knowledge of:
Backing

Braking

Emergency preparedness

Vehicle maintenance

Driving under special conditions
Why Do You Need To Get Ready for a
CDL Permit Test in Maryland
?
Getting ready for a CDL test in any state should be taken seriously. You want to really absorb the knowledge and remember everything you learned even after you pass the test. Handling heavy vehicles comes with more traffic dangers that can affect your and other drivers' safety as well as the environment.
You'll also want to avoid paying the fee for retaking the test each time you fail. Note that there is a limit of seven days before you can retake the test if you fail any knowledge exam for the second time in Maryland.
The most important part of preparing for a test is knowing you did your best and that you won't be nervous while taking it. This should lead you to pass the test easily.
How To Get Ready for the
CDL Permit Test in MD
You should start by finding a CDL study guide made for the state you are taking the test in. Make sure you read it a few times and remember as much as possible. Then you can move on to YouTube videos that cover some of the topics you can find on your test.
After those steps, your next move should be finding practice tests. These tests are the closest thing to the real CDL test. You'll find question types and forms and be able to focus on your weak points.
If you want to practice using constantly updated versions of questions with endless combinations, you should give DoNotPay a chance!
Use DoNotPay's
MD CDL Practice Test
To Pass With Flying Colors
DoNotPay has the best CDL practice test that will lead you to the result you wish to achieve. You'll be driving a heavy vehicle in Maryland in no time if you open our app in your and follow these simple steps:
Type in the name of the test

Select the test you wish to take

Pick between answering 10, 20, or 30 questions on your practice test

Start completing the test
You can wait until you see your test results and retake it then, or redo the questions right away if you find that more suitable. DoNotPay can also help you ace the HazMat test that often goes hand in hand with the commercial driver's license. If you need a non-commercial license, you can also count on our assistance and get the best results on the U.S. driving test.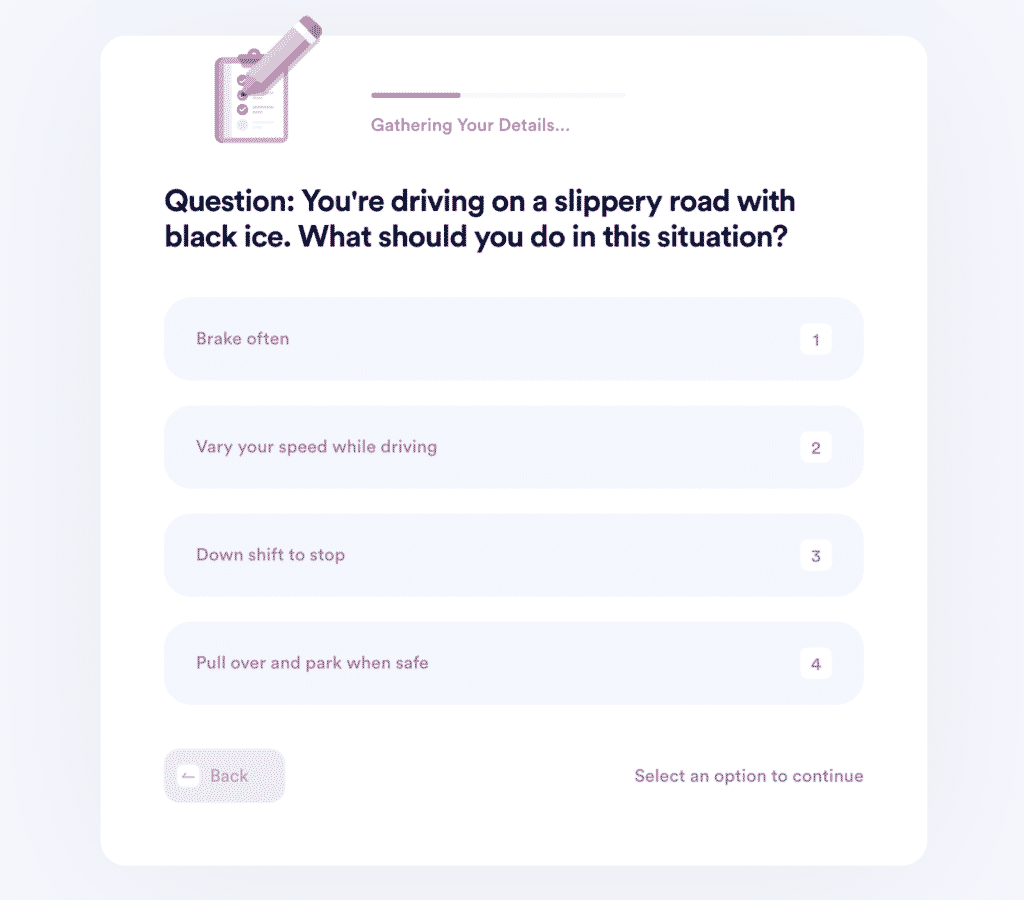 Use DoNotPay To Practice for Other Government-Issued Tests
Perhaps you want to get ready for a test that has nothing to do with driving? You won't have to look any further if you access DoNotPay from a . Our app has numerous other practice tests that will help you attain the license you wish to have. Here's a brief overview:
We can also tell you how to check your test scores for ASVAB tests.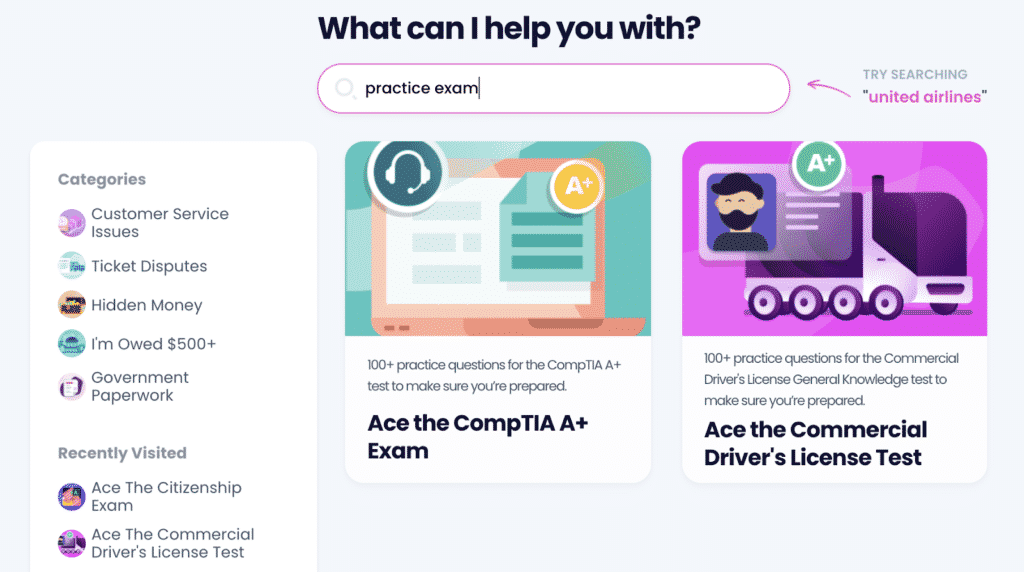 How To Schedule an
MVA CDL Test
Anyone who wishes to take a CDL test in the Free State can do so online by visiting the Motor Vehicle Administration Central Scheduling System (MVA) website. These are the steps you'll need to take to make an appointment for your test:
Open the

Motor Vehicle Administration

website

Select the type of license you are interested in

Click on

Proceed

Choose one of the provided documents

Select proof of social security

Select proofs of residential address

Choose the time and date that fit your needs and schedule an appointment
Only proceed with these instructions when you feel completely ready to take the test after practicing long enough with DoNotPay. Make sure you have everything on your driving test checklist before you make an appointment as well.
Don't Let Companies Take Your Hard-Earned Money!
People love to subscribe to all sorts of services—especially if there are free trials involved. The problem is that most of them forget that they signed up for anything in the first place. Companies are aware of this, which is why they auto-renew memberships as soon as the free trials expire.
Don't let them get away with it—use DoNotPay to sign up for free trials and cancel subscriptions right before they renew. If you want to save even more money, use our platform to learn how to handle high bills, parking tickets, college application fees, canceled or delayed flights, or faulty services you should get refunded for.
Use DoNotPay To Stop Illegal Activities and Earn off Scammers!
Our AI-powered platform can assist you in dealing with all sorts of scammers. If you got any of the following, the world's first robot lawyer will help you seek justice:
Do you want to protect yourself and your loved ones from stalking and harassment as well? Use DoNotPay to learn how! If the situation with a stalker escalates, our app is going to help you take them to small claims court by preparing all the paperwork and your court statement.
Don't stop there—check out how you can bypass phone number verification, claim any type of warranty, or pass any government test with flying colors!