Take a Montana CDL Practice Test To Ace the Actual Exam
If you believe your driving skills are good and are now considering getting a commercial driver's license (CDL) to become a bus or truck driver, you should know what lies ahead.
You'll need to take the CDL exam to get your new license. With DoNotPay's Montana CDL practice test, you can prepare for the exam quickly and effortlessly!
Montana CDL—Steps To Take
To drive commercial motor vehicles (CMVs) in Montana, you will have to pass the Montana CDL written and road tests and get licensed. You can take the Montana CDL written test at the driver license stations.
After passing the test, you'll obtain your learner's license. Fourteen days later, you can take a road test.
Before visiting a driver license station to take the CDL written tests, you must schedule an appointment either via an online scheduler or by calling 866-450-8034.
To transport special types of cargo or passengers, you need to add the following endorsements to your CDL under federal and Montana regulations:
P—Passenger transport

S—School bus

N—Tank vehicle

T—Double/triple trailer

H—Hazardous materials
What Requirements Do I Have To Meet for the Montana CDL Test?
You have to be at least 18 years old to drive within Montana state lines and over 21 to drive CMVs interstate and transport hazardous materials.
Apart from that, you also need to pass a Department of Transportation (DOT) medical examination, which can only be conducted by a licensed medical examiner.
Medical examiner's certificates are valid for two years, but CDL applicants may apply for exemptions due to their vision, seizure, or hearing problems.
You need to perform self-certification, i.e., you must inform the Motor Vehicle Division of the Montana Department of Justice of the type of commerce you will operate and whether you need to have a medical certificate.
Apart from the age restrictions, medical certificates, and self-certification, you must provide the following proofs:
CDL Applicants With a Montana Standard Driver License (Non-CDL)
CDL Applicants With a Montana Standard Driver License (Non-CDL) or Who are Converting an Out-Of-State CDL

Social Security number

Authorized presence

Identity

Montana residency

Social Security number

Authorized presence
Montana CDL Test Requirements
When you have passed your written tests and have had your commercial license permit (CLP) for 14 days, you have to take the following tests:
Pre-trip vehicle inspection

Basic vehicle control skills

On-road driving
You cannot take the next test unless you have successfully completed the previous one. If you fail one of these tests, you will have to reschedule the appointment and take the test again.
All CDL applicants have to take their tests in a vehicle they are applying for. You can have a CLP for a maximum of 180 days, and you can renew it one time without extra charge.
Practice for the Montana CDL Exam by Yourself
To prepare for the Montana CDL test, you should review the Montana CDL manual. You can also collect some study books, listen to tutorials, or take a course at a driving school.
Make sure the material you have gathered is up-to-date and relevant. If you are not sure about that, choose DoNotPay's Montana CDL practice test as it is based on the Montana CDL manual and the valid regulations.
Pass the CDL Exam With DoNotPay's Montana CDL Practice Test!
DoNotPay can help you study for various government tests, such as a DMV, CCAT, ASVAB, notary, postal, CompTIA, or U.S. citizenship exam. All you need to do is choose what exam you want to take, and we will provide useful practice tests for you.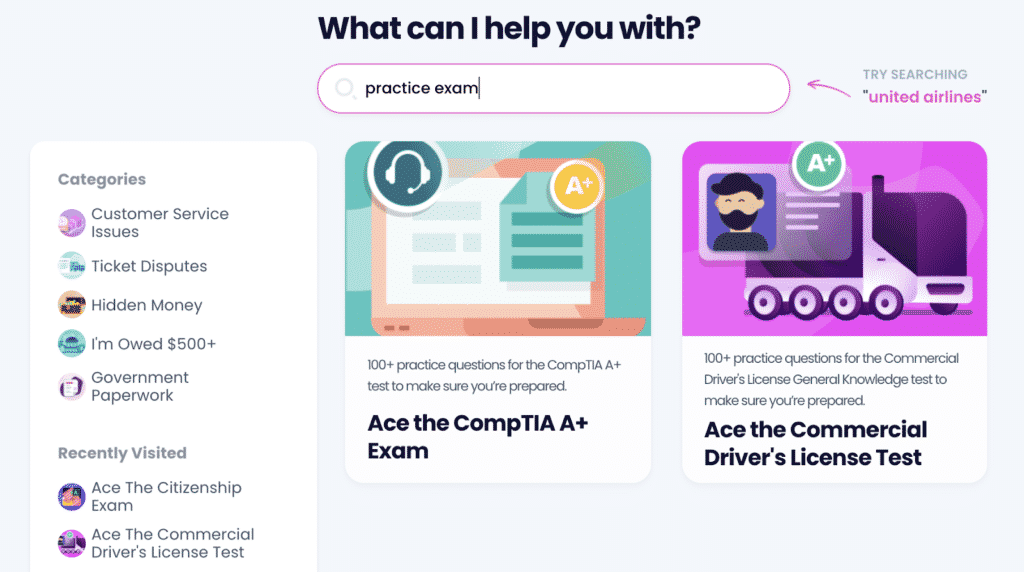 DoNotPay can also help you prepare for the Montana CDL test. After you have gone through the CDL manual, you should take our Montana CDL practice test and see how many regulations you have memorized and which ones you should brush up on.
Here is how you take our Montana CDL practice test:
Access DoNotPay from a

Pick the practice test you would like to take

Choose the

Montana CDL practice test

Select the number of questions you would like to go through—10, 20, or 30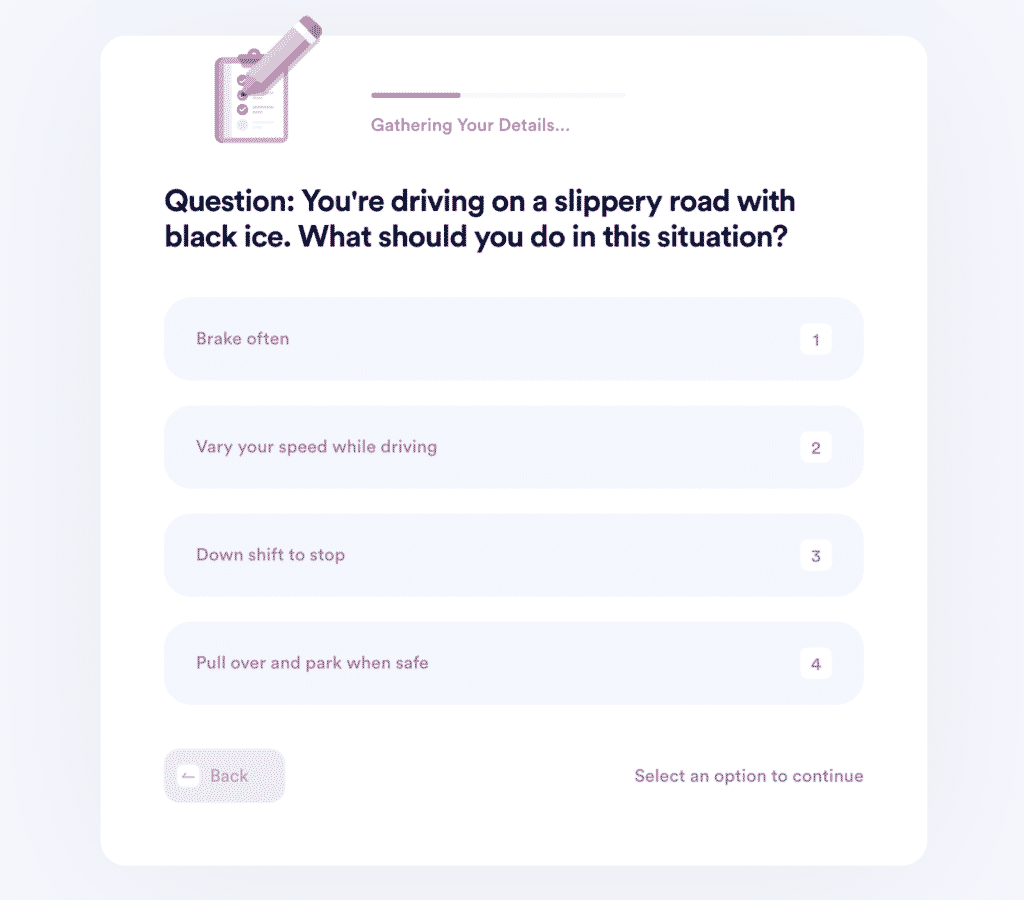 Don't be afraid of making mistakes since you can retake each question or the whole test if you are not satisfied with the score.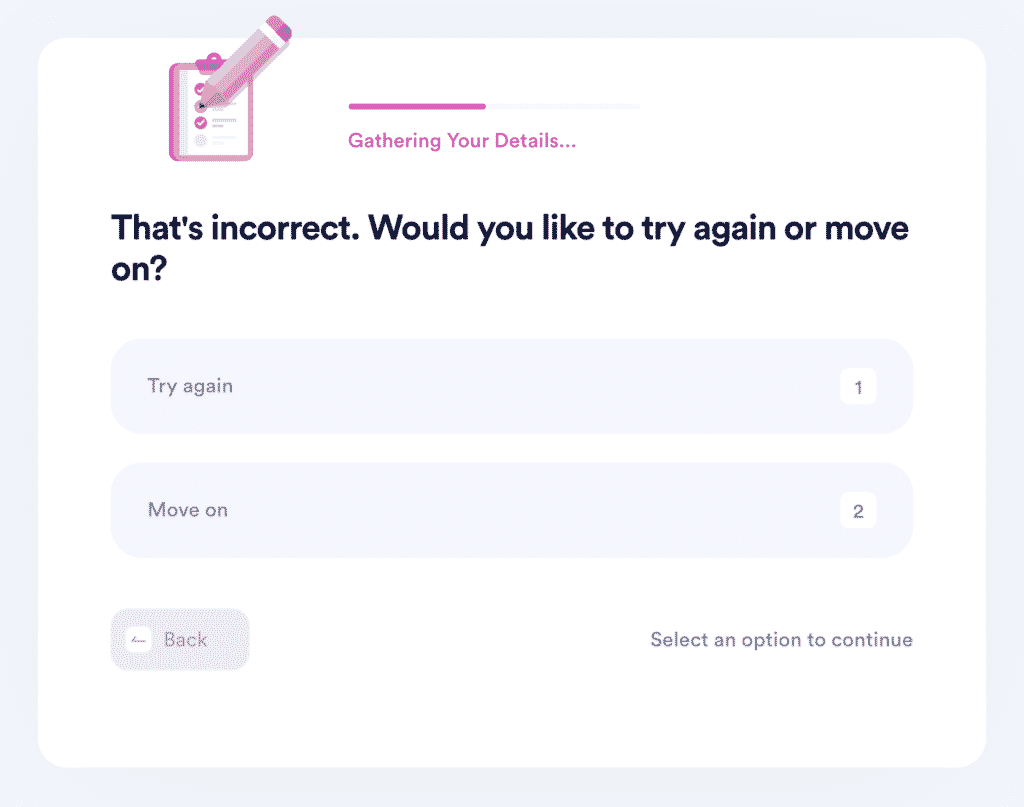 DoNotPay can also help you obtain your HAZMAT endorsement, and when it comes to improving your driver's skills, we are here to provide information on how to pass a written driving test or schedule a driving test appointment.
DoNotPay breaks down ASVAB test scores so that you can pass ASVAB exams without a problem. Apart from assisting you with government tests, we can help you with other Montana-related issues, such as claiming your forgotten money in this state.
DoNotPay Is Your Shortcut Through Bureaucracy
With our app, you don't have to spend hours figuring out how to request a refund, cancel a service, or book a DMV appointment.
We take over all the hard work! Forget about waiting in a phone queue for hours in hopes of reaching a customer service rep. Our AI-powered app will call any company for you and ping you when a human appears on the other end of the line.
DoNotPay also speeds up the process of filing insurance claims, claiming warranties, reducing property tax, and drafting various legal docs.
Keep the Communication Lines Clear With DoNotPay
Do you know how powerful DoNotPay's virtual credit card is?
This super-smart feature can not only sign you up for no-risk free trials but can provide you with an alternative email address. You can test any service without giving out your real email, which will keep your inbox clean from spam!
If you have family or friends within the U.S. prison system, our app helps you get in touch with them quickly.
We can also make sure you don't become a target of text and robocall scammers! Keep your phone number private and avoid this type of harassment by using our Burner Phone feature!
In case you need to fax a document, there is no need to search for the instruction manual on how to operate a fax machine. DoNotPay makes it simple to send online faxes anywhere!