Take the Alabama CDL Practice Test To Ace the Real Exam!
Passing your commercial driver's license (CDL) test requires hard work and determination, but with DoNotPay's help and guidance, it becomes much easier! Taking the Alabama CDL practice test is one of the best ways to prepare for your exam and nail it on a first try. With our app, you can take numerous practice tests and find any info you need regarding Alabama CDL procedures.
Alabama CDL Test and Requirements
You need to pass the Alabama CDL test if you want to operate any commercial motor vehicle over 21,000 pounds. There are two parts of the CDL test:
The general knowledge test

The skills test
The knowledge test has seven subtests, including special endorsements and an air brakes test. You will not have to take all of them. Most people usually take three to four, depending on the class designation and endorsements they need. The questions are multiple-choice, and you have to answer 40 out of 50 correctly to pass.
The CDL licenses have classes that vary from state to state, and this is how Alabama classifies commercial vehicles that require a CDL to drive:
Class A

—vehicles weighing over 26,000 pounds that tow trailers or other vehicles weighing over 10,000 pounds.

Class B

—vehicles weighing more than 26,000 pounds and tow trailers or vehicles that weigh less than 10,000 pounds.

Class C

—vehicles carrying 16 or more people or vehicles transporting hazardous materials.
Here's an overview of endorsements you can add to your CDL in Alabama:
| | |
| --- | --- |
| Special endorsements | Include |
| T | Double/triple trailers |
| P | Passenger vehicles |
| N | Tank vehicles |
| H | HAZMAT |
| X | HAZMAT and Tank |
| S | School Buses |
Below are listed the Alabama CDL restriction codes and definition:
A – Corrective Lenses

B – Motor-Driven Cycle

C – Daylight Driving Only

D – Outside Mirror—Left

E – No Manual Transmission CMV

F – Hand Controls

G – Automatic Transmission

H – Outside Mirror—Right

I – Outside Mirror Left and Right

J – Hearing Impaired

K – Intrastate Only

L – No Air Brake Equipped CMV

M – No Class A Passenger Vehicle

N – No Class B Passenger Vehicle

O – No Tractor Trailer CMV

P – No Passenger in CMV Bus (CLP Only)

Q – Power Brakes Only

R – Mechanical Signals

T – Built-Up Pedals

U – Built-Up Seat

V – Medical Variance

X – No Cargo in CMV tank (CLP Only)

Y – Learner License

Z – No full Air Brake equipped CMV
How To Get Ready for Your Alabama CDL Test
Without studying and preparing for your CDL exam, your chances of passing are not high. You can choose any studying method that you think would work best for you, but you must take prep work seriously and practice as much as you can.
The Alabama commercial driver's license manual can be of immense help when studying because all of the questions that you will encounter are there.
You can also hire a tutor if you want to avoid searching for the study material on your own. The only downside is that they are pricey, so you may want to consider preparing for your exam via practice tests.
Practice tests are the most convenient method of preparing for the Alabama CDL test. Various practice tests are available online but choose carefully because they may be outdated. Since searching for online practice tests can be tiresome, lean on DoNotPay for super useful practice material!
Using practice tests allows you to get a good idea of what your real CDL exam will look like and helps you prepare to the best of your abilities. They are your golden ticket to passing on your first try!
How Can I Take the CDL Practice Test Alabama via DoNotPay?
Taking your Alabama CDL practice test with DoNotPay will take only a few minutes! We prepared everything and made sure to simplify the process as much as possible! Follow our quick guide and take your Alabama CDL practice test in a jiffy:
Load DoNotPay in your

web browser

Search for the

practice tests

Pick the test you want to take

Click on the number of questions you want (your options are

10, 20, or 30

questions)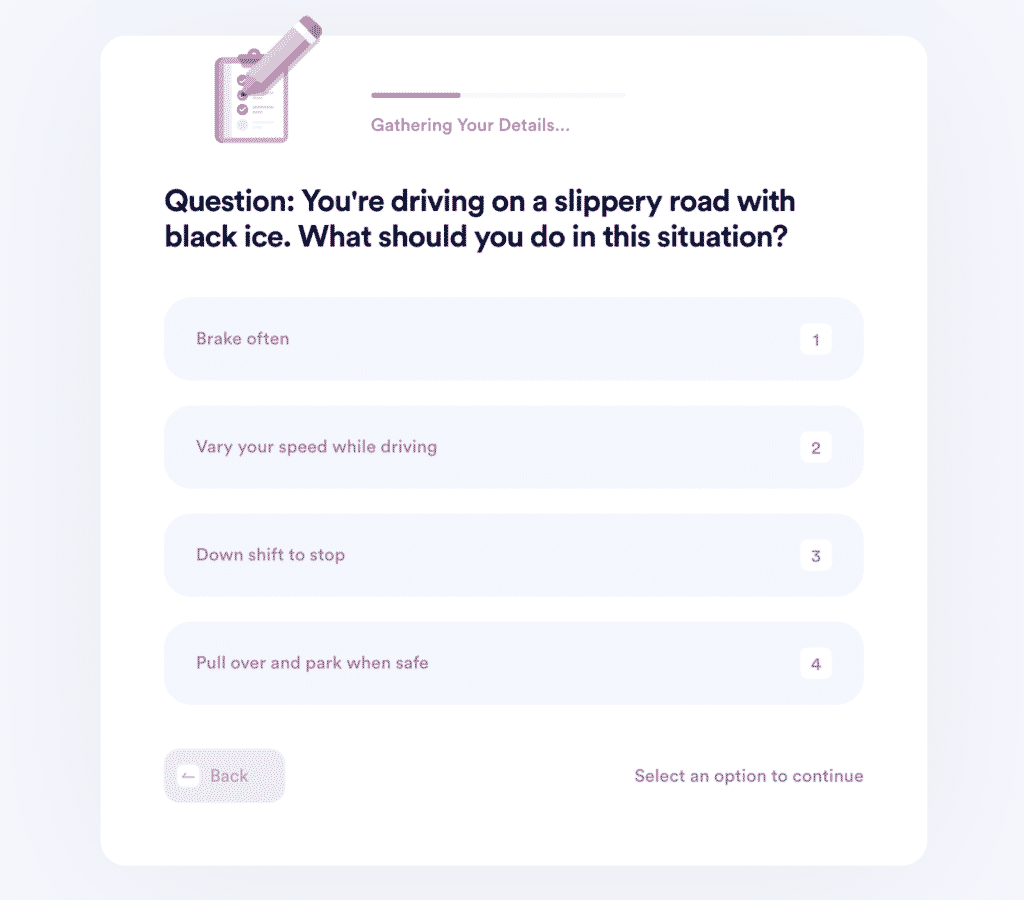 We can also help you if you are about to embark on a CDL journey in North Dakota, Montana, Maryland, Arkansas, Illinois, Kansas, Utah, Iowa, Oregon, Nebraska, Indiana, Nevada, Oklahoma, North Carolina, South Dakota, Arizona, and Wisconsin.
DoNotPay helps with much more than CDL prep. We provide practice for various government tests, including:
ASVAB test scores can easily be found using our app!
DoNotPay Helps You Claim Your Money
Our virtual assistant app makes sure you get back funds that are rightfully yours. 
Whether you need to claim insurance, warranties, or your property held by the state, we will help you do it in minutes.
DoNotPay can also help you initiate a chargeback on any transaction you disagree with. We can help you secure compensation from airlines, robocall and text scammers, or in case you've been a victim of a crime.
In case you are dealing with an unfair company regarding your subscription cancellation or any other matter, we can help you get your money back by suing them in small claims court.
Bypass the Administration With DoNotPay
There's no more need for extensive research, abundant paperwork, or endless phone calls with customer service reps. 
DoNotPay brings the administrative nonsense to a minimum. 
Book DMV appointments fast and easy, appeal your parking citations, sign up for free trials without disclosing your credit card info or phone number, or reach your loved ones in jail—all in less than five minutes.
We also generate any legal document, provide full access to public records, offer DMCA protection, and reduce your property taxes with a few clicks.