Learn How To Take the
Utah CDL Practice Test
and Nail the Real One!
The Utah CDL test is an exam that you take to obtain a license to drive commercial motor vehicles. If you are planning on taking the Utah CDL test and want to make sure that you score high on it, rely on DoNotPay to help you with a bunch of practice tests that you can use to perfect your knowledge before hitting the real exam!
What Does the Utah CDL Test Look Like?
Every Commercial Driver's License (CDL) test consists of two parts:
The knowledge test

The skills test
The knowledge test includes seven tests in total covering general knowledge, specific endorsements, and an air brakes test. Most drivers take three or four knowledge tests.
All CDL applicants have to take the CDL general knowledge test. The Utah CDL test has 50 questions. You have to answer at least 40 questions (80%) correctly to pass. The general knowledge test includes the material from the Utah CDL Manual.
Here is everything that the CDL knowledge tests include:
General knowledge

Passenger transport

Air brakes

Combination vehicles

Hazardous materials

Tanker vehicles

Doubles/triples

School bus

Firefighter
What Are Utah's Requirements for the CDL Test?
Every state has a set of requirements for taking the CDL test. We listed them all down below so that you can check whether you meet the criteria for taking one.
You meet the criteria for getting a Utah CDL if you:
Are at least 21 years of age to drive a commercial motor vehicle across Utah state lines, carry hazardous materials, or transport passengers

Meet all the medical requirements of the Federal Motor Carrier Safety Regulations

Are a Utah resident and have permission to work in the United States

Own legitimate personal identification, which includes a Social Security card, a birth certificate, or a Green Card

Prove that you are not subject to any of the

CDL disqualifications for drivers

Can speak and read the English language

Pass a set of written tests to get your Utah Commercial Learner's Permit (you can prepare for these exams using the High Road CDL Training Program)

Don't have more than one driver's license, and your driving privileges are not suspended, revoked, canceled, or disqualified in Utah or any other state

Are at least 18 years old to hold a Utah CDL and drive a commercial vehicle within the state of Utah
Reasons To Prepare for the CDL Test
The Utah CDL test is hard and requires a lot of preparation and practice to pass and score high. You shouldn't take preparing for it lightly—there is no shortage of methods you could use to practice for one!
It's important that you think ahead and leave enough time to study before the exam so that you wouldn't rush and try to cram all the study material a day before the CDL test.
Pay special attention to the Utah CDL Manual because most questions you will find on the general knowledge exam come from that manual.
Take as many practice tests as you possibly can! They are designed to help you get an idea of what the real exam will look like and what the best way to prepare for it is.
You can use DoNotPay to practice for your CDL test or any other government test you may need!
See below the pros and cons of taking online practice tests:
Pros
Cons

You can find them online easily

They are usually straightforward

They can be unreliable

They can be expensive
How Can I Take the Utah CDL Practice Test With DoNotPay?
Taking the CDL practice test with DoNotPay will take almost no time at all! The process is streamlined—all you need to do is follow a quick five-step guide to get it done!
Here is how it works:
Open DoNotPay in a

web browser

of your choice

Search for the

CDL practice tests

Pick which test you want to practice

Say how many practice test questions you would like to have (you can choose from 10, 20, or 30 questions)

Take your CDL practice test!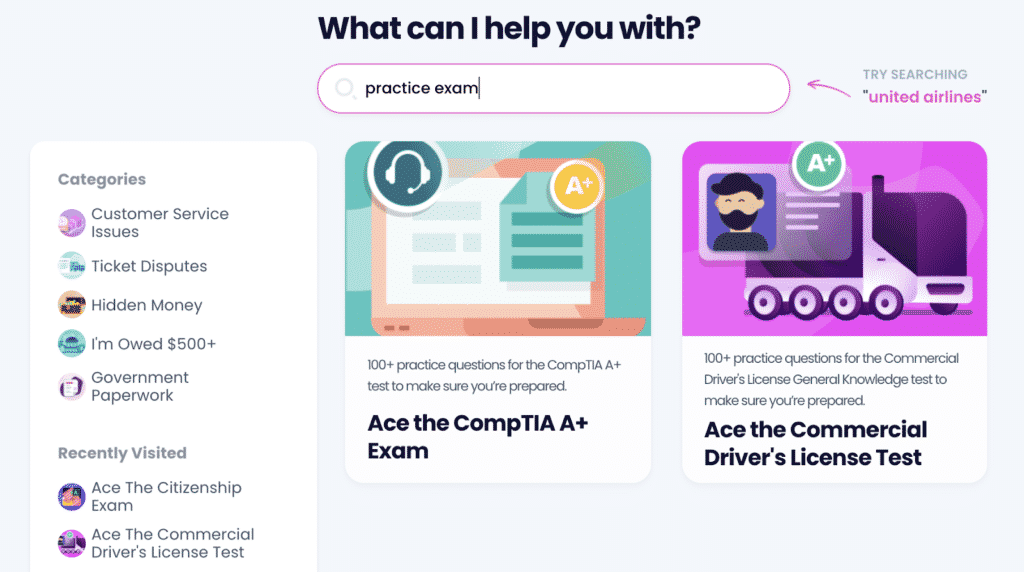 You don't have to stress if you get some of the questions wrong! You can retry the question on the spot or choose to wait until you finish all of the questions and take the practice test again.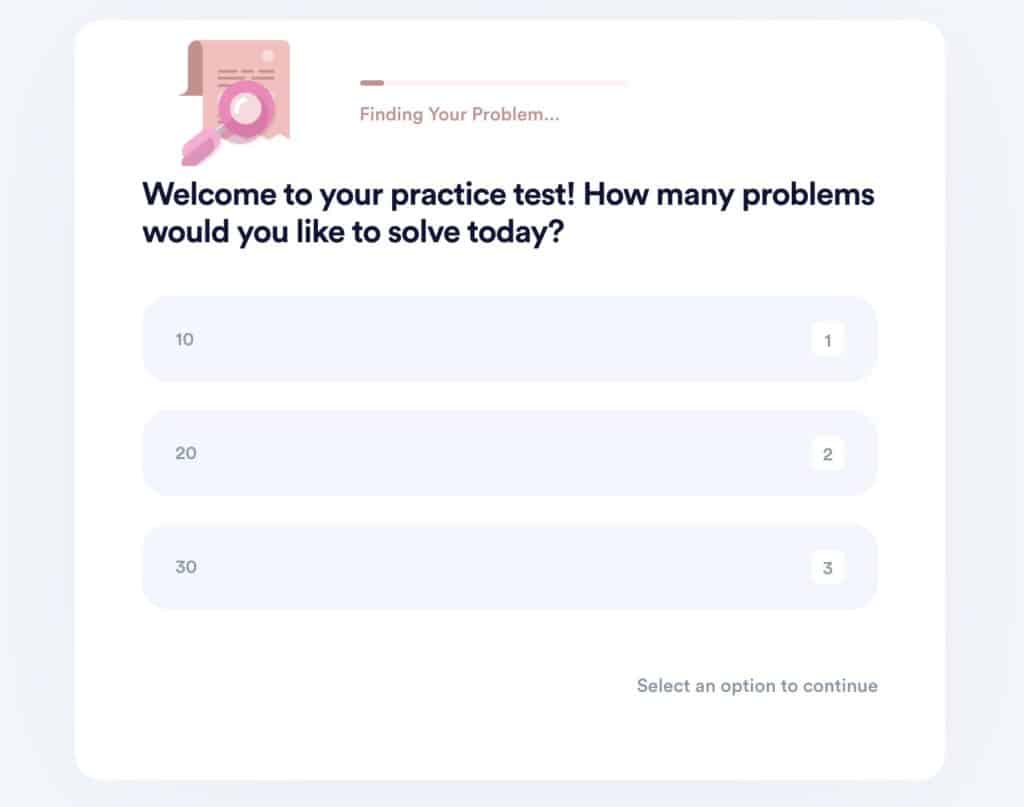 DoNotPay can help you practice for other government tests, such as CompTIA A+, Armed Service Vocational Aptitude Battery (ASVAB), or The Postal Service Exam.
We also provide you with practice material for:
Our app can give you more information on the Nebraska CDL practice test or Indiana CDL test sites! If you need help with passing your written driving test, DMV driving test, CompTIA A+ 1001, or CompTIA IT Fundamentals exams, you can count on DoNotPay to lend you a hand and make the process go without a hitch!
DoNotPay Helps You Claim Your Money
Our virtual assistant app makes sure you get back funds that are rightfully yours. 
Whether you need to claim insurance, warranties, or your property held by the state, we will help you do it in minutes.
DoNotPay can also help you initiate a chargeback on any transaction you disagree with. We can help you secure compensation from airlines, robocall and text scammers, or in case you've been a victim of a crime.
In case you are dealing with an unfair company regarding your subscription cancellation or any other matter, we can help you get your money back by suing them in small claims court. 
Bypass the Administration With DoNotPay
There's no more need for extensive research, abundant paperwork, or endless phone calls with customer service reps. 
DoNotPay brings the administrative nonsense to a minimum. 
Book DMV appointments fast and easy, appeal your parking citations, sign up for free trials without disclosing your credit card info or phone number, or reach your loved ones in jail—all in less than five minutes.
We also generate any legal document, provide full access to public records, offer DMCA protection, and reduce your property taxes with a few clicks.