A Guide To Nailing Your NC CDL Test
The commercial driver's license (CDL) test is mandatory for operating vehicles that weigh over 26,000 pounds. To pass it, you will have to focus on studying and practicing relentlessly because the exam is quite demanding.
Luckily, DoNotPay will present you with a number of practice tests you can use to ace your NC CDL test!
What Is the Best Way To Prepare for the NC CDL Permit Test?
You can choose numerous ways to prepare for your CDL test, but you must study and take the preparation seriously to score high enough and pass your exam.
Here are some of the best methods you can choose to study:
| | |
| --- | --- |
| Method | What To Do |
| | This manual covers everything you need to know for your CDL exam, so it is crucial to go through it and memorize as many questions as possible |
| Online | Turn to the internet and find information about CDL tests. You can have your friends and family quiz you and make it a more fun experience |
| Practice Tests | Practice tests are the best way to prepare for your CDL exam. They encompass everything you can expect on the real test, and by taking them, you can get an idea of what your real exam will be like |
DoNotPay will walk you through the process of taking your NC CDL practice test step by step!
Taking Your NC CDL Practice Test With DoNotPay
This is how you can take your North Carolina CDL practice test with DoNotPay:
Visit DoNotPay from your

Choose which practice test you want to take and the

number of questions

you would like to have (you can pick from 10, 20, or 30 questions)

Take your North Carolina CDL practice test!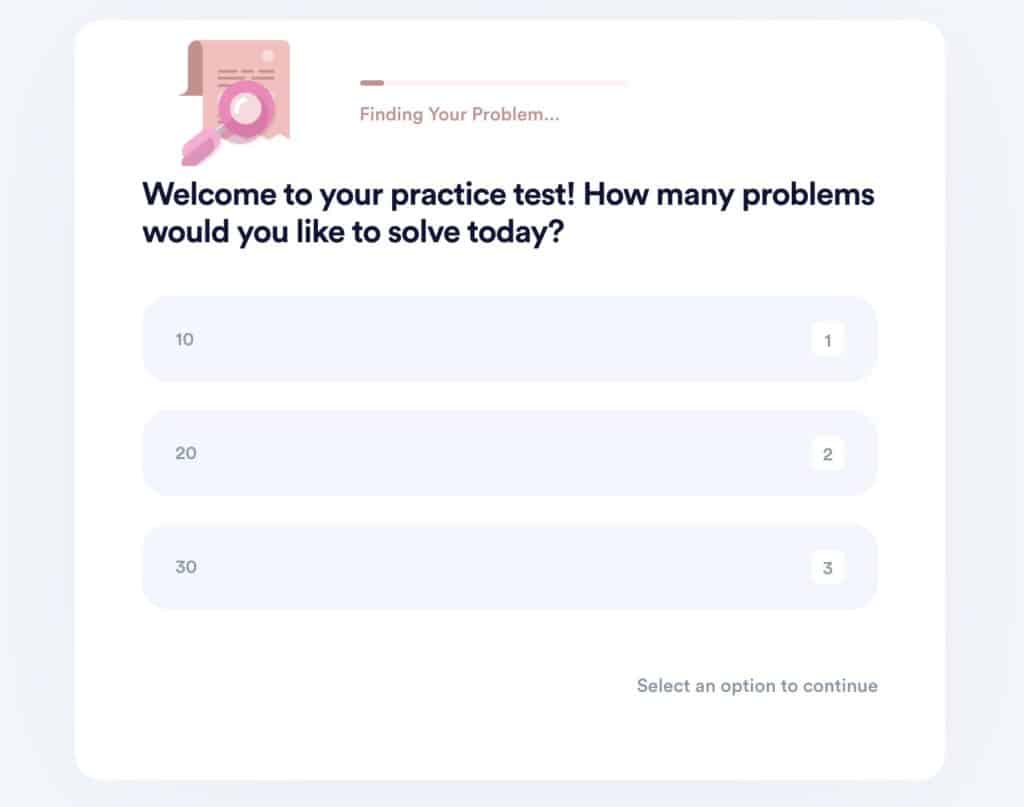 DoNotPay is the place to find countless practice tests, including HAZMAT, ASVAB, CompTIA A+, written driving test, the postal service exam, the notary exam, U.S. Citizenship Test, and Criteria Cognitive Aptitude Test (CCAT). Taking them is also quite simple and convenient—you can do it from the comfort of your home or office!
We can also assist you with making your DMV driving test appointment and checking your ASVAB test scores. Use our practice tests to prepare for any of the following CDL exams:
What Does the CDL Test in NC Look Like?
The North Carolina CDL is classified into three categories: Class A, Class B, and Class C. Depending on the license you want to obtain and the endorsement you need, you will have to take one or several knowledge tests. To drive certain types of vehicles, you will have to get a special endorsement.
There are two parts of every CDL test:
The knowledge exam

The skills exam
There are 50 questions designed to test your general knowledge. You will have to answer 40 questions (or 80%) correctly to pass the test.
These are the sections that you need to cover:
Transporting Cargo Safely

Driving safely

Air Brakes (if you plan to drive vehicles equipped with air brakes)

Vehicle Inspection Test

Basic Control Skills Test

Road Test

Combination Vehicles
You have to pass both the knowledge test and the skills test to get your North Carolina CDL license.
What Are the North Carolina CDL Requirements?
To obtain your NC CDL license, you will have to meet the following requirements:
Get a Commercial Learner Permit (CLP)

Provide a document verifying your age and identity and a Social Security card or a document proving you have a Social Security number

If you are a U.S. citizen, you have to provide two documents proving residency

Non-U.S. citizens provide one document issued by the U.S. government indicating the legal presence

You must provide a document that proves the liability insurance coverage from a provider who's licensed to work in North Carolina

Proof of clear driving record showing that your license is not suspended, disqualified, or revoked and that you don't hold more than one driver's license

Depending on the type of commerce you operate in, commercial motor vehicle drivers might be required to have medical cards, which must be presented at the time of original application and renewal
Physical requirements for North Carolina CDL license are:
Vision in both eyes needs to be 20/40, with visual improvement devices like glasses or contacts allowed

The ability to distinguish colors and to perceive a forced whisper at a distance of at least 5 feet is necessary

The maximum blood pressure is 160/100 and the use of prescription medication to achieve this threshold is allowed

Blood sugar can't be higher than 200

Use of Schedule 1 drugs, amphetamines, narcotics, or any habit-forming drugs isn't allowed
Get Back at Greedy Corporations With DoNotPay
How many times have you tried reaching out to an airline regarding your canceled flight? Did you ever spend hours trying to contact customer service reps only to be refused your refund request?
Big companies tend to make certain processes complicated for their customer in hopes they would give up on pursuing their goals.
This is why your warranty claims often get denied the first time or why canceling a gym membership can be an administrative hell.
Our AI-powered app is here to help you sort these problems out.
Whether you're trying to file an insurance claim, schedule your driving test, start a free trial without disclosing your payment info or a phone number, or get access to public records, we've got you covered.
DoNotPay Is the Virtual Assistant You Need
DoNotPay is the first robot lawyer in the world created to simplify complex tasks. We can help you with anything from appealing your parking citations to filing lawsuits in small claims court.
In case you need to save up some money, our app will show you how to get an extension on your bill payments, sign up for paid clinical trials, or avoid paying your college application fees.
DoNotPay can also report robocallers, text spammers, and email phishing attempts, and real-life stalkers with a few clicks.