Find the Best ND CDL Practice Test With DoNotPay!
Getting a Commercial Driver's License (CDL) is no easy feat. Apart from the grueling application process, you must pass a complex CDL test that requires a lot of hard work and studying. If you succeed in passing the exam, you can expect new business opportunities and a bigger salary, especially with a HazMat endorsement.
It only remains to find practice material that will ensure success. DoNotPay has the scoop on how to prepare for the test and obtain your CDL license on the first try!
What Does a North Dakota CDL Test Look Like?
If you want to know what the preparation process entails, you should get familiar with all aspects of the CDL test. The exam consists of a written knowledge test and a driving skills test. Each part is demanding in its own way, but it is necessary to pass both to acquire a CDL license.
You can check out what both exam segments consist of in the table below:
The Exam Part
It Contains
Details

Written knowledge test

A general knowledge test

You can find the information for the test in the

North Dakota CDL Driver's Manual

(section one indicates what to study according to the vehicle you intend to drive)

It has 50 true/false and multiple-choice answers

You have to achieve at least an 80% test score to pass

Five special endorsement tests

Double/triple trailers (T)

Hazardous materials (H)

Passenger vehicles (P)

School buses (S)

Tank vehicles (N)

An Air Brakes Test

For driving vehicles with a full or partial Air Brake system

Driving skills test

A vehicle inspection test

Tests your ability to assess if the vehicle is safe to drive

A basic control skills test

Confirms that you can turn, park, and back up the vehicle

A road test

Assesses your safe-driving skills while on the road
Every applicant for a CDL license has to take the general knowledge test. You can choose the number of other written tests depending on the types of vehicles you intend to drive.
Passing the general knowledge test is the first step towards obtaining a CDL license. While studying from the manual is obligatory, taking practice tests is a foolproof way to achieve success on the real exam. We will explain why practice tests are important and how to access the most reliable one.
Why Are CDL Practice Tests So Important?
What makes CDL exams tricky is the question form. Questions on the CDL exam often contain confusing wording or similar multiple-choice answers. If you don't use practice tests, you will spend too much time deliberating on which answer to choose and most likely fail.
Practice tests make all the difference between passing and failing by:
Stimulating revision of the material

Putting material from the manual into context

Mimicking the structure and form of the real exam

Providing multiple variations of the same question

Indicating which parts of the material you need to study more
Where Can I Find the North Dakota CDL Practice Test on My Own?
If you type in the specific keyword in your web browser's search box, the search engine will display an array of results. Having such a vast selection of online practice tests may seem convenient at first, but you mustn't neglect the risks. Before you make a decision, check out the list of advantages and disadvantages of online practice tests:
Online Practice Tests
Pros
Cons

They are easily accessible

The options are numerous

They are often unreliable

You can't distinguish which one is the real deal

They offer false promises (questions from the real exam)

You often have to pay to access the full practice material
If these reasons resonate with you, we suggest you skip the headache and put your trust in DoNotPay. Access our app from your , and find out what it takes to pass any written driving test!
Use DoNotPay To Take ND CDL Practice Tests
DoNotPay is a reliable ally when it comes to practicing for all kinds of government exams. We offer practice material for DMV, CCAT, Notary, ASVAB, Postal, CompTIA A+, and the U.S. Citizenship test.
Check out how to take our CDL practice tests:
Visit DoNotPay in your

Enter

CDL Practice Test

Choose the number of questions

Start practicing
Our app allows you to customize the number of questions according to your preference—you can select 10, 20, or 30 questions.
Another bonus is that you get to choose whether you will correct your answers on the spot or wait until you finish the test. You can retake the test as many times as you need to feel confident in your knowledge. Feel free to use our tips on scheduling a DMV driving test appointment when you are ready.
DoNotPay can also help you understand your ASVAB test scores. With our help, no government test will ever feel difficult again!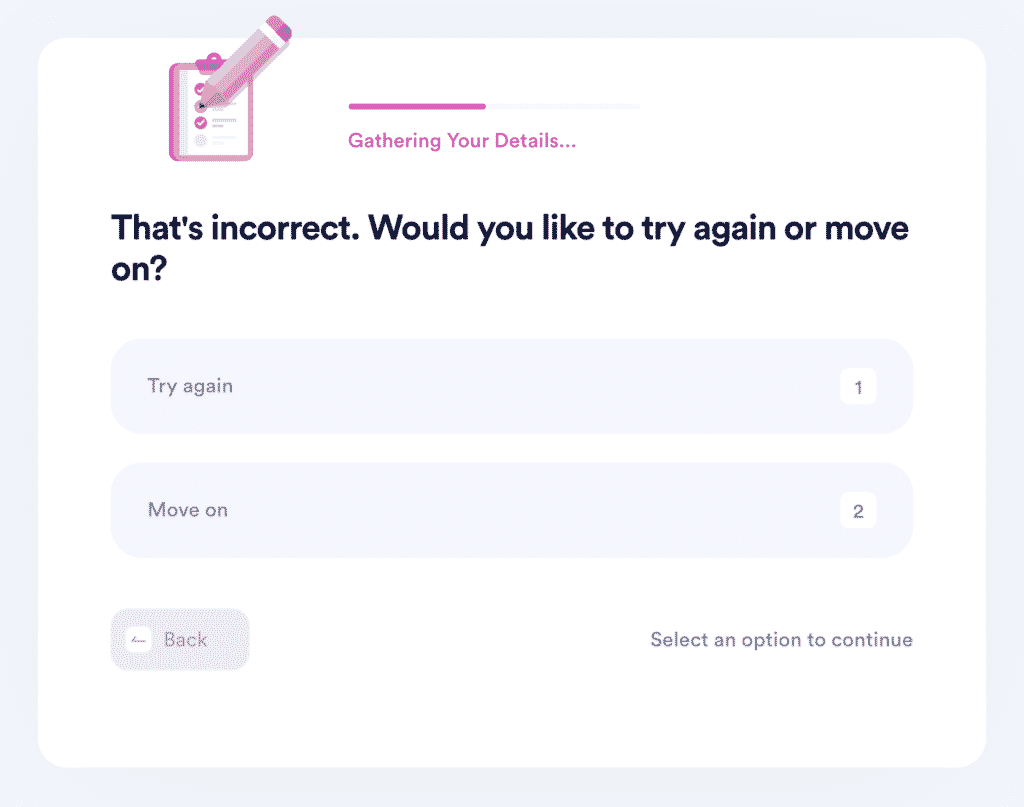 DoNotPay Leads the Way Against Spammers
Browsing the internet has never been more popular than today, but you must not forget to keep your private and financial information safe. You know you can cancel any streaming service or magazine subscription easily, but that won't stop them from using your personal details for marketing purposes.
DoNotPay has a solution for that!
Is a company pestering you with incessant robocalls, spam emails, and text messages? Use our Virtual Credit Card to catch them in the act and claim compensation for your troubles.
To prevent that from happening ever again, use our card to sign up for free trials—not only will you not pay a dime for the service, but you will be automatically unsubscribed as soon as the trials are up!
If you want to avoid revealing your personal phone number, we'll generate a temporary burner phone for you so the company won't have any way to reach you.
Already Been Scammed? DoNotPay Knows the Way!
If you've already made the mistake and divulged your personal info to the wrong party or experienced any other kind of crime or injustice, you don't have to sit tight and suffer the consequences. DoNotPay can assist you in taking anyone to small claims court!
We'll help you gather evidence—correspondence proving stalking or harassment took place, customer service call recordings, denied chargeback and refund claims, online fax transcripts, or proof of copyright violation. Then, we'll fill out the relevant legal documents for you and draft a court script that you can use in your hearing.