California Middle Class Scholarships in a Nutshell
Affording higher education without scholarships and grants often seems like an impossible task if you're not from a high-income family. With most types of financial aid being aimed at low-income students, others have fewer options at their disposal. That's why the California Student Aid Commission designed a scholarship that helps middle-class students afford college.
Learn who qualifies and how to apply for California Middle Class Scholarships!
What Is the California Middle Class Scholarship?
The Middle Class Scholarship (MCS) is a renewable, state-funded scholarship program for California residents pursuing an undergraduate degree. High school seniors and graduate students are not eligible to apply for MCS.
Students can receive a scholarship for up to four years, depending on the year they applied. To renew the award, students must reapply each year. The prize in question varies between 10% and 40% of tuition and fees at any University of California or California State University campus.
Middle Class Scholarship—Requirements
To apply for the Middle Class Scholarship program, students must:
Have family assets of up to $191,000
Have a family income of up to $191,000
Not be in default on a student loan
Maintain a 2.0 GPA
Plan to attend the University of California or California State University
Pursue an undergraduate degree or a teaching credential
AB 540 students must also have:
Attended a California

high school

for at least three years or done the equivalent coursework
Graduated from a California high school or:

Passed the California High School Proficiency Exam (CHSPE)
Got a General Equivalency Diploma (GED)
How To Apply for a Middle Class Scholarship
To apply for the Middle Class Scholarship, you need to:
Complete the Free Application for Federal Student Aid (FAFSA) or California Dream Act Application (CADAA)
Submit a GPA Verification to the California Student Aid Commission
Check the table below to learn about who needs to complete one of the two available application forms:
Application Form
Who Needs To Submit It?
Free Application for Federal Student Aid (FAFSA)

U.S. citizens
Eligible noncitizens

California Dream Act Application (CADAA)

Students without a Social Security Number (SSN)
Students who have a Deferred Action for Childhood Arrivals (DACA) number
Don't forget to include your school's federal number in the application so that your chosen school can prepare a financial aid package for you—including the Middle Class Scholarship (if you receive it). You can set up an account on the WebGrants 4 Students portal to find the forms you need and monitor the status of your application.
What Are the Application Deadlines for MCS?
FAFSA and CADAA applications open on October 1 of each year. Priority consideration is given to applications submitted before March 1. The final date to submit the CADAA is March 2, while the date for FAFSA is around June 30.
Can You Apply for Other Scholarships While Receiving MCS?
MCS should be your last resort since the awarded amount depends on the rest of the financial aid you're receiving. MCS is a pretty general award, so applying for specific scholarships with fewer applicants might be a better approach. Some of the qualifications that may land you a scholarship include:
Demographic factors, such as:
Student status, including:

Level of study—e.g., K-12 students,

college freshmen

, doctoral students
Field of study—e.g.,

art

,

law

,

science

,

business

,

engineering

Special circumstances, for example:

Being a

veteran

or a

child

or

spouse

of one

Being disabled

Being a former foster child or adopted
Don't know where to start looking for scholarships you're eligible for? to receive a list of scholarships and grants tailored to your qualifications in a matter of minutes!
What Do You Need To Prepare When Applying for Other Scholarships?
If you're looking for external scholarship opportunities, you should prepare the following documentation:
DoNotPay Finds More California Scholarships in a Jiffy!
California offers numerous financial aid opportunities that can help you afford higher education, and DoNotPay assists you by finding the ones you qualify for! The process is straightforward and requires completing a few easy steps:
Search for the product called Apply for Scholarships
Complete the questionnaire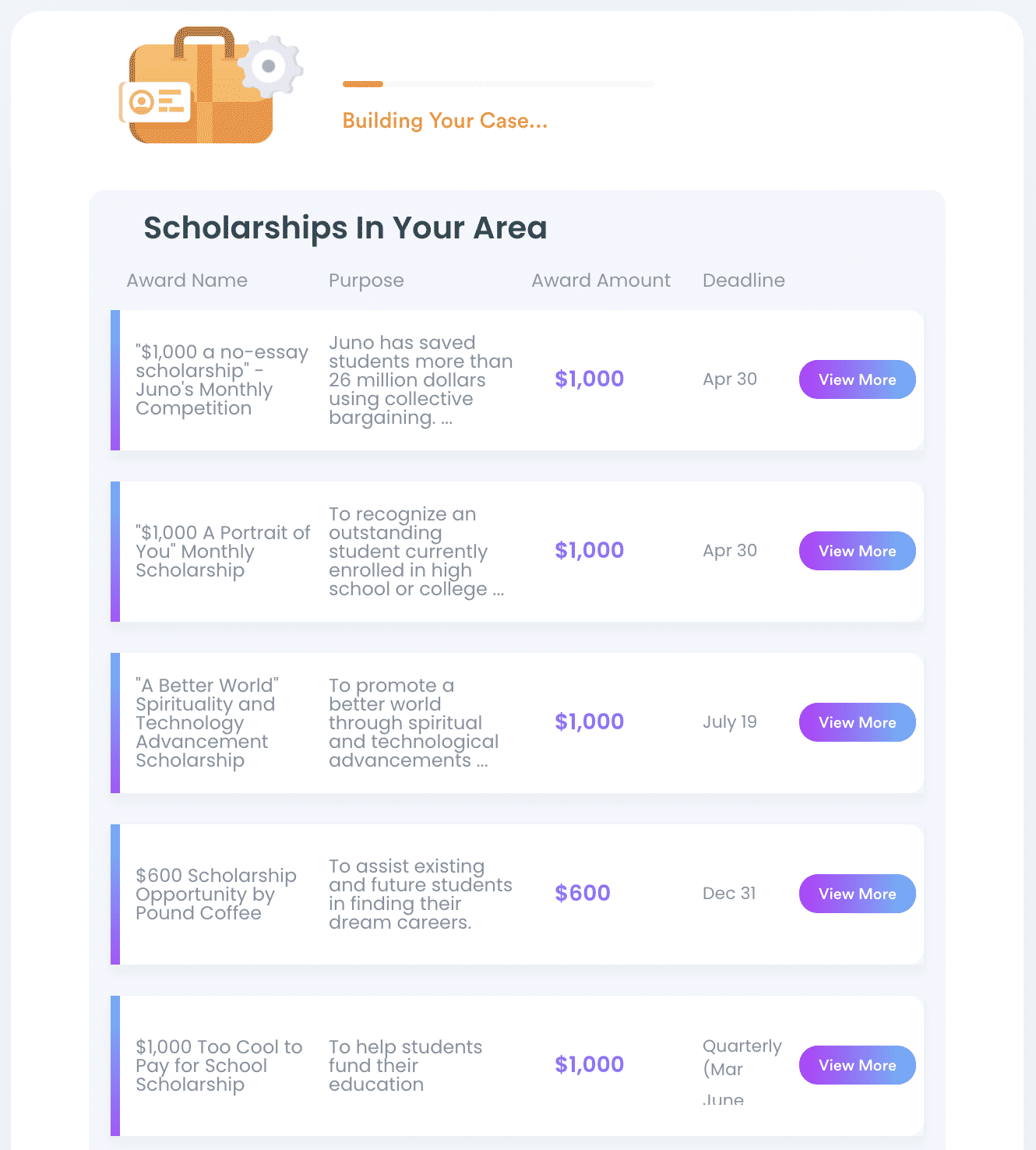 After completing all steps, you can use a personalized list of scholarships we curated for you to:
Browse through available scholarships and grants
Compare the prizes
Learn about the requirements for different awards
Apply for the awards you choose
You can also use our app to apply for no-essay scholarships automatically. The app completes the application forms using the information you provided in the questionnaire to save you time and help you secure the highest financial aid possible.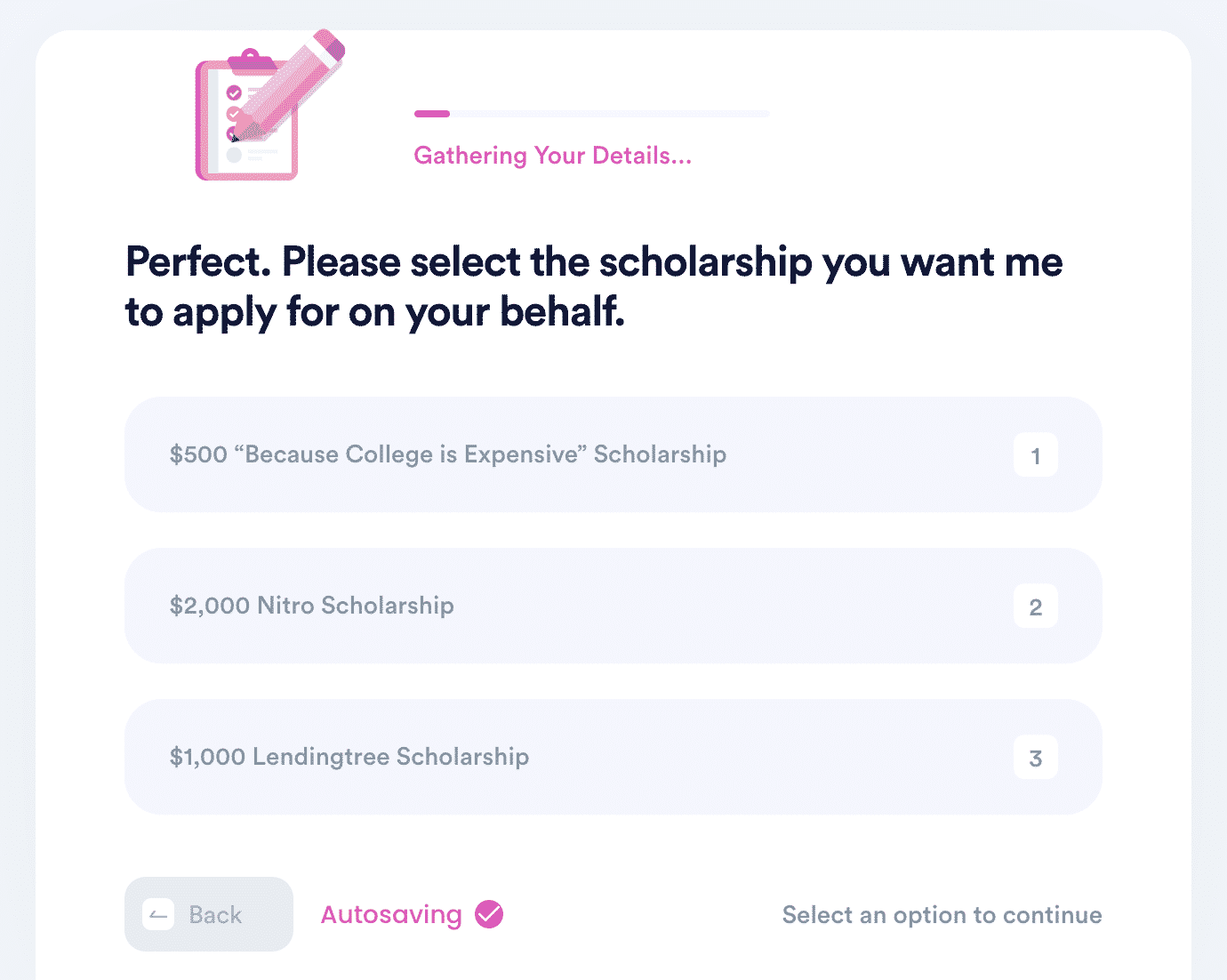 What's Next?
Once you complete the task at hand, you don't have to stop there—we offer a myriad of products that can relieve you of the stress that comes with dealing with admin and legal hurdles.
DoNotPay can assist you in drawing up a divorce settlement agreement, child travel consent form, power of attorney, and other legal documents, contacting government representatives, getting tourist visas, fighting workplace discrimination, getting a burner number, appealing banned accounts, getting access to public records, scheduling a DMV appointment, and much more.
Tackle Any Energy-Draining Task With DoNotPay
With DoNotPay by your side, you don't have to worry about how you'll cover your utility bills at the end of the month—we'll provide swift assistance as soon as you sign up!
Wondering what else our app is capable of? Check out how we can: