The Ins and Outs of Scholarships for Low GPAs
A common misconception is that scholarships are only available to students with extraordinary academic achievements, but there are many scholarships for low GPAs that you can apply for!
Still, it can take a lot of time and energy to identify the right program that matches your circumstances. If looking for scholarships on your own proves to be too exhausting, to locate the best funding opportunities out there.
What Kind of Scholarships for Students With Low GPAs Are Available?
Even though many schools focus on offering scholarships for high-GPA students, it doesn't mean you have to give up. Many types of college scholarships don't exclude students with low GPAs. While some of these scholarships have no GPA requirements whatsoever, some set a rather low minimum grade point average for students to qualify.
Here are a few different types of scholarships available:
GPA-based—anywhere from 1.0 to 3.0
Non-academic
Focused on applicants based on their ethnicity, gender, and other factors
Scholarships Without GPA Requirements
Finding a good scholarship that does not have a GPA requirement may feel like a myth—but they exist! Here are some scholarships without GPA requirements:
AFSA High School Scholarships—American Fire Sprinkler Association
All Iowa Opportunity Scholarship—Iowa College Student Aid Commission
The Burger King Scholars Program—Burger King McLamore Foundation
Cappex Easy Money Scholarship
Chegg Scholarships
Common Knowledge Scholarship Foundation Programs
Dr. Pepper Tuition Giveaway
Florida State Scholarship and Grant Programs
Golden Leaf Scholarship Program—College Foundation of North Carolina
Legal Opportunity Scholarship Fund—American Bar Association
Missouri Department of Higher Education Grants and Scholarships
There are hundreds of other grants and scholarships that have no GPA requirements, and finding them has never been easier—use DoNotPay!
Are There Any Scholarships for 2.0 GPA Students?
The short answer is yes! If you are worried that your GPA is too low, you shouldn't be. There are numerous scholarships that are available to students who have a GPA of 2.0 or even lower—going as low as 1.0!
If you are a high school senior or a prospective graduate student with a not-so-stellar report card, you should gather all the information about this type of scholarship as soon as you can to gain the upper hand and secure funding for your education.
Here are a few scholarships for students with a 2.0 GPA:
| Scholarship | Awarded Amount |
| --- | --- |
| Advantage Iowa Award | $8,000 |
| American Public Transportation Foundation Scholarship | $5,000–$10,000 |
| College Fund of Pinellas County Grant | Up to $4,800 |
| Florida Student Assistance Grants | Varies |
| Becca's Closet Scholarships | Varies |
| Georgia State University Achieve Atlanta Scholarship | $20,000 |
| Georgia HOPE Grant Program | Varies |
| Jane Allen Newman Scholarship | $2,500 |
| Julio and Sarah Armellini Scholarship | Varies |
| The David Scholarship | $1,000 |
| West Virginia Higher Education Grant Program | $2,700 |
| Partner Colorado Foundation Scholarships | $1,000 |
Scholarships for 3.0 GPA or Lower
Scholarships for 2.5 GPA to 3.0 GPA students are slightly more common than those for students with GPAs lower than 2.5. Scholarship amounts can range from $1,000 to $40,000.
Here are a few programs that might interest you:
5 Strong Scholarship
AAF Association of IT Professionals Scholarship
Alice Belkin Memorial Scholarship
AISES A.T. Anderson Memorial Scholarship
Diamond State Scholarships
DeuceMan Strong Memorial Scholarship Foundation
Dr. and Mrs. Volodymyr and Lydia Bazarko Scholarship
NAWIC Founders Scholarship Foundation
Pittsburgh Penguins Foundation Scholarship
Texas A&M University - Century Scholars Program
Texas Tech University Transfer Scholarships
West Virginia PROMISE Scholarships
West Virginia Engineering Science and Technology Scholarship Program
William Vatavuk Scholarship
Watson-Brown Foundation Scholarships
Some of these programs require letters of recommendation and scholarship essays, especially if you are an international student. In such cases, it is crucial to prepare all the correct documents before starting the application process.
Looking for Other Options? Take a Look at Non-Academic Scholarships
Scholarships don't have to focus on your academic results only. There are tons of scholarships out there that prioritize extracurricular activities and military service or target specific minorities. Other programs consider extracurriculars and grades combined, as opposed to focusing solely on GPA.
Here are a few you can check out:
Army ROTC Scholarships
CFPCA LGBT Endowed Scholarship
The Clara Abbott Foundation Scholarship
Joshua Gomes Memorial Scholarship Fund
Andrew "Sparky" Seever Scholarship
Alisa's Angels Scholarship
The Bailey Family Postgraduate Scholarship
AFAS General Henry H. Arnold Education Grant Program
AIGA Worldstudio Scholarships
Deana's Wish Memorial Scholarship
Are There Any Scholarships for Female Students Specifically?
Several scholarships are exclusively aimed at female students. Take a look at a few of the more popular ones:
Ruth Scholarship
Pathway to Success Scholarship
Amber Huber Memorial Scholarship
Womanspace Scholarship
Women in Defence Scholarship
Women in Public Finance Scholarship
WTS Baltimore Undergraduate Scholarship
Too Much Information? DoNotPay Can Help You Simplify the Search!
When searching for scholarships, there are often too many options to choose from and a seemingly infinite number of pages to sift through. DoNotPay can help make your life easier by providing a comprehensive list of scholarships that fit your profile!
Follow these steps to start using our platform now:
and look for the Apply for Scholarships product
Select your current level of education and the type of degree you want to pursue
Input a few details about yourself
That's it! DoNotPay will show you a full list of scholarships that you are eligible for! You can also choose to apply automatically through DoNotPay if you're looking at no-essay scholarship options!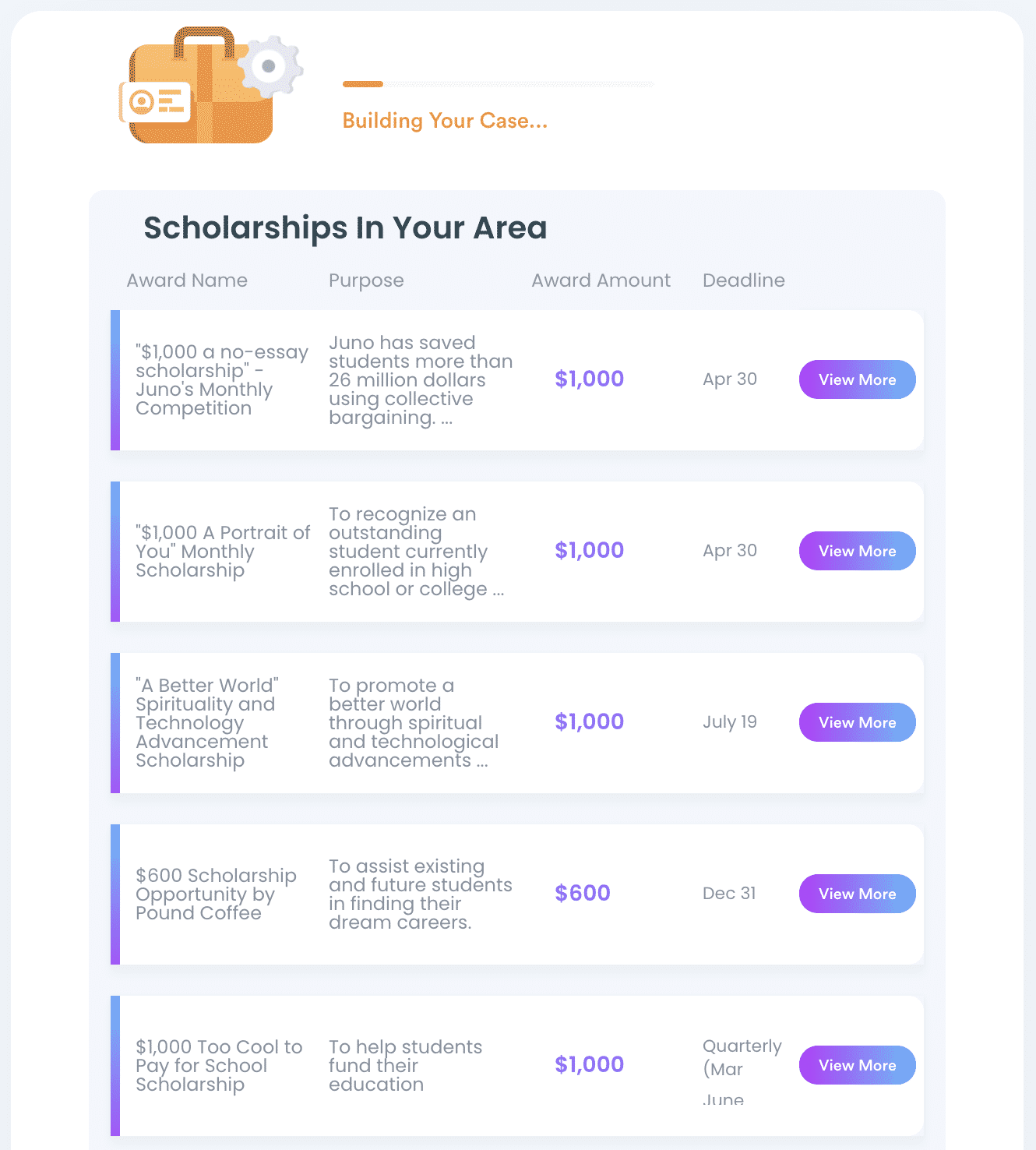 Explore DoNotPay's Product Range
Are you looking for additional assistance from our app? We're happy to inform you that DoNotPay provides you with a number of useful tools that you can use to complete mundane tasks in the blink of an eye! Sign up for our app and let us help you get:
DoNotPay Resolves Your Financial Issues in a Few Taps
You don't have to struggle to figure out how to resolve financial problems yourself when you have our app at your disposal. In only a few clicks, you'll be able to discover any unclaimed money under your name, submit insurance and warranty claims, or request compensation for delayed flights.
But that is not all! Lowering your utility bills, appealing parking tickets, or canceling memberships and subscriptions is also something you can do in no time and with minimum effort if you use DoNotPay! Work smarter, not harder!