Learn the Essentials of the Belk Return Policy
Have you e-shopped and bought a piece of clothing from Belk that is not your fit? Maybe you've received a broken home decor item from the company?
No worries! Subscribe to DoNotPay, and we can help you navigate the Belk return policy and speed up the processing time for your refund or exchange.
Belk's Return Policy—Covered Items and Exceptions
For most items purchased at Belk, the returns are allowed within 180 days of the purchase date. If you return your product within this period, you will get a full refund.
There are three groups of products that are exceptions to this rule:
Temporarily restricted items due to the COVID-19 pandemic
Large items
Products that are generally not eligible for return
Belk Return Policy—COVID-19 Changes
Belk has altered the return policy for some items to protect its customers from the spreading of the COVID-19 virus.
Items that are still returnable need to have their original tags attached. You also have to provide the receipt.
Check out the return period for these products:
Items
Applicable Return Period
Fine jewelry
90 days
Special occasion dresses
45 days

Clothing
Swimwear
Intimate Apparel
Shoes
Cosmetics

Non-returnable
Belk Return Policy for Large Items
Large items include:
Furniture
Mattresses
Rugs
The return period for them is limited to 90 days. Belk states that they will reject all refund claims after this period has expired.
Products Not Included in the Belk Return Policy
Belk's return policy doesn't allow returns or exchanges bought during the final sale. This applies to all final sale purchases regardless of the flaws they might have.
How To Return a Belk Product
You can return your unwanted item to Belk in a few ways. Here is a list of steps for each method available.
| | |
| --- | --- |
| Can You Initiate a Return Via | Yes/No |
| DoNotPay | Yes |
| Email | No |
| In Person | Yes |
| Letter | No |
| Website | No |
| Mail | Yes |
| Phone | Yes |
Belk In-Store Returns
Items that you bought at one of Belk's locations can only be returned in person.
For products bought through Belk online store or Curbside Pickup, both in-store and mail return methods are available. Note that when it comes to Belk, online returns are not available.
Returns to Belk via Mail
According to the Belk return policy, the steps for returning your articles via mail to the Belk Fulfillment Center are:
Find your packing slip
State the reason why you are returning the product
Pack the product safely to prevent breaking
Make sure your packing slip is securely packed together with the item
Send your product to: Belk Returns Center, 3805 Furman L. Fendley Hwy, Jonesville, SC 29353
Belk suggests choosing a courier service that provides shipment tracking so you can check its progress to the destination.
Return Information Available Over the Telephone
Large items can be returned neither to the stores nor via mail. For this type of return, the Belk return policy states that you should call their customer support center at 1-866-235-5443.
Here is the list of products in question:
Area rugs (whose one side is 5 feet or longer)
All furniture
Mattresses
Wall art, clocks, mirrors, or picture frames (that are 30 inches or larger)
Christmas trees (that are 10 feet or larger or outside of the original packaging)
Belk Return Policy—Returns Without a Receipt
If you've lost your purchase receipt or your packing slip, Belk will offer you only a refund in the form of a Belk Gift Card credit. The sum will be the lowest sale price of the item within the last 60 days. The same goes for returns that you file after 180 days from the purchase.
Belk Refunds—Processing Times and Payout Methods
Your refund from Belk should be on your account within 15 business days of the time when your item reaches the company. You can expect the payout in the same form that you initially paid for the product.
In case you used Apple Pay or PayPal, there are some details to pay attention to:
Apple Pay—To get a refund for your Belk purchase paid via Apple Pay, you'll need to provide the barcode. It's included in:

Your order's packing slip
The order confirmation email
Shipping Notification email
Your Belk account under My Orders

PayPal—If you wish to return your item to one of the Belk stores, you'll need the receipt or order confirmation email. In case you have none of those, they will refund the lowest price of the product in the last 60 days. The credit will go to your Belk Rewards credit card or a Belk gift card. The same applies to returns after 180 days from the purchase
Return a Product to Belk With no Obstacles! Turn to DoNotPay!
If you don't have the energy to go back and forth with Belk customer care representatives, rely on DoNotPay to handle your return. All you should do is :
Log in to your DoNotPay account using any web browser
Choose the Item Return Request product
Supply our chatbot with the necessary info about your purchase
Submit the request
DoNotPay will use the details you provided to create a unique return request letter and send it to Belk. This document will contain all information that Belk might need to process your request efficiently.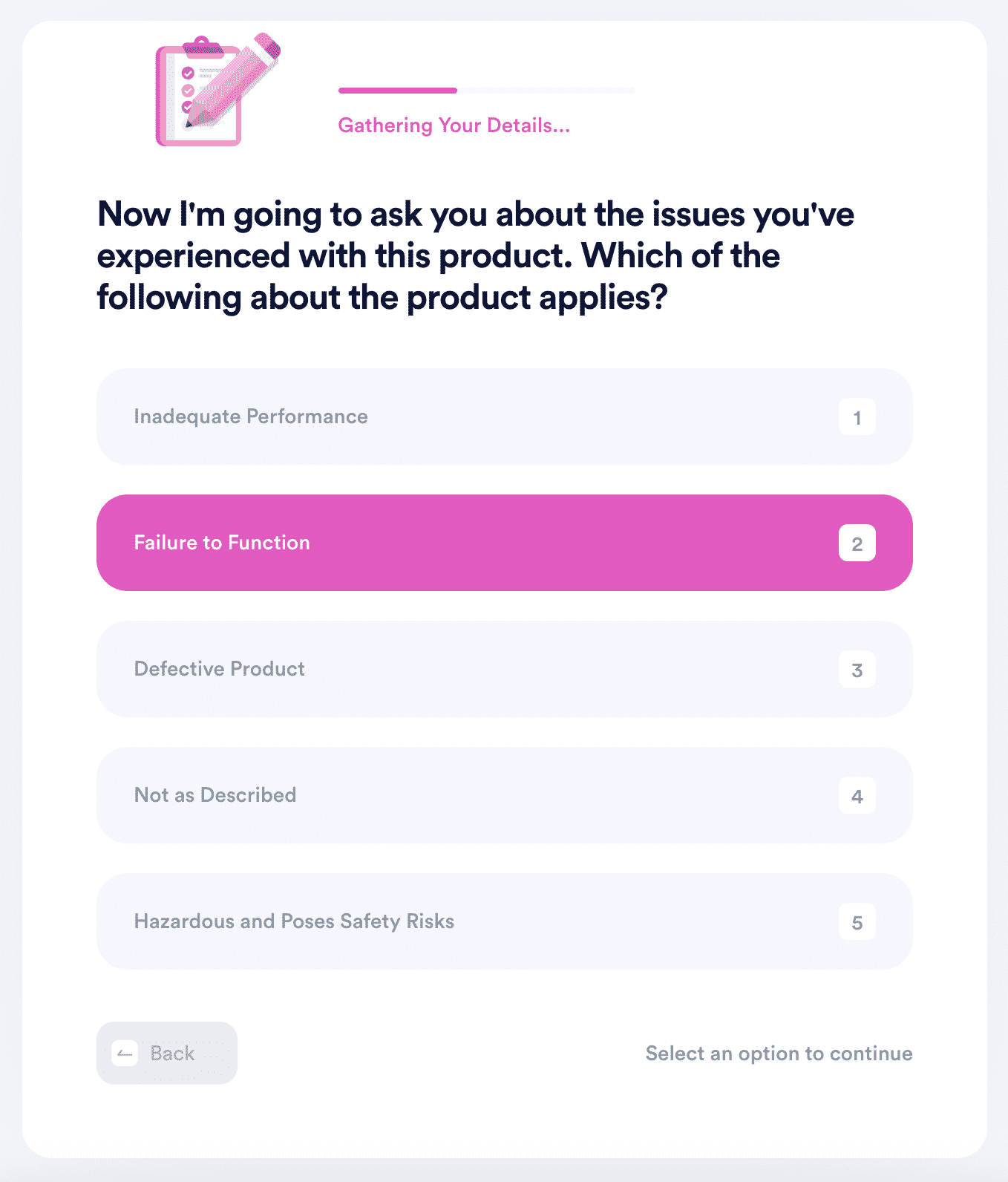 Our app offers you the choice between a refund and replacement. It also allows you to set the end date by which your refund should be paid out. We communicate all these specifics to Belk on your behalf.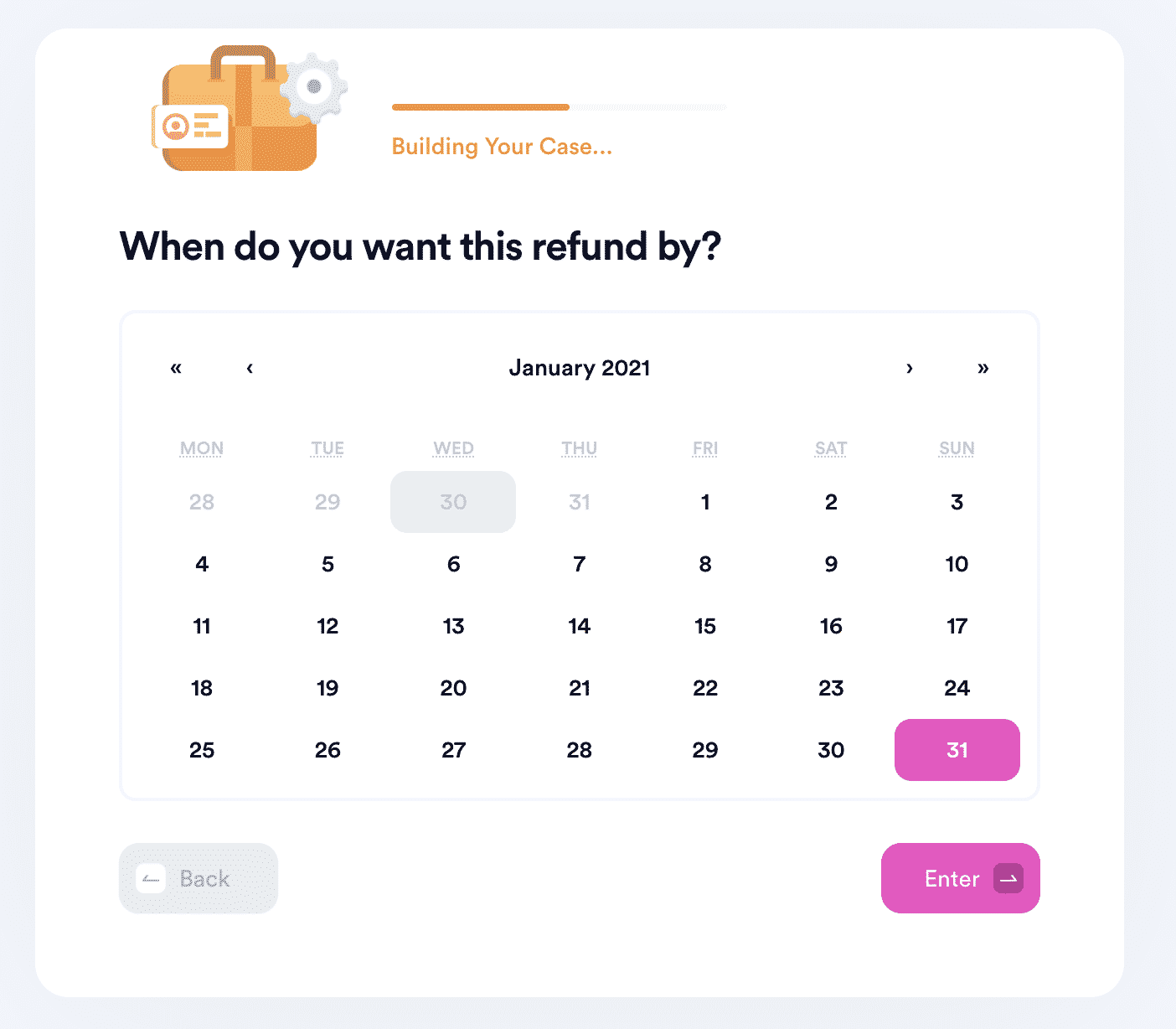 DoNotPay also provides you with a return label so your item can be shipped back free of charge.
If you need info on return practices in other large companies, DoNotPay has a base of guides you might find useful:
Is the Company Refusing To Cooperate? We Can Help You Get Justice
Is whatever company you're dealing with not being a good sport? Don't worry—the world's first robot lawyer is here to help. Our app can prepare all the necessary paperwork and provide guidance if you want to sue the company in small claims court.
We can also help you draw up any legal document you need for the case, have it notarized by an online notary, and fax it to anyone in a matter of minutes.
If you want to get revenge on tiresome robocalls or report a stalker or harasser, you can rely on DoNotPay.
Anything Else We Can Do for You?
Our AI-powered app is versatile—you can complete many tiresome, daunting tasks that you wouldn't want to tackle by yourself. You can use DoNotPay to:
If you want to get access to all of our nifty products, sign up now!