Bellevue College Financial Aid Portal—Learn the Basics
As a public college, Bellevue is considered to be a high education institution with affordable tuition—from $3,866 to $9,246 per year. If you're struggling to pay it off, you should try applying for student aid at the Bellevue College Financial Aid Portal.
In this web-based app, you will find the info you need to complete your aid application. Although it is convenient and saves time, like any other digital portal, this one is also prone to mistakes. If your Bellevue financial aid application goes south, you can rely on DoNotPay.
Whether you got rejected because of a software issue or the Bellevue College did not see you as an eligible candidate for the aid, our app will help you file an appeal hassle-free. and get your appeal letter in a couple of clicks.
What Is Bellevue College Financial Aid Portal?
Bellevue College financial aid portal is a digital platform created for students who wish to apply for financial aid or learn more about it. This platform includes options for easy access to the FAFSA website, as well as the possibility to follow the status of your financial aid application.
On this portal, you can also find information on how much financial aid you can receive, how to get more aid, and for how many years you can use it.
Types of Student Aid at Bellevue College
If you are applying for financial aid at Bellevue College for the first time, you may get overwhelmed by the numerous aid options. Here are the types of financial aid Bellevue College offers:
Grants—Funded by Washington State or the federal government
Loans—Also financed by both the federal government and Washington State
Work-study programs
Scholarships
Waivers
Student Grants at Bellevue College Financial Aid Portal
The federal government offers grants for college students all across the U.S. At Bellevue College, you can apply for:
Federal Pell Grant—A need-based grant for undergraduate students
Federal Supplemental Educational Opportunity Grant (FSEOG)—Grant reserved for undergraduate students in exceptional need
Bellevue College also awards the Washington College Grant, and it is need-based and meant for undergraduate students. To apply for this grant, you will have to complete and submit either FAFSA or WASFA form.
Aside from that, you might also consider applying for some workforce education grants, such as:
BFET (Basic Food Employment & Training)—Reserved for students receiving federal DSHS food assistance
Opportunity Grant—Available for students who are Washington State residents and have low income
Worker Retraining—Available for veteran students discharged from service in the past 48 months, students on unemployment insurance, active-duty soldiers with separation orders, and students in distress due to a divorce or the death of a spouse in the past 48 months
WorkFirst—Reserved for students' parents who are receiving Temporary Assistance for Needy Families (TANF)
Bellevue College also offers BC institutional college grants for undergraduate students who are Washington residents.
Bellevue College Loans
On the Bellevue College financial aid portal, you can find two loan options:
Federal Direct Student Loans— subsidized and unsubsidized
Federal Parent Direct PLUS Loan
While college awards Direct Student Loan to eligible undergraduate students with financial needs, Parent Direct PLUS Loan is based on the financial needs of the student's parents.
| | |
| --- | --- |
| Loan Name | Who Is Eligible? |
| Federal Direct Loan—Subsidized | Undergraduate students |
| Federal Direct Loan—Unsubsidized | Undergraduate, graduate, and professional students |
| Federal Parent Direct PLUS Loan | Graduate and professional students |
Work-Study Programs at Bellevue College
The work-study program is also funded by the federal government. This is financial aid that provides students with part-time jobs off and on campus while attending classes. Bellevue College awards this type of aid to Washington residents, and students should not work more than 19 hours a week.
Bellevue College Scholarships
Scholarships are a gift from the college to students, which means you will not have to pay them back like a loan. Bellevue College offers:
Washington College Bound Scholarship—Reserved for undergraduate students who are Washington State residents
BC Foundation Scholarships— Scholarships available to 192 Bellevue College students and financed from BC foundation
Bellevue College Waiver
Bellevue College waiver is available for specific groups of students. Eligible candidates for this type of financial aid are:
Military and navy veterans, members of national guards and other service veterans, as well as their family members
Senior citizens
Certain state employees
Students attending online classes only
Students performing arts or playing team sports that are officially recognized as part of co-curricular activities
Students approved for residency status in the following three quarters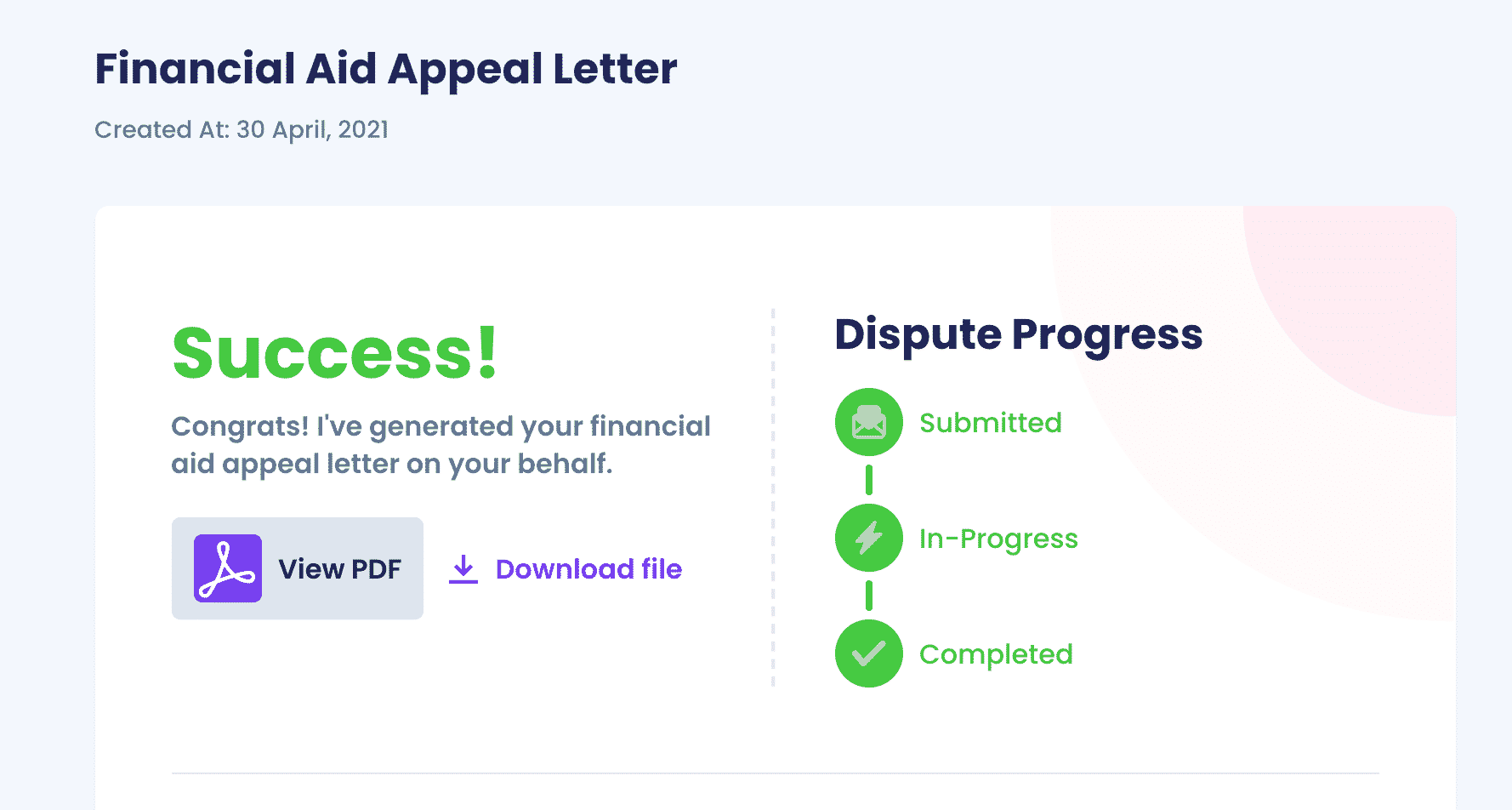 How To Apply for Aid Through the Bellevue College Financial Aid Portal
To apply for financial aid on the Bellevue College financial aid portal, you will have to take several steps:
Complete FAFSA or WASFA (Washington Application for State Financial Aid). This is something you do for each year you attend Bellevue College
Gather necessary documents—Check Bellevue College Financial Aid Portal to see which documents you need
Submit documents—You can do that online or by mail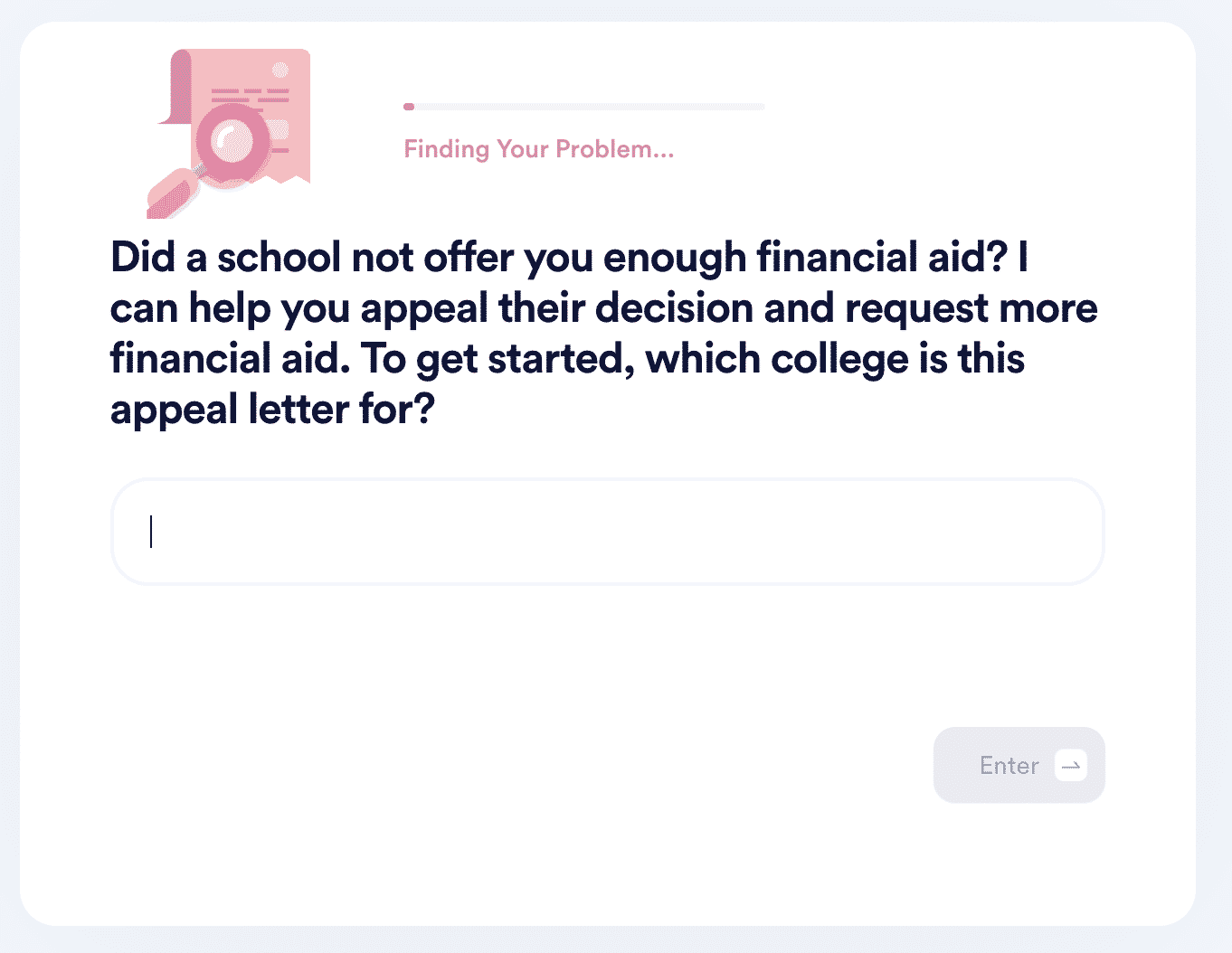 Don't Stress About Getting Rejected! DoNotPay Can Help!
In case Bellevue College rejects or offers finance aid lower than you need, do not hesitate to file an appeal.
Writing an appeal letter takes time and effort, and we will be happy to make it short and simple. All you have to do is:
Search for Appeal for More Financial Aid in our app
Answer some basic questions
When you provide us with the necessary information, DoNotPay will generate an appeal letter that you can then send to Bellevue College or any of these educational institutions and more:
Work Smarter, Not Harder!
Although there are certain tasks that are a pain but can't be avoided, such as paying your property taxes, you don't have to do them the hard way. There is always a way to make the overbearing bureaucratic procedures a bit easier. DoNotPay can find a loophole and help you cut through the red tape!
Reducing your property taxes is only one in the sea of tasks our app will make super easy to do! You can also use DoNotPay to:
Draft legal documents

(such as

POAs

)
Explore DoNotPay's Other Neat Features
DoNotPay offers a plethora of useful products to make your day-to-day life easier and enjoyable! Consult the list below to see what you can do using our app: