Why You Should Apply for a Washington State Opportunity Scholarship
Many academically gifted students give up on their career aspirations because of the high cost of quality education. They end up enrolling into obscure colleges that offer cheap degrees and settle for a basic job that pays the bills—while their potential goes down the drain.
The Washington State Opportunity Scholarship (WSOS) caters to such talented students from low-income households who:
Have the drive to pursue a high-demand career
Need funding to enroll in an eligible technical school
Seek support and connections to find lucrative jobs
This article will guide you on how to apply for a life-altering WSOS program in no time!
WA State Opportunity Scholarship Programs Explained
WA State Opportunity Scholarships are one hundred percent academic scholarships that offer financial aid through three different programs:
Baccalaureate or college scholarships
Career and technical scholarships
You can find summarized details of all three programs in the table below:
WSOS Program
Details
Baccalaureate or BaS scholarship
The BaS program offers you financial support of up to $22,500 if you are majoring in:

You must be accepted in an eligible public or private college in Washington State to qualify for this scholarship

Career and technical scholarship (CTS)
The CTS program is dedicated to helping students who don't want a baccalaureate degree but to gain technical, job-oriented skills in high-demand fields like:

Building care and maintenance
Cybersecurity
Robotics
Carpentry

This program will help you acquire employability skills through industry exposure, apprenticeship, and workshops.

You can receive up to $1,500 for each quarter throughout the duration of your course

Graduate scholarship (GRD)

The GRD program is solely meant for qualified female and male nurses who want to become advanced nurse practitioners
You need to be accepted in one of the following six nursing schools to be considered for a GRD:

Gonzaga University
Pacific Lutheran University
Seattle Pacific University
Seattle University
UW Seattle
Washington State University

The program carries a $25,000 reward that will be distributed over three years
Understand the General Eligibility Requirements for Washington State Opportunity Scholarships
Apart from the individual scholarship program requirements, you need to fulfill the general eligibility criteria for all Washington State Opportunity Scholarships.
The requirements you currently have to meet include:
Residency rules—You must be a resident student as per the resident and non-resident Washington State Legislature classification rules (you may not be eligible for a WSOS program if you are a legal immigrant or an international student)
Financial need—You can apply for a WSOS only if your family's income is:

Below 125% of Washington State Median Family Income (WSMFI)—for BaS or GRD programs
Below 70% of WSMFI—for the CTS program

Appropriate past academic performance—For the BaS program, your GPA as a high school senior should be above 2.75 (on a scale of 4.00). For CTS and GRD programs, your previous academic performance will be competitively analyzed by the assessment committee
Enrollment proof—You must prove that you are accepted for an eligible program in one of the universities recognized by the Washington Student Achievement Council
Post-degree plan—You may have to commit to a post-degree job, service, or practice agreement to be eligible for WSOS
The above requirements can be altered every semester, so you need to check for relevant eligibility updates before applying.
Is Any Washington State Opportunity Scholarship Awarded Based on Diversity?
Washington State Opportunity Scholarships do not have diversity-based options, but that hardly makes a difference as the majority of WSOS recipients are from minority groups.
As per the latest demographic assessment released on the WSOS website:
57% of WSOS beneficiaries are women
There are, however, no WSOS programs that benefit economically struggling populations like veterans, transgender people, or foster youth.
DoNotPay Can Help You Keep Up With WSOS Program Requirements!
If you are stressed over keeping up with multiple scholarship rules and guidelines, consider using DoNotPay's assorted scholarship support product. Our app uses your answers from our short questionnaire to determine your eligibility for all scholarships in the U.S. You don't have to break your head over checking your qualifications or eligibility for any scholarship—we will do that for you automatically!
To view all the scholarships that you're eligible to apply for, !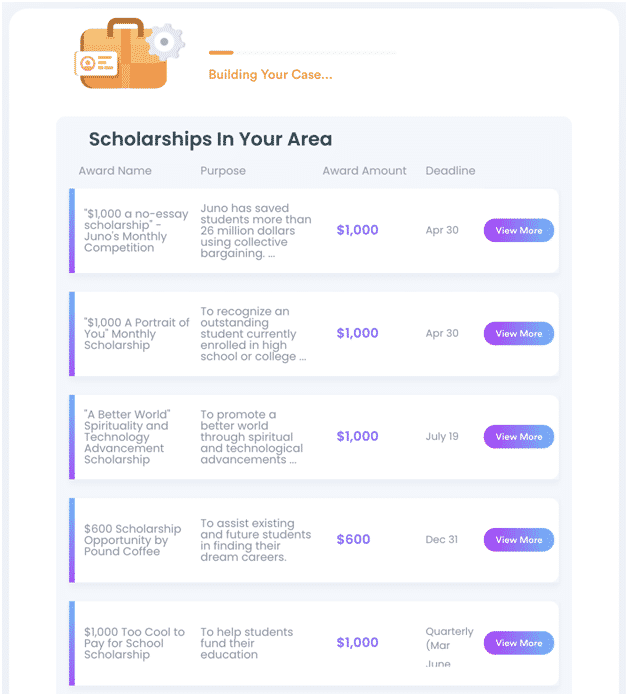 How To Apply for WA State Opportunity Scholarships
To apply for a WA State Opportunity Scholarship, do this:
Complete the latest Free Application for Federal Student Aid (FAFSA) or Washington Application for State Financial Aid (WASFA) form applicable for the appropriate semester
Apply for federal tax credits—if applicable
Submit the following to the official Scholarship Application Portal at the WSOS website:

Resume and cover letter
Two scholarship essays (if required)
An unofficial degree transcript issued by your previous school
Recommendation letters that address your suitability for the WSOS program
Remember that there is no guarantee you'll be selected for the scholarship program despite meeting all the requirements. If you are not accepted, you can always reapply.
In case you are selected, you will receive an acceptance email that will contain instructions for your mandatory online orientation session.
Don't Be Dependent on a Single Scholarship—Apply for More With DoNotPay!
If you need scholarships and grants to support your education expenses, it's good practice to apply for as many options as you can. This increases your chances of winning and helps you minimize student loans.
DoNotPay is not just a scholarship finder—we also offer you a great mechanism to apply for multiple scholarships at once.
To start applying, you need to and do this:
Search for Apply for Scholarships tool
Enter your student info—your age, grade, interests, and extracurricular activities
Tell us if you want to use our View or Apply features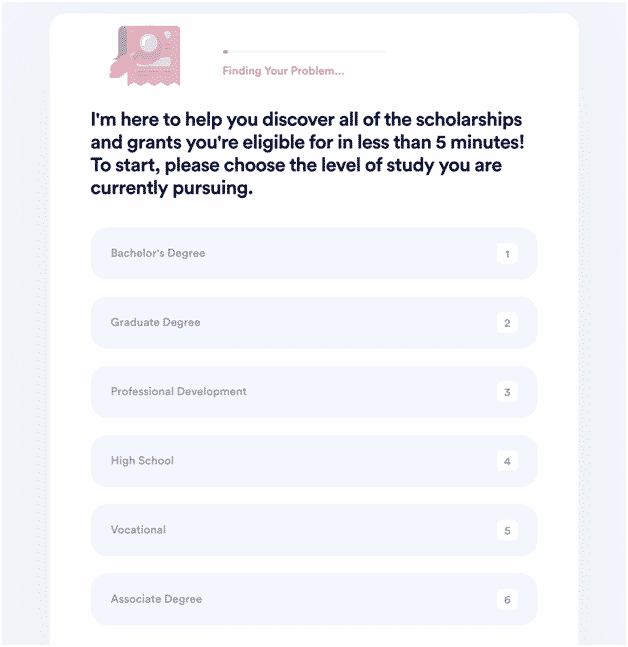 Refer to this table to see how our View and Apply features work:
View
Apply
This option will let you:

View the comprehensive list of all scholarships you qualify for, whether you're in or outside Washington State
Check the eligibility, amount, and deadline for each scholarship
Find authentic website links to apply—this protects you from scammers running fake scholarship websites

This option will allow you to:

View only the no-essay scholarships that you qualify for
Select your favorite scholarships from the generated list
Direct DoNotPay to apply for selected scholarships on your behalf
Check the status of your applications through the confirmation emails we send
Our user-friendly product not only simplifies the application process but also ensures you don't miss out on relevant scholarship opportunities!
Save Time With DoNotPay
DoNotPay is not done helping you! We offer you assistance in completing a variety of tasks quickly and efficiently, such as:
Canceling Subscriptions Has Never Been Easier!
If you keep getting charged a monthly subscription fee even though you no longer want to use a certain service, don't let your money go to waste! Some companies tend to renew your subscription automatically, but that doesn't mean you have to put up with it—use our app to terminate your membership or subscription in a few clicks!
Do you want to sign up for free trials and create a virtual credit card or a burner phone number to protect your sensitive info? Once you subscribe to DoNotPay, we will walk you through the process of doing all of the above in no time!
You can also count on our assistance if you need to get rid of spam or robocalls.