What Does the Magnuson-Moss Warranty Act Say About Your Rights
We all need to claim a warranty at some point. It's important to be informed about what warranty law says before filing a claim. Let DoNotPay help you make the process easier! 
Whether you're looking at getting an extended warranty for your used car or finding reliable info about warranty laws, DoNotPay makes the whole warranty process easier!
There's More to Federal Warranty Law Than You May Realize
When you purchase a warranty, you usually get a booklet explaining what the warranty covers and what it doesn't. However, there's more to a warranty than what's written in the booklet. Any claim made on the product you purchased can be counted as part of the warranty. That includes any claims made in advertising (also known as an express warranty). 
Implied Warranties
According to the Uniform Commercial Code (UCC), you're also entitled to implied warranties, which are based on the legal principle of fair value for money spent. This is an automatic warranty that is implied when the manufacturer or merchant sells the product. 
Implied warranty means that:
You should be able to use the product you bought without any problems

The product you buy is able to do what it was made for
Make sure that you get any implied warranties in writing—for instance, emailing the company to confirm a promise that it's made about the product.
Under state laws, there aren't any termination dates on implied or express warranties. However, the buyer has up to four years to find problems and remedies for the product after purchase.
Routine Maintenance
Have you done routine maintenance on your vehicle, appliance, or product and didn't use the dealer workshop? The sellers or dealers could try to reject the warranty even though that's illegal, according to the Federal Trade Commission's Magnuson-Moss Warranty Act. The law prohibits the dealer from denying your warranty because someone else did the maintenance. 
The seller has the right to deny the claim only if he or she can prove that faulty maintenance caused the problem in question. If the company can't prove this, it has to fix or replace the part or product. 
What Does a Warranty Usually Cover?
Warranties generally cover poor workmanship, sub-quality material, or factory faults. You can buy different types of warranties, and each type will cover various aspects. For instance, an extended car warranty can cover some wear and tear. 
What Do Car Warranties Cover?
Depending on the type of warranty you purchase, a car warranty can cover:
Engine and moving parts

Transmission

Air conditioning

Roadside assistance

Corrosion

Wear and tear
What Do Manufacturer Warranties Cover?
Manufacturer warranties are also referred to as factory warranties. The purpose of a manufacturer warranty is to cover any defects from the factory. That includes poor workmanship and sub-quality material. 
What Do Home Warranties Cover?
If the manufacturer warranty no longer covers your major appliances, a home warranty can give you peace of mind. It will cover the service, repair, or replacement of appliances in your house. 
How Do You File a Warranty Claim?
Companies usually follow the same procedures for warranty claims. You can contact the company directly to find out exactly what steps to follow. You may be able to use:
| | |
| --- | --- |
| Method | Can You Use It? |
| DoNotPay | Yes |
| Website | Usually |
| Phone | Usually |
| Email | Sometimes |
| Letter | Sometimes |
| In Person | Sometimes |
DoNotPay Creates and Files Warranty Claims Easily
DoNotPay is the easiest method to file a warranty claim. Regardless of which company you purchased your warranty from, the DoNotPay method stays the same:
Open DoNotPay in your

web browser

Select the

Claim Warranty

option

Choose whether you are filing a car, home, or manufacturer warranty

Provide the necessary details regarding the claim

Click on the

Submit My Claim

button
DoNotPay will fill in the necessary paperwork and file the warranty claim on your behalf.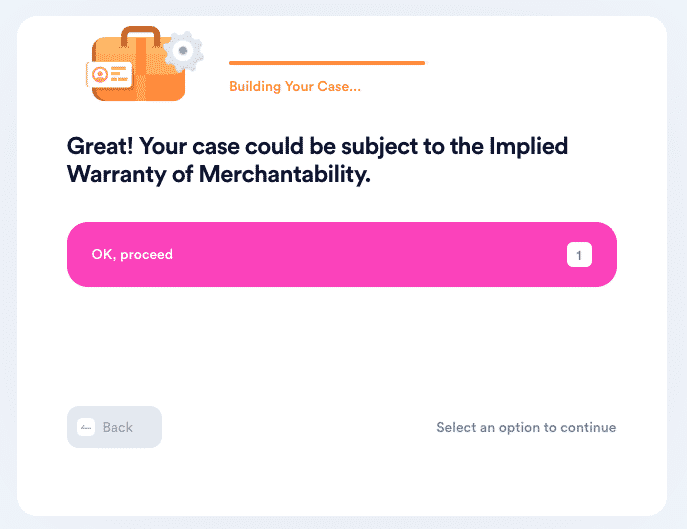 With our help and useful home warranty reviews, you'll be able to make an informed decision and purchase the best home warranty in America. We can also help you solve your issues with a dealer who doesn't want to cancel your extended warranty.
Take a quick look at some companies DoNotPay can help you with:
| | |
| --- | --- |
| | |
| Car Warranty | |
| Purchased-Item Warranty | |
DoNotPay Can Appeal Warranty Decisions
If the company denies your warranty claim, you have the right to appeal the decision. DoNotPay can file the appeal letter on your behalf. Follow these steps:
Access DoNotPay from your

web browser

Choose

Claim Warranty

Select

Appeal a Denied Warranty Claim

Indicate whether it was an extended warranty or manufacturer claim

Provide the details about the company and the original claim
DoNotPay will submit the appeal on your behalf.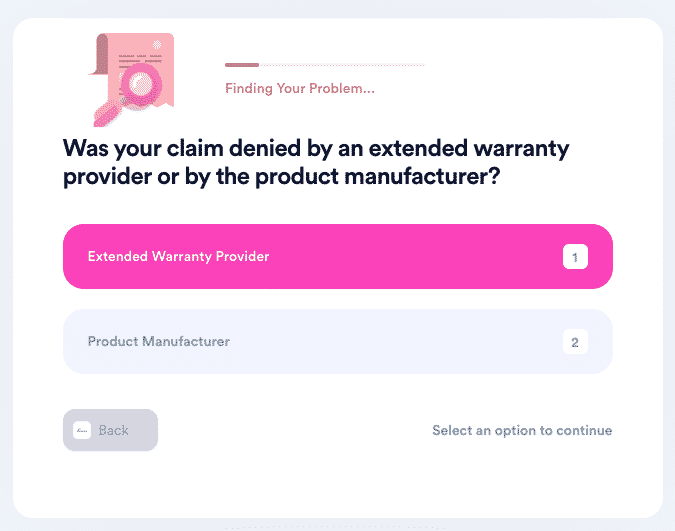 DoNotPay Never Ceases To Amaze
Where there's one useful feature, there are nifty features galore!
Use our Virtual Credit Card to sign up for free trials and stop robocalls and spam text messages from reaching your phone. If you feel a free trial unrightfully turned into an expensive paid membership, we can help you request a refund or chargeback for the inconvenience.
We can further assist you in exercising your consumer rights by making a warranty claim in your place and verifying your online accounts with temporary phone numbers.
We can also break down the Freedom of Information Act for you and introduce you to online fax options and property tax reductions.
Clear Your Schedule With the Help of DoNotPay
DoNotPay is renowned for making our users' lives infinitely easier. Not only can we root out unwanted subscriptions for you—you don't need to do it manually one by one any longer—but we can unsubscribe you from unwanted email and snail mail lists.
Fire up our app and let it navigate the phone tree instead of you or use it to make a DMV appointment at your earliest convenience. Forget about googling clinical trials near you—DoNotPay can sort them out according to your needs and their individual eligibility criteria. 
We can fill out the paperwork that you need to file at your local small claims court to initiate a dispute. You can work around the U.S. penal system and have DoNotPay locate an imprisoned loved one instead of you trying to reach individual prisons attempting to do it yourself.
You don't need to go to great lengths to get in touch with a counselor to sign your college fee waiver either—DoNotPay does it for you and then forwards the necessary documents on your behalf.