Claim Your Alpha Extended Warranty in a Few Easy Steps
Manufacturer car warranties are short and often expire too soon. Purchasing an extended car warranty will protect your car longer, which is great for both new and used cars. If you invested in an Alpha Extended Warranty and need to file a claim, DoNotPay can make the process easier. We will file the claim on your behalf and help you save time. Whether you need to have your car fixed or handle a dealer who refuses to cancel an extended warranty, DoNotPay is here to help.
What Does Alpha Car Warranty Cover?
The Alpha Warranty Services offers six different warranty plan options:
Alpha Tiered Program

ABC Program

A La Car Program

A+ Program

New Car Program

PriorityOne Program
The first two plans—Alpha Tiered and ABC Program—offer an extended warranty.
Warranty Plan
Coverage

Alpha Tiered Program

Engine

Transmission

Transfer case

Enhanced drive axle

Steering

Turbo/supercharger

Enhanced electrical

Enhanced cooling

Enhanced air conditioning (not including recharge or evacuation)

Basic suspension

Brakes

Basic fuel system

Essential seals and gaskets

ABC Program
Not all warranty plans are available in every state. You should contact Alpha Warranty Services and ask about the options available.
Alpha warranties don't cover problems regarding maintenance. If a part of your car breaks because of a lack of care, you won't be able to claim the Alpha warranty service.
How To Claim Your Alpha Warranty on Your Own
Both customers and repair facilities can file an Alpha Warranty Services claim:
Customers should contact the Alpha call center to claim their warranty

Repair facilities can file a claim either over the phone or on the Alpha Warranty Services website
Claiming Your Alpha Auto Warranty as a Customer
File your claim by following these steps:
Phone 800-662-5519

Explain to the agent what issues you're experiencing

Follow the instructions that the agent gives you
Once you locate the nearest licensed repair facility, you should tell them to call the Alpha customer support. The facility will have to contact Alpha Warranty Services before making any repairs. If you can, provide the repair shop with a copy of your contract.
Claiming Alpha Extended Warranty as a Repair Facility:
If you represent a repair facility, you can file an Alpha car warranty claim online. Follow these steps:
Log in

to the Alpha website

Click on the

Submit Claim

tab

Fill in the vehicle make and last eight digits of the vehicle identification number (VIN)

Follow the instructions
Repair facilities can also dial 800-662-5519 and file a claim over the phone.
What Happens Once I File an Alpha Car Warranty Claim?
Since your main course of action is to contact the repair facility, you do need to wait for the outcome a bit. After talking over the details with the repair shop, Alpha will inform them about their decision regarding your claim.
If your contract includes rental coverage, you can rent a car. Your next step would be contacting Alpha Warranty Services for reimbursement.
The entire process usually takes a couple of hours. You can contact the shop to find out more about the claim status. Alpha will communicate with them directly regarding the repairs and the warranty.
When Should You Claim Your Alpha Car Warranty?
When you realize that something is wrong with your car, you should immediately contact the Alpha call center and explain your issue. The agent will give you a list of repair facilities where you can get your car fixed.
The call center is available Monday to Friday from 7:00 a.m. to 6:00 p.m. Mountain Time.
How Does a Claim Pay Out?
If Alpha approves your claim, they will pay the repair shop with a credit card.
How Can DoNotPay Help You File an Alpha Extended Warranty Claim?
DoNotPay makes warranty claims a breeze. Our Claim Warranty feature helps you claim any warranty, including your home, car, or appliance warranty.
To file an Alpha extended warranty in a jiffy, follow these easy steps:
Open DoNotPay in your

Choose the

Claim Warranty

feature

Select

Alpha Extended Car Warranty

Fill in the required information, including the problems you're experiencing

Submit your claim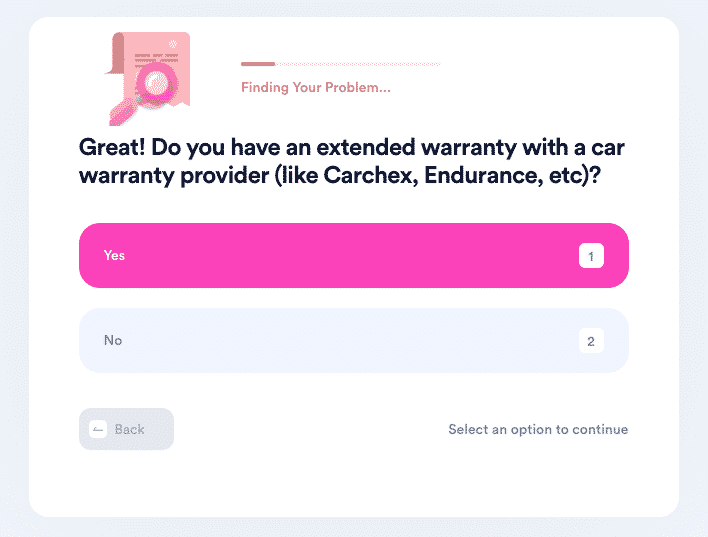 We will help you file a warranty claim with any car company, including:
Our platform will help you deal with car warranty robocalls, and thanks to DoNotPay's reviews, you can choose the best home warranty in America.
DoNotPay Can Help Appeal a Denied Claim
If Alpha, Allstate, Infiniti, or any other company denies your claim, DoNotPay will help you appeal the decision:
Open DoNotPay in your

Choose the

Claim a Warranty

feature and click on

Appeal a Denied Warranty Claim

Indicate that you're appealing an extended warranty decision

Provide the details of the claim that you submitted
DoNotPay will submit the appeal letter on your behalf.
What Else Can Our Award-Winning App Do for You?
If you think that's impressive, wait until you've heard about other features we boast!
Our powerful app can draft paperwork for you, locate unclaimed funds under your name, cancel subscriptions, sue robocallers, and protect you from stalkers and harassers—all in one nifty browser app!
Our services have been recognized by the esteemed ABA Brown award, serving as a testament to our abilities to assist you with your small claims issues, free trial auto-renewals, college fee waivers, public records, copyright protection, and much more!
More Benefits of DoNotPay
DoNotPay is a useful tool for handling many otherwise annoying life's trifles, including: