Learn About a
Manufacturer Warranty
From Top to Bottom
A manufacturer warranty has a few different names. You may know it as a limited warranty, as opposed to the extended, which you have to pay for. Another term is a factory warranty, typically used for cars. What they all have in common is the fact that they come with the product, car, or home. The manufacturer is giving a promise with this warranty that the product will work for its intended purpose.
We'll go over the manufacturer warranty coverage and the best way to file a warranty claim if your purchased product doesn't work.
What Is
a
Manufacturer Warranty
?
A manufacturer warranty exists to protect the consumer or user. It is a guarantee that if a product fails within the warranty period, the manufacturer must repair or replace it free of charge.
What Does
a
Manufacturer Warranty Cover
?
Not every manufacturer's warranty is the same. It depends on the manufacturer and on the product itself. For example, a warranty period for a car is typically three years, but for a TV, it's one year.
Check out what manufacturer warranties usually cover:
Manufacturer Warranties Cover
Manufacturer Warranties Don't Cover

Items that have defective parts

Failures in terms of design, material, and workmanship

Wear and tear

Defects caused by abuse or misuse

Breakdowns due to accidents with fire or water
What Is a Factory Warranty on a Car
?
A manufacturer or factory warranty on a car lasts much longer than other purchases. Car repairs can be a nightmare, so you should understand a car's factory warranty and know what you're getting yourself into.
New cars usually have a three-year or 60,000-mile warranty. While more and more car vendors have longer factory warranties, ranging from five to seven years, others offer extended warranties, even for used cars.
Not every car part is covered by a factory warranty:
Factory Warranty Usually Covers
Factory Warranty Usually Doesn't Cover

Engine

Steering

Gearbox

Suspension

Fuel system

Electric system

Safety systems

Tires

Batteries

Light bulbs

Brake pads

Brake discs

Cosmetic repairs

Accidental damage

Equipment and accessories you installed after the purchase
Make the Best out of
Manufacturer Warranties
With DoNotPay
Whether you need to claim a manufacturer or extended warranty, using DoNotPay is the way to go! With only a few clicks, we'll gather information, build your case, and ensure you benefit from your warranty.
All you need to do is:
Access DoNotPay from a

web browser

Select

Claim Warranty

Choose between:

Home Warranty
Car Warranty
Warranty on a Purchased Item

Answer a few questions

Hit

Submit
DoNotPay will get in touch with the manufacturer or vendor on your behalf and file your warranty claim. They will contact you with information about your warranty claim.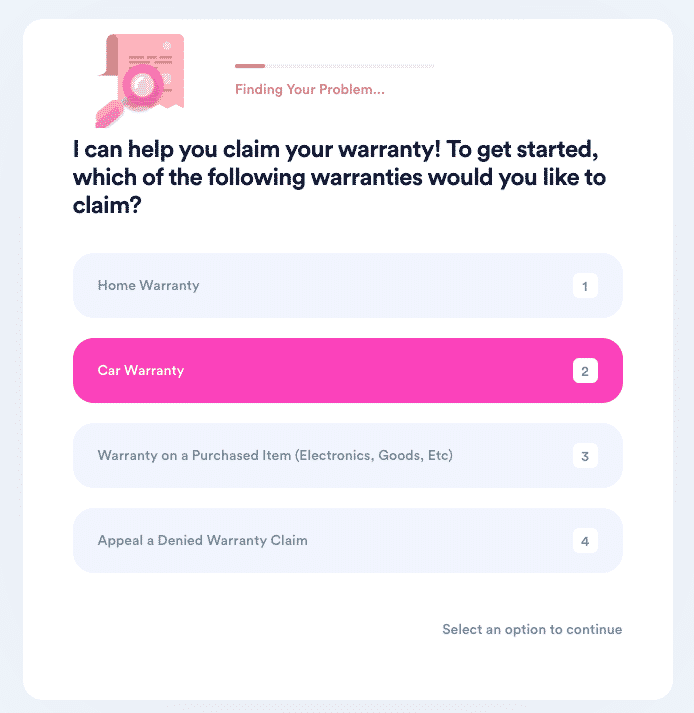 Appeal Any
Product Warranty
Claim Using DoNotPay
If a company denies your warranty claim, you should know that's not the end of it! With DoNotPay's assistance, you can appeal your original claim, and we'll make sure the company repairs or replaces your product.
Check out how it works:
Open DoNotPay in any

web browser

Choose the

Claim Warranty

feature

Tap on

Appeal a Denied Warranty Claim

Enter a few details about your original claim

Click on

Submit
We will use the info you provide to write the best appeal letter and send it to the company in question. The company will then reach out to you directly.
Use DoNotPay To Tackle Any Issue That Comes Your Way
Filing and appealing a warranty claim is not all we can do for you! Count on DoNotPay to provide home warranty reviews and help you find the best home warranties in the U.S.
We can also be your virtual assistant if a dealer refuses to cancel an extended warranty.
Are you having trouble getting an HP warranty check or a Ford extended warranty refund? We can take care of it!
Open DoNotPay in a web browser, and use our other cool features designed to make your life easier:
Disputing your speeding tickets

Fighting your traffic tickets