DoNotPay Will Help With Your Costco Visa Extended Warranty
Costco is a convenient place to shop. Many people buy their appliances at this chain. Costco Anywhere Visa Card by Citi offers an extended two-year warranty on top of the existing manufacturer warranty. Many people remember this benefit as the Costco Amex extended warranty.
DoNotPay can help you file a warranty claim with Costco quickly and easily. Our platform can assist you in dealing with any Costco-related issue, such as canceling your Costco membership or requesting a refund.
What Does the Costco Visa Extended Warranty Cover?
Costco members can extend their warranties on most products in three ways:
By purchasing

Allstate Protection Plans

extended warranty coverage

Through

Costco Concierge Services

—eligible items are protected automatically up to two years from the purchase date

By using their Costco Anywhere Visa Card to purchase an item
If you combine all three warranties, you can obtain up to seven years of coverage. For example, you can pay for the TV using a Costco Anywhere Visa Card and buy an Allstate Protection Plan to protect your device for seven years:
TVs are automatically covered with Costco Concierge that lasts for

two years

Allstate Protection Plan protects your device for

three years

The Costco Visa Extended Warranty starts when all other warranties expire, and it protects your device for additional

two years
The Costco Anywhere Visa Card Warranty Covers:
The Costco Anywhere Visa Card Warranty Doesn't Cover:

Products purchased with your Anywhere Visa Card that come with a manufacturer's warranty

Motorized land, air, or water vehicles, such as:

Vehicle equipment

Tires

Items without a manufacturer's warranty
How Can You Claim Your Costco Extended Warranty?
You can file your Costco extended warranty claim using the following methods:
| | |
| --- | --- |
| Method | Yes/No |
| DoNotPay | Yes |
| Website | Yes |
| Phone | Yes |
| Letter | No |
| In Person | No |
Filing a Claim on the Website
To file your claim on the website, you can follow these steps:
Log in to the

Citi Cardholder Benefits

website

Select

Extended Warranty

Click on

How to File a Claim

Download the claim documents and fill in the necessary details

Follow the instructions in the documents to submit your claim
Filing a Claim Over the Phone
You can file a claim over the phone by following these steps:
Phone the hotline at

1-866-918-4670

Tell the agent that you want to submit a warranty claim

Provide the details regarding the claim

Complete the necessary steps that the agent provides
DoNotPay Makes Filing Your Costco Visa Extended Warranty Claim Easy
DoNotPay is the easiest way to claim any warranty, regardless of whether it's a home, car, or manufacturer warranty. Follow these steps to claim your Costco Visa extended warranty:
Log in to your

account

Select the

Claim Warranty

feature

Choose the

Warranty on a Purchased Item

option

Fill in the necessary details regarding the claim

Click on

Submit my Claim

to finalize the process
DoNotPay will take care of all the paperwork on your behalf and send it to the relevant department. Costco will contact you directly regarding your warranty claim.
With our feature, you can file a warranty claim with any company in the U.S., including:
We will help you get an extended warranty for used cars or handle a dealer who doesn't want to cancel it. If you'd like to purchase the best home warranty in America, you can rely on our thorough home warranty reviews to make an informed decision.
DoNotPay Can Help Appeal a Decision
Filing a claim should be straightforward, but many companies will do everything to avoid replacing a product or paying out. If Costco denies your Visa extended warranty claim, DoNotPay can help you appeal the decision.
To send an appeal letter to Costco in a few clicks, follow these steps:
Open DoNotPay in your

Access the

Claim Warranty

feature

Select

Appeal a Denied Warranty Claim

Indicate that you're appealing an extended warranty company

Give the details about the Costco Visa extended warranty and your original claim
DoNotPay will fill in the appeal forms and send them directly to Citi. Citi will contact you regarding the outcome of your appeal.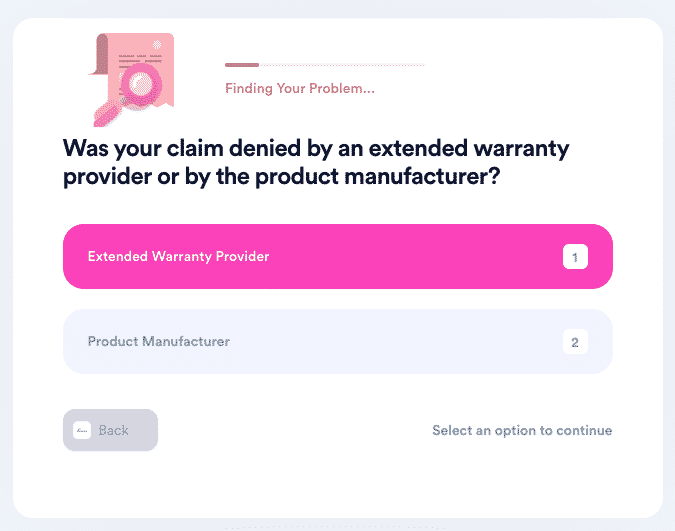 What if Costco and Citi Are Difficult?
If the appeal was unsuccessful, but you're sure that you are entitled to the claim, you may have to escalate the situation. Small claims court lawsuits can be tricky, but DoNotPay has an efficient solution for you. We will send the letter of demand to the company on your behalf, and if they don't respond favorably, we will handle the court documents.
DoNotPay will help you with the entire process, including:
Filling out the necessary forms

Collecting the required documents

Writing your court statement
Our services are so good that the American Bar Association gave us the Louis M. Brown Award for Legal Access.
DoNotPay Never Ceases To Amaze
Where there's one useful feature, there are nifty features galore!
Use our Virtual Credit Card to sign up for free trials and stop robocalls and spam text messages from reaching your phone. If you feel a free trial unrightfully turned into an expensive paid membership, we can help you request a refund or chargeback for the inconvenience.
We can further assist you in exercising your consumer rights by making a warranty claim in your place and verifying your online accounts with temporary phone numbers.
We can also break down the Freedom of Information Act for you and introduce you to online fax options and property tax reductions.
Clear Your Schedule With the Help of DoNotPay
DoNotPay is renowned for making our users' lives infinitely easier. Not only can we root out unwanted subscriptions for you—you don't need to do it manually one by one any longer—but we can unsubscribe you from unwanted email and snail mail lists.
Fire up our app and let it navigate the phone tree instead of you or use it to make a DMV appointment at your earliest convenience. Forget about googling clinical trials near you—DoNotPay can sort them out according to your needs and their individual eligibility criteria.
We can fill out the paperwork that you need to file at your local small claims court to initiate a dispute. You can work around the U.S. penal system and have DoNotPay locate an imprisoned loved one instead of you trying to reach individual prisons attempting to do it yourself.
You don't need to go to great lengths to get in touch with a counselor to sign your college fee waiver either—DoNotPay does it for you and then forwards the necessary documents on your behalf.