How To Claim Any Appliance Warranty Quickly
Like other types of property, such as cars or homes, house appliances also come with an original warranty. It's a written document that obliges the manufacturer to repair or replace certain defects in the product within a specific period from the purchase date. You obtain this guarantee along with a valid receipt upon buying a specific appliance, and you need to keep both of these since they should be submitted for free service. 
What Is an Appliance Warranty and What Does It Cover?
Most appliance companies offer a one-year manufacturer warranty for their products, but this may not always be the case. Different providers propose different warranty periods for specific appliances or certain components.
The best way to find out more about the particular company's warranty policy is to check the written guarantee or find the details on the provider's website. The following table shows original warranty periods some of the most prominent appliance manufacturers on the market offer:
The original warranty policy covers all types of damage that happen as a consequence of the manufacturer's mistake. This means that the company whose appliances you purchased pays for any malfunction as long as your device is under warranty. 
When the warranty period expires, the protection of your devices doesn't have to end. Depending on the manufacturer, you can opt for a home appliance extended warranty or a household appliance warranty.
What Are Extended and Household Appliance Warranties, and Are They Worth It?
The main purpose of extended and household appliance warranties is to extend the expired manufacturer's warranty and keep covering potential future damage.
Extended Appliance Warranties 
An extended appliance warranty covers a single product whose original warranty period ended. This kind of guarantee usually lasts longer than the manufacturer's, and you can purchase it from the:
Appliance company

The dealer who sold a specific appliance

Third-party providers
Household Appliance Warranties
Unlike the extended warranty for appliances, the household warranty applies to multiple devices within the same household and has wider coverage. Apart from covering numerous items, household warranty plans are also less expensive. Many of them even cover appliances older than eight years and certain types of accidental damage.
How To File an Appliance Warranty Claim on Your Own
Possible ways to file a warranty claim and have a faulty product repaired or replaced vary from company to company. 
While some manufacturers propose online or phone claim submissions only, others offer multiple methods, including live chat or in-person claims. 
In most cases, you need to contact the company as soon as you notice the malfunction and check whether the warranty covers it. You may need to provide additional information and submit the proof of purchase in the form of a valid receipt. 
Once the manufacturer confirms that the warranty covers the damage in question, their representative will inform you about further steps. Most companies will ask you to send the faulty item back to them so that they can repair/replace it or issue a refund.
How To File Any Appliance Warranty Claim With DoNotPay
Certain warranty claim methods can be lengthy and confusing, with multiple steps to follow. With DoNotPay, you can file a claim from any company easily and within minutes.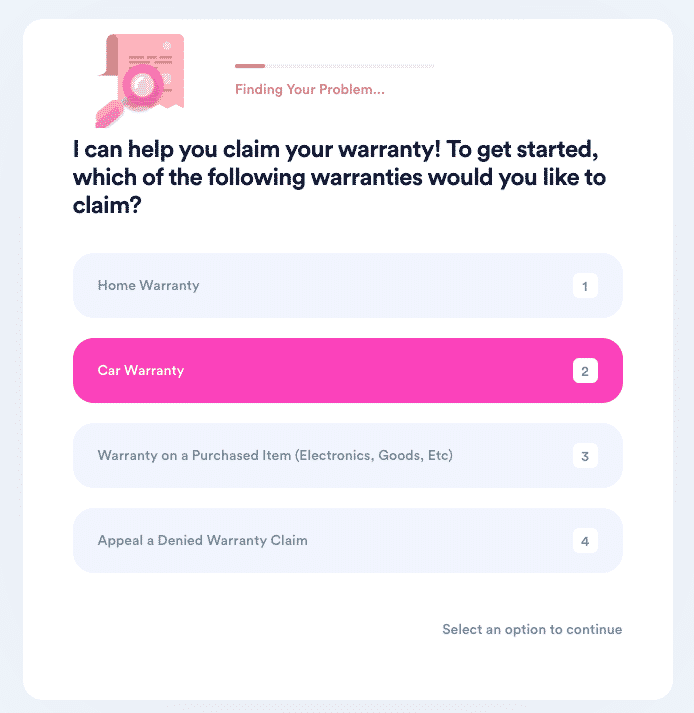 Here's what the procedure requires:
Access DoNotPay from any

web browser

and navigate to the

Claim Warranty

feature

Pick

Warranty on a Purchased Product

Enter all the required details 

Click on

Submit My Claim
As soon as you submit the necessary information, we will generate a warranty claim letter and forward it to the company in question. 
Deal With Rejected Claims by Submitting an Appeal With DoNotPay
In case the company whose appliance you purchased refuses your claim or a dealer refuses to cancel your extended warranty, the best way to deal with it is by submitting an appeal. DoNotPay can help you with this procedure as well. Make sure you follow these steps:
Open DoNotPay and navigate to the

Claim Warranty

feature

Pick

Appeal on a Denied Warranty Claim

Tell us more about the company in question and attach a copy of the denied form

Click on

Submit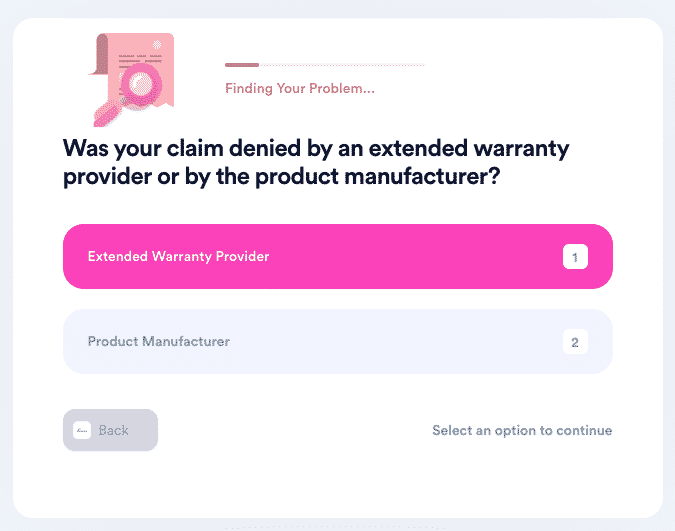 What Else Can DoNotPay Do?
Apart from helping you file appliance warranty claims, DoNotPay also supports you by teaching you more about home warranty providers, such as Home Warranty of America, and helps you get the best out of the home warranty reviews. 
In case you are dealing with extended warranties for used cars or new vehicles, you can check out the claim-filing procedures for BMW, Hyundai, Volkswagen, and many more.
Open DoNotPay in any web browser and check out other handy tips for: 
Contesting speeding tickets

Fighting traffic tickets