What To Do When a Dealer Refuses To Cancel an Extended Warranty
A warranty is a service provider's guarantee to its clients. It includes the terms on which repairs or exchanges will be made if the product doesn't function as originally described. An extended warranty is a prolonged warranty offered to clients in addition to the standard warranty on new items.
Most warranty claims are honored without a problem, but at times, customers are hung out to dry. If a dealer or a company refuses to cancel your extended warranty, you can use DoNotPay's feature to appeal the decision in only a few clicks!
How To Cancel Extended Warranty on Your Own
Most companies will eventually let you cancel an extended warranty, but they will make sure to drag on the process relentlessly. Here's what you can do to try and get them to cancel your extended warranty:
Method
How It Works

Email

Send an email to the company requesting the cancellation

Phone

Call the dealership and let their finance manager know that you wish to cancel your extended warranty

In Person

Go to the dealership yourself and talk to them about canceling your extended warranty

Letter

Bring your letter to any local post office 

Put both your and the recipient's address on the letter 

Make sure to weigh your letter (needs to weigh 13 oz. or less)

Pay the certifying fee
If you already tried all of these methods and the company still won't budge, you can turn to DoNotPay and give it one more try before opting to appeal a denied warranty claim.
When To File a Warranty Claim
File a warranty claim as soon as you realize something is broken or doesn't work properly. If you don't want to give a dealer any excuse to refuse to cancel your warranty, keep all service receipts and records, regardless of who performed the service. This includes any kind of service, like oil changes, tire rotations, belt replacement, and inspections. The receipts can be used to prove that the vehicle was properly maintained. 
If you do your own maintenance, you should keep your receipt for the parts. Think ahead when it comes to warranties so that dealers and companies don't use the lack of evidence in their favor. 
File a Warranty Claim With the Help of DoNotPay
DoNotPay's Claim Warranty feature lets users claim any warranty for their car, home, or other purchases.
This is how it works:
Go to your

web browser

and open DoNotPay

Access the

Claim Warranty

feature

Select Home Warranty, Car Warranty, or Warranty on a Purchased Item

Provide the necessary information and

Click

Submit my claim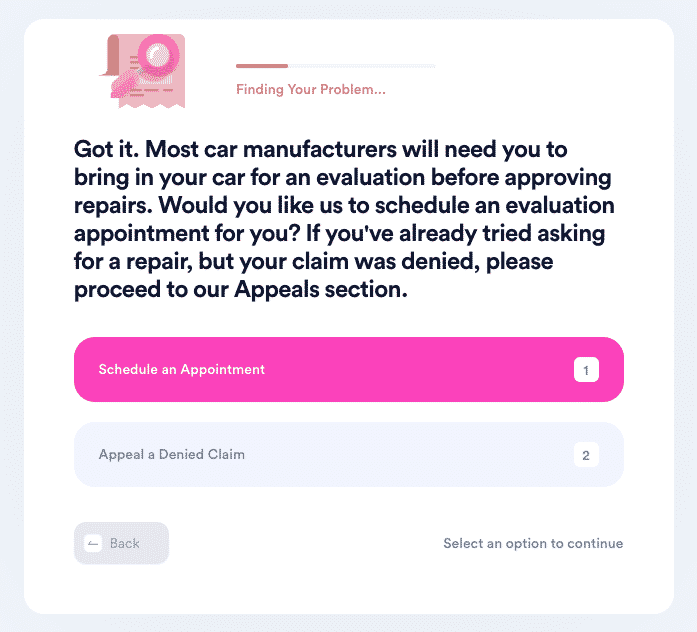 DoNotPay Can Also Help You Appeal a Denied Warranty Claim
Getting your warranty claim rejected is illegal in some cases, so if your dealer refuses to honor your warranty, you should be able to appeal it or sue them. 
Let's say that a dealer refuses your warranty claim for a vehicle. Under federal law, dealers aren't allowed to refuse a warranty claim just because someone else worked on the vehicle, meaning changed the oil, tires, etc. 
If you believe that your warranty claim got rejected unfairly, you can opt for DoNotPay and file an appeal in a matter of minutes!
This is how:
Open DoNotPay in your

web browser

Access the

Claim Warranty

feature

Click

Appeal a Denied Warranty Claim

Specify whether your claim was rejected by an extended warranty provider or a product manufacturer

Supply the information and details about the company and the original warranty claim
The appeal letter will then be automatically submitted on your behalf by DoNotPay, and the company should contact you directly about your case.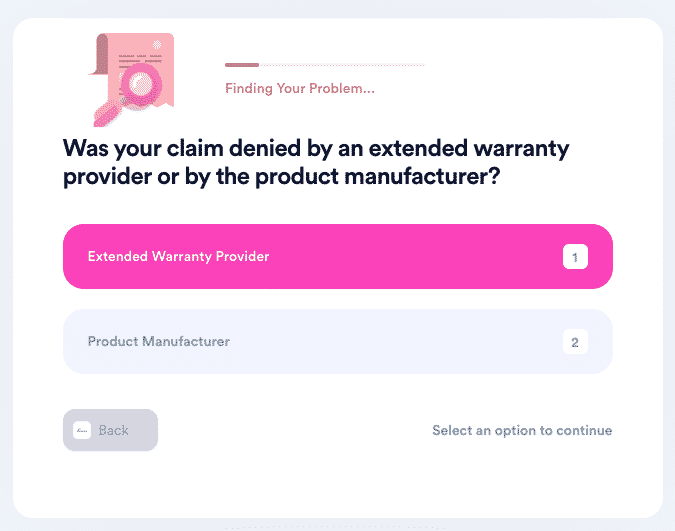 If a Dealer Refuses To Cooperate, DoNotPay Will Help You Sue Them
A company refusing to provide help to its clients is, unfortunately, a scenario often met. If you have tried every single method and option, but you still find yourself at a dead-end because the dealer won't budge, DoNotPay will spare no effort to help take some burden off your back! 
What DoNotPay can do is help you sue companies in small claims court. It is quite easy—all you need to do is visit our app in your browser and use it to seek the justice you deserve.
DoNotPay Can Do So Much More for You!
DoNotPay can also help you claim a warranty for used cars and provide you with numerous home warranty reviews on the best home warranty companies in America!
Subaru, Honda, Ford, and BMW are only some of the car companies we can help you claim warranties from!
Open your web browser and go to DoNotPay to see all the amazing features we have to offer. Use our app when you need to:
Dispute traffic tickets

Fight speeding tickets