Let DoNotPay File Your Philips Hue Warranty Claim Easily!
Philips Lighting—also called Signify since 2018—has a two-year warranty on their Hue bulbs and a three-year warranty on the Energy Star products. It guarantees the bulbs are free from poor workmanship and bad quality materials. DoNotPay will help you claim your Philips Hue warranty, but we can also file a car or home warranty claims quickly and easily.
What Does the Philips Hue Bulb Warranty Include?
If your Philips Hue bulb suddenly stops working, you may be able to claim a warranty. The bulbs are supposed to work for three hours a day, seven days a week. If you don't use the bulb as directed, the warranty will be void.
The Philips Hue warranty excludes:
The bulb breaking due to an accident

The light burning out due to neglect or misuse

The bulb dying due to an act of God
How Can You Claim the Philips Hue Warranty?
You can claim the Philips Hue bulb warranty in a few ways:
| | |
| --- | --- |
| Channel | Yes/No |
| DoNotPay | Yes |
| Website | Yes |
| Phone | Yes |
| Letter | Yes |
| In Person | No |
| Email | No |
Claiming Your Philips Hue Bulb Warranty Over the Phone
If you realize something is wrong with your Philips Hue bulb, you can contact Signify over the phone to file a warranty claim:
Phone

1-800-555-0050

to speak to an agent

Explain the problem with the bulb

Follow the steps that the agent explains to you
Claiming Your Philips Hue Bulb Warranty on the Website
You can fill in a contact form on the Philips website to file a warranty claim:
Access the Philips website and click on the

Support and Contact

link

Fill in the contact form

State the problem that you're experiencing
Claiming Your Philips Hue Bulb Warranty by Letter
Philips prefers the use of a letter to file a warranty claim since you have to include the faulty bulb for the company to inspect. Follow these steps:
Look for the mailing address on the bulb packaging

Write a letter stating the problem with the bulb

Include the proof of purchase, proof of registration, and the faulty bulb
Philips will either replace the bulb or refund the original price you paid for the light.
Let DoNotPay Help With the Philips Hue Warranty Claim
DoNotPay files your Philips Hue warranty claim fast and easy. Follow these steps:
Access

Open the

Claim Warranty

feature

Choose the

Warranty on Purchased Item

option

Fill in the details and select

Submit My Claim
DoNotPay will file a claim with Signify on your behalf. The company will contact you if it needs to inspect the bulb.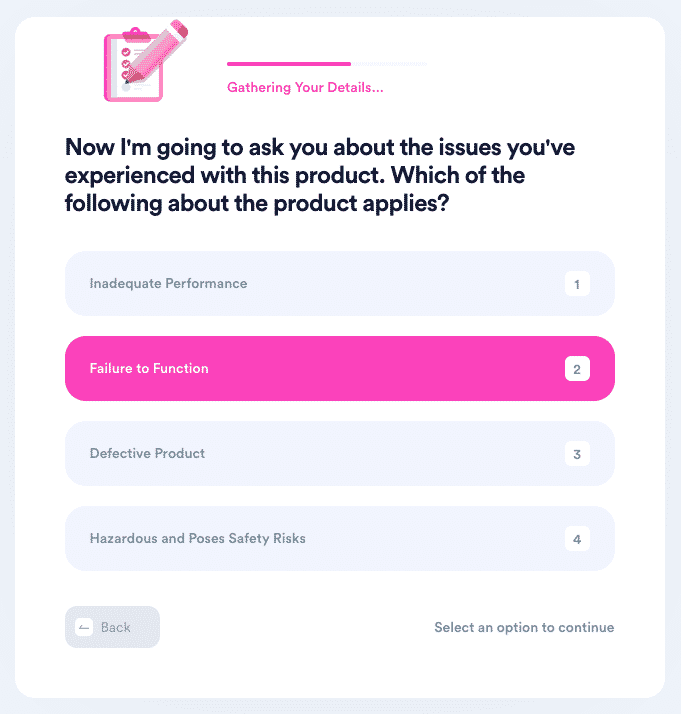 DoNotPay Can File a Claim for Any Warranty!
Claiming purchase-product warranties isn't the only feature we offer. DoNotPay can assist you with filing car and home warranty claims in a matter of minutes. With our help, you can:
We can help you handle your warranty claim, regardless of the company in question. Here are some of the most popular companies DoNotPay can help you with:
| | |
| --- | --- |
| Car Warranty | |
| Home Warranty | |
| Purchased-Item Warranty | |
DoNotPay Can Help Appeal a Denied Warranty Claim
Since appealing a rejected warranty claim can be challenging, many companies deny valid warranty claims hoping that the consumer won't appeal their decision. That's why DoNotPay has come up with an efficient solution that will help you claim a warranty.
If Philips denies the warranty claim for your Hue bulb, DoNotPay can help you send an appeal letter in a few clicks:
Open DoNotPay in your

Select the

Claim Warranty

feature

Access the

Appeal Denied Warranty Claim

option

Indicate that you are appealing a warranty claim from a product manufacturer

Provide the details about the company and your claim
DoNotPay will submit the letter of appeal on your behalf. Philips will contact you directly regarding the claim and the decision the company has reached.
DoNotPay Will Help You Take Philips to Court
If Philips becomes difficult and refuses to pay out your warranty claim, you may have to escalate the situation and take the company to small claims court. Many people are intimidated by the idea of facing an international giant in court, but DoNotPay has made the process super easy.
DoNotPay's feature will help you fill out necessary documentation, collect required paperwork, and prepare your statement for the court day. You will have to file a claim on your own, but we will assist you with everything else.
Clear Your Schedule With the Help of DoNotPay
DoNotPay is renowned for making our users' lives infinitely easier. Not only can we root out unwanted subscriptions for you—you don't need to do it manually one by one any longer—but we can unsubscribe you from unwanted email and snail mail lists.
Fire up our app and let it navigate the phone tree instead of you or use it to make a DMV appointment at your earliest convenience. Forget about googling clinical trials near you—DoNotPay can sort them out according to your needs and their individual eligibility criteria.
We can fill out the paperwork that you need to file at your local small claims court to initiate a dispute. You can work around the U.S. penal system and have DoNotPay locate an imprisoned loved one instead of you trying to reach individual prisons attempting to do it yourself.
You don't need to go to great lengths to get in touch with a counselor to sign your college fee waiver either—DoNotPay does it for you and then forwards the necessary documents on your behalf.
DoNotPay Never Ceases To Amaze
Where there's one useful feature, there are nifty features galore!
Use our Virtual Credit Card to sign up for free trials and stop robocalls and spam text messages from reaching your phone. If you feel a free trial unrightfully turned into an expensive paid membership, we can help you request a refund or chargeback for the inconvenience.
We can further assist you in exercising your consumer rights by making a warranty claim in your place and verifying your online accounts with temporary phone numbers.
We can also break down the Freedom of Information Act for you and introduce you to online fax options and property tax reductions.