Claim a Toyota Battery Warranty in a Matter of Minutes
Toyota is a famous car manufacturer with a long reputation for reliability and quality. It offers a regular Toyota warranty and an extended warranty for its cars. Toyota warranties cover a lot, but they do not include battery repairs. You will need an additional car battery warranty.
If your Toyota battery malfunctions, we can help you claim the warranty.
What Is the Toyota Battery Warranty Policy?
Most car warranties, including a Toyota certified warranty, do not cover battery repairs or replacement. Investing in an additional car battery warranty is important if you value the safety of your vehicle. You can purchase a Toyota car battery at an authorized Toyota dealership or other dealerships like Walmart.
The Toyota battery warranty lasts for 24 months if installed by a Toyota dealer. If a battery is purchased over the counter, it will last the same amount of time but with some exclusions to the coverage.
After the 24-month period, the warranty continues, but with only 50% coverage.
Here is what the Toyota battery warranty covers:
Installed By
Covered
Time

Authorized Toyota Dealership

100% repairs and replacement (including parts, labor, and sublets)

50% repairs and replacement cost for parts only

Other Dealerships

100% repairs and replacement for parts only
The Toyota battery warranty does not cover:
Batteries that have been dropped, opened, cracked, frozen, or damaged in any way

Recharged, or batteries damaged by overcharging

Failures due to the use of incorrect electrolyte
What Are the Details of the Hybrid Battery Warranty Policy?
If you have invested in a Toyota Hybrid Electric Vehicle, you should know it has a Hybrid Component warranty. The vehicle comes with the basic coverage warranty that lasts 36 months, plus a five-year/60,000-mile powertrain coverage.
There is also coverage of parts specific to this hybrid model, including the hybrid battery. The hybrid Prius battery warranty lasts for ten years or 150,000 miles in California and eight years or 100,000 miles in all other states.
If your battery needs replacement in this time frame, you can get it at no cost.
What Can You Expect From a Toyota TrueStart Battery Warranty?
Toyota recommends its TrueStart battery for most of its vehicles. It is the only warranty replacement battery approved by the company. A Toyota 84-month battery warranty seems like a great deal, but many users have complained that it starts breaking down around the four-year mark.
The battery has a 24-month free replacement and a 60-month proration period. Considering that after four years of usage it starts to break, the free replacement period is not long enough. You can end up spending a lot of money replacing the battery after that period.
When you decide to claim your battery warranty and solve the problem in no time, turn to DoNotPay!
Use DoNotPay To File a Toyota Battery Warranty Fast
Is your car making you late everywhere because the battery will not start? Do you think it is time to claim the warranty and replace it? We can help you solve your problem! With DoNotPay, you can claim any warranty for your car. We can guide you through the process of claiming a home warranty as well, with our home warranty reviews for the best home warranties in America.
Here is what you need to do to claim your warranty:
Open DoNotPay in your

Go to the

Claim Warranty

feature

Select

Car Warranty

Provide us with the warranty details and explain your problem

Click on

Submit My Claim
Our app will file your claim and send it directly to the company. You can expect to hear from them soon concerning your claim. Even if you don't know the details about your warranty, we can create a warranty claim using implied warranty laws.
If you need your tires replaced or repaired as well, we can help you file a Toyota tire warranty claim.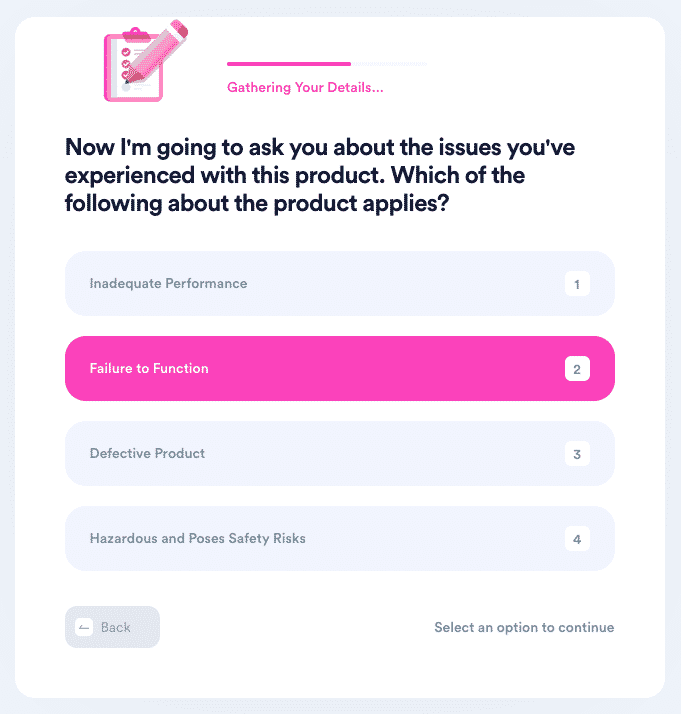 Resolve a Denied Warranty Claim With DoNotPay
Has your Toyota battery warranty claim been rejected? DoNotPay can help you solve this problem easily. Your investments don't have to fall through if your claim gets denied.
Follow these steps to file an appeal:
Open DoNotPay in any

Select the

Claim Warranty

feature

Click on

Appeal a Denied Warranty Claim

Enter details about your rejected warranty claim and the name of the company

Click on

Submit
This is all you have to do! We will automatically file your appeal letter to the company. A Toyota customer service rep should get in touch with you soon.
Denied warranty claims are common, but we can help you resolve them! If you are having problems with a dealer who refuses to cancel an extended warranty or want to claim an extended warranty for used cars, you have come to the right place.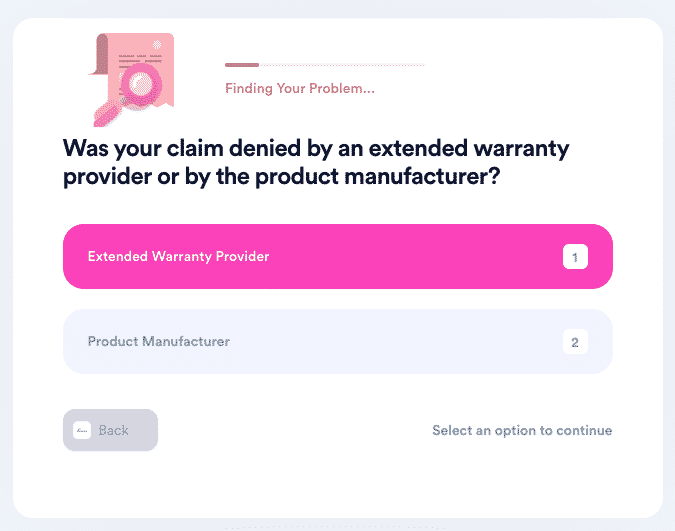 Explore the Full Range of DoNotPay's Services
Don't let annoying bureaucracy stop you from exercising your rights or finding new opportunities. DoNotPay—the world's first robot lawyer—comes with a diverse portfolio full of practical shortcuts for:
Struggling with finances? Our app will help you manage unpaid bills, find and claim lost money in any state, or get college application fee waivers.
Minimize Paperwork With DoNotPay
Writing letters, filing claims, sending requests—these chores are nobody's idea of fun. Thanks to DoNotPay, you can bypass these menial tasks with a few clicks in your browser.
Our platform is full of useful tips and features for filing insurance and warranty claims, dealing with parking tickets, getting refunds and chargebacks, or writing harassment cease-and-desist letters.
DMV offices don't have to be the place where hope goes to die. With DoNotPay, you will be able to schedule any DMV appointment without the nightmare of waiting in lines. While you're at it, you can check out our guides and practice tests for the best driving exam preparation!