A Guide to Understanding the Seller's Home Warranty
A seller's home warranty is a special limited warranty that sellers buy to ensure financial protection if any major malfunction or defects occur. This warranty doesn't usually cover the smaller issues and malfunctions—only the ones of major home appliances. 
Sellers can buy a seller's home warranty plan for financial protection in cases of any major appliances or home systems malfunction while the home is on the market or under contract. Home warranty companies will sometimes offer free seller's warranties if the seller agrees to buy a home warranty for the buyer.
Who Pays for a Home Warranty—Buyer or Seller?
Whether a buyer or a seller pays for a home warranty depends on what is typical for your specific area. Anyone can buy a home warranty—buyers, sellers, homeowners, or renters.
It's usual for a seller to pay for the coverage in many areas because it's a seller benefit. You can buy a home warranty at any time and not necessarily during a closing.
The buyers can request from sellers to buy the home warranty for them, but whether the sellers will oblige depends on the local real estate market.
What Is the Best Seller's Home Warranty?
If you are a seller thinking about getting a home warranty, check out the table below to see what some of the best home warranties are:
How Can I File a Home Warranty Claim?
Filing a warranty claim differs from one company to another, and the coverage depends on the company you're getting a home warranty from. Some of the typical methods for claiming home warranties are:
Over the phone

Via email

In person

By post

On the company's website
Filing a Home Warranty Claim Over the Phone
To file a home warranty claim via phone, you can go online and find the customer support number of the company you purchased the warranty from. Call them and explain your request in detail. They should instruct you on what to do next.
Claim a Home Warranty by Email
Most companies have the Email Us option on their website, or you can find their email addresses online. You will need to provide the required information regarding your warranty claim and send it to the company's email address.
Filing a Home Warranty Claim in Person
Claiming warranties in person isn't always possible. If a company does offer the option of filing a claim in person, you will need to go to that company and speak with an employee about your claim. Check the company's working hours and reach out to them to ask for all the information and instructions you need.
Filing a Home Warranty Claim via Letter
If a company provides the option of claiming a warranty in writing, find their mailing address online and send your letter with all the details regarding your home warranty claim.
Claiming a Home Warranty on the Company's Website
To claim your warranty online, visit the website of the company you purchased the warranty from and follow the steps given there. It's common that they ask for your information, your email address, and details about the warranty.
File Your Home Warranty Claim the DoNotPay Way!
Are you tired of doing everything by yourself? We're happy to take something off your plate!
DoNotPay can help you file your home, car, or other purchase warranty claim in minutes! Our app also provides extensive home warranty reviews of the best home warranties in America!
Go to DoNotPay in your web browser and follow the next three steps to claim your home warranty with our help:
Choose the

Claim Warranty

feature and click on

Home Warranty

Provide additional information and details

Tap on Submit my claim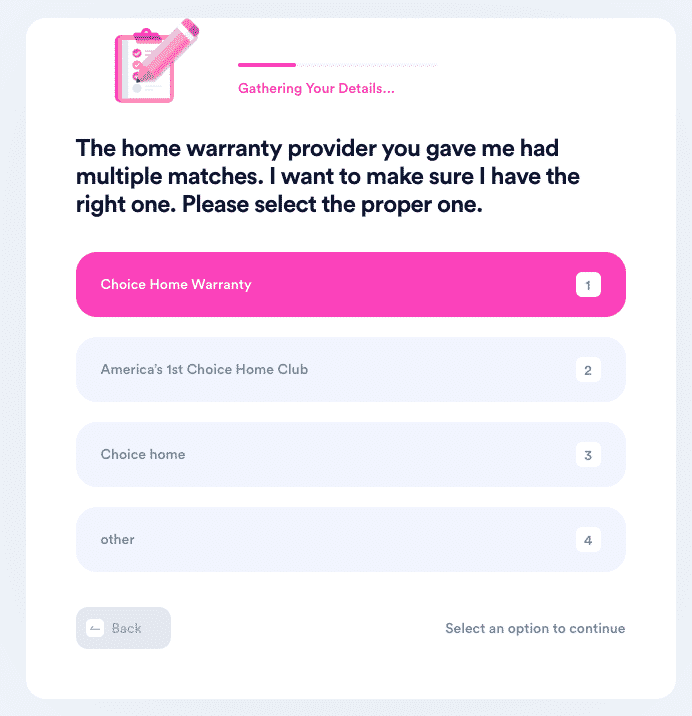 That's all it takes! DoNotPay will handle the rest and submit the claim on your behalf. A company representative will reach out to you directly.
Take Advantage of DoNotPay's Convenient Features!
Dealing with warranties is only one in the sea of tasks that DoNotPay can assist you with! DoNotPay will help you solve any bureaucratic issue imaginable effortlessly!
If you can't solve car warranty issues on your own, our app will help you claim warranties for used cars and handle a dealer who refuses to cancel your extended warranty in a jiffy! You can also claim home warranties from other companies, such as Choice Home Warranty, HomeGuard, One Guard, iBex, and more.
Visit DoNotPay in your web browser and learn how to handle tasks like:
Fighting speeding tickets

Disputing traffic tickets