File Chevy Extended Warranty Claim Without Hassle
Chevrolet or Chevy is a car division of the American manufacturer General Motors. New Chevy automobiles come with manufacturer warranties that last for 36,000 miles or three years, whichever comes first.
DoNotPay has all the important information about car warranties for new and used vehicles, and we can show you how to file any car warranty claim effortlessly.
What To Expect From Chevrolet Warranty
New Chevrolet vehicles come with a limited warranty. This warranty will keep your wallet protected for a while if your new car needs repairs due to material or workmanship defects.
The new vehicle limited warranty includes:
Powertrain warranty

Bumper-to-bumper warranty

Sheet metal warranty

Emission control system warranty
If you believe the limited warranty is not enough, you have the option to purchase a Chevy extended warranty from the Chevrolet dealership right after you buy the new vehicle.
How Much Does Chevrolet Extended Warranty Cost?
General Motors is in charge of providing the Chevrolet extended warranty. Their extended warranty does not include a deductible and offers approximately the same amount of protection as the factory warranty coverage.
If you want to obtain the Chevy extended warranty, you should keep in mind the following:
You must purchase the warranty when you buy your new vehicle

It is not available for drivers in Maine, Florida, California, and Minnesota

Chevrolet extended warranty coverage for two years or 24,000 miles starts at $1,567
Is Chevy Extended Warranty Worth It?
Manufacturer warranty for your Chevrolet vehicle might not cover all of your car's parts. Necessary repairs can cost a lot of money and may become a burden on your finances. That is the reason why so many drivers opt for an extended warranty.
Take a look at the estimated costs of the Chevrolet parts, components, and most common repairs:
| | |
| --- | --- |
| Parts, Components, and Repairs | Estimated Costs |
| Engine | $6,950 |
| Water pump | $600 |
| Transmission | $3,620 |
| Fuel pump | $970 |
| Air conditioning system | $1,100 |
| Windshield wiper motor replacement | $400 |
| Radiator fan motor replacement | $850 |
File a Chevrolet Extended Warranty Claim With DoNotPay
DoNotPay, your new virtual assistant, can help you file a claim for any warranty in no time, and Chevrolet extended warranty claims are no exception. To file a claim, follow this step-by-step guide:
Access DoNotPay from a

Open the

Claim Warranty

feature

Select the

Car Warranty

option

Choose the Chevrolet extended warranty and describe the warranty details and car issues

Hit

Submit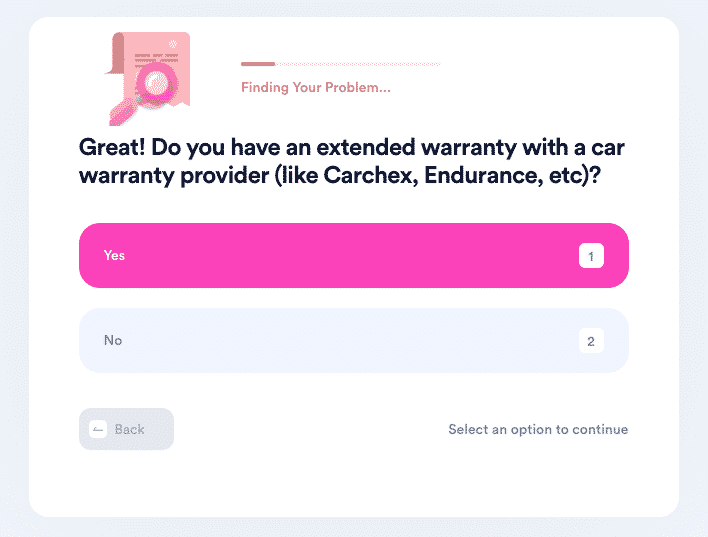 We will automatically submit the claim on your behalf, and you should get your repair covered in no time.
Chevrolet Denied Your Claim? DoNotPay Can Help You Appeal the Company's Decision!
Don't stress if Chevrolet denied your warranty claim. It is not unusual for a company to deny a customer's claim. The good thing is that DoNotPay can make an appeal on your behalf and in just a few steps:
Open DoNotPay in your

Find the

Claim Warranty

feature and select it

Choose the

Appeal Denied Warranty Claim

option

Specify against whose decision you are appealing

Provide details about your claim that got denied
After you click the Submit button, we will submit the appeal letter in your name. The company should contact you shortly after.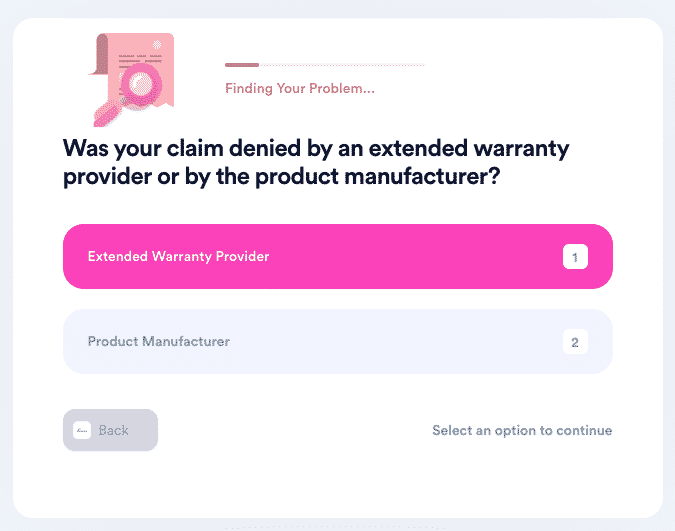 Find the Use for Other DoNotPay's Nifty Tools
Once you get acquainted with our practical features, you won't stop there! We can help you file appliance and home warranty claims. While you're at it, check out some home warranty reviews and discover the best home warranties in America.
Are you afraid that the dealer will refuse to cancel your extended warranty? DoNotPay knows what to do if that happens!
If you're contemplating changing your car, learn about extended warranties that Ford, Jeep, and Honda offer.
Log in to DoNotPay in your , and let us help you with:
Contesting speeding tickets across the U.S.

Appealing infuriating traffic tickets