What Do You Do if a Dealer Won't Fix a Car Under Warranty?
Getting your car fixed should be easy if you purchased a warranty. Sometimes, the dealers refuse to repair it, regardless of your warranty's status. If your dealer won't fix your car under warranty, DoNotPay is here to help. Learn what your rights are and what you can do to get your vehicle repaired.
What Do Car Warranties Usually Cover?
There are different types of warranties, and each type covers various aspects. Generally, car warranties cover:
| | | |
| --- | --- | --- |
| Item | Limited warranties | Extended warranties |
| Air conditioning | No | Yes |
| Engine | Yes | Yes |
| Fuel injection | Sometimes | Yes |
| Corrosion | No | Sometimes |
| Roadside assistance | No | Yes |
| Transmission | Yes | Yes |
| Clutch | Yes | Yes |
| Fuel and ignition system | Yes | Yes |
Make sure that you know what your warranty covers. The warranty issuer won't approve a claim if a problem is not covered in the contract.
The following aspects are excluded from most warranties:
Brakes

Exhausts

Catalytic converters

Damage on headlights

Wear and tear on tires

Damage to the car's bodywork 
When Should I File a Car Warranty Claim?
You should file a warranty claim as soon as your car breaks down. Don't try to fix the problem by yourself because your warranty won't be valid if you cause more damage trying to repair it. Always keep your contract in the car, and call the number on the warranty to report the issue. The company will ask you to describe the problem and tell you how to proceed. 
The Dealer Refuses To Fix a Car Under Warranty
Dealerships can sometimes be difficult when it comes to warranty claims. If you didn't use the dealership for the routine maintenance of your car, they sometimes refuse to fix it.
According to the Federal Trade Commission, refusing to fix your car under warranty after your routine care is illegal. You're allowed to take your car to an independent mechanic or retail chain for general maintenance, and it won't affect the warranty.
In certain instances, the dealer can refuse to fix problems under manufacturer or extended warranty. If you or the mechanic replaced parts incorrectly and it caused damage, the warranty won't cover the repairs. The dealer will have to prove that the damage was caused by improper fitment. Your warranty will still be in place for other parts of your car. 
If you're unhappy with your dealer, you can request to cancel your contract. Should they refuse to cancel your extended car warranty, DoNotPay can help you out.
DoNotPay Will Help Appeal a Denied Claim
If the dealer is being difficult and refusing to fix your car under a valid warranty, DoNotPay can help you appeal the decision. To send an appeal letter fast and easy, follow these steps:
Log in to your DoNotPay account in your

web browser

Choose the

Claim Warranty

feature

Select

Appeal a Denied Warranty Claim

 

Indicate that you're appealing the decision of a car warranty

Give the details about the company and the original claim that you made
DoNotPay will file the appeal letter to the company automatically. You will receive feedback on your appeal directly from the warranty issuer.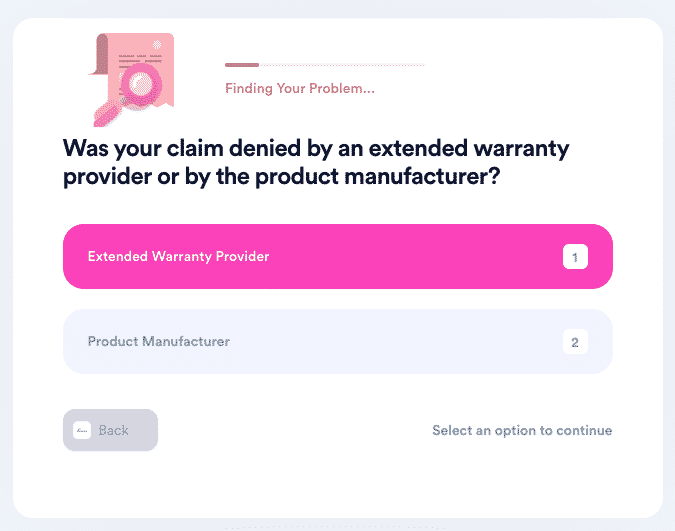 DoNotPay Will Help You File a Claim for Any Warranty
DoNotPay can help you claim car and home warranties in less than two minutes, regardless of the company in question. Open your DoNotPay account and do the following:
Choose our

Claim Warranty

service

Pick the type of warranty you want to claim:

Home warranty

Car warranty

Purchased-item warranty

Provide the necessary info

Hit the

Submit Claim

button
We will file a claim letter for you. The company will contact you directly after a few days to give further instructions regarding your claim. Thanks to our platform, you can file a claim in a few clicks with any company in the U.S., including:
| | | |
| --- | --- | --- |
| Car Warranty Claim | Home Warranty Claim | Purchased-Item Warranty Claim |
| | | |
You can find out all about home warranties of America thanks to our thorough home warranty review. If you're interested in getting an extended warranty for your used car, DoNotPay can help with that too!
DoNotPay Can Help You Sue the Dealer Who Has Wronged You
If the dealer refuses to fix your car under warranty after you send them an appeal letter, you can sue them with our help. 
Small claims court lawsuits can be stressful. Thanks to DoNotPay, you will go through the entire process hassle-free and serve the dealer justice. We will help you:
Determine if your case is eligible for small claims court

Collect necessary documents

Complete required forms

Prepare your statement for the court day
While we can assist you in preparing for the lawsuit, filing a claim and showing up in court is not something we can do on your behalf. Do not worry because DoNotPay will ensure that you are ready for your court day. 
DoNotPay Can Do Your Paperwork for You! 
Feeling like you're in bureaucratic hell? Our app will draft the paperwork you need and get you out of any hurdle before you know it! 
We can compose most of the documents that you require for any administrative purpose in your jurisdiction, most notably:
More of What We Can Do for You 
Our multifaceted app can call and record the conversation with the customer service of the company that just won't let you go! If you are having trouble canceling an unwanted service via the traditional channels, use DoNotPay to get it over and done with!
We can help you stop the persistent robocalls and robo texts from the nagging company and request a refund for unused services in a matter of minutes.
We'll also lend a helping hand in stopping spam mail—whether it's electronic or paper. Our Spam Collector product unsubscribes you from unwanted emails and cleans up your physical mailbox too!