Learn What the Best Home Warranty Is and How To Claim Yours
A home warranty plan covers all the needed repairs and replacements in your home. In most cases, home warranties last for one year.
There are many home warranty companies in America, but how will you find the best one? We can help you find the best home warranty company, and when the time comes, DoNotPay will help you file a warranty claim.
How Does a Home Warranty Work
?
When an appliance or a home system stops working, you call the company to claim your warranty. The official method for filing a warranty claim depends on the company. Once you file the warranty claim, the company schedules a maintenance appointment with a technician who comes to your house and fixes the problem. 
The home warranty company pays if your appliance needs a replacement. The customers usually pay a small fee for the repairman's visit. 
Sometimes, companies might reject your first claim, leaving you the option to file an appeal.
Which Is the Best Home Warranty Company
?
Every company claims that it's the best. To avoid falling for their ads, you should always consult home warranty reviews. According to the reviews, these are the best home warranty companies on the market:
Company
Price
Benefits

AFC Home Club

Starts at $350/year

One and three-year policies

Full guarantee on parts and labor during your warranty membership

Various plan options

Extensive coverage

First American Home Warranty

Starts at $28/month

Reliable coverage

Nationwide coverage

Three different plans

Amazon Home Warranty

Starts at $349/year

Three plans including additional coverage

Transparent pricing

Nationwide coverage

American Home Shield

Starts at $75/month

Customizable plans

12-month plans

Nationwide coverage excluding Alaska

American Residential Warranty

Starts at $34.99/month

Transparent pricing

Lowest deductibles

Multiple plans

Lowest service fees
How To Claim a
House Warranty
Using DoNotPay
Claiming warranties with DoNotPay is completely straightforward. You'll file your claim with only a few clicks on the computer. DoNotPay will do most of the work for you—all you need to provide is information about your warranty company. The same goes for car warranties and other manufacturer warranties.
The only few steps you need to take are:
Access DoNotPay from any

web browser

Type in

Claim Warranty

in the search box

Click on the

Home Warranty

button

Enter the name of your home warranty provider

Let us know what issues you're having in your home

Click on

Submit My Claim
DoNotPay will create your warranty claim and file it with the company. After we submit it, your warranty provider will contact you.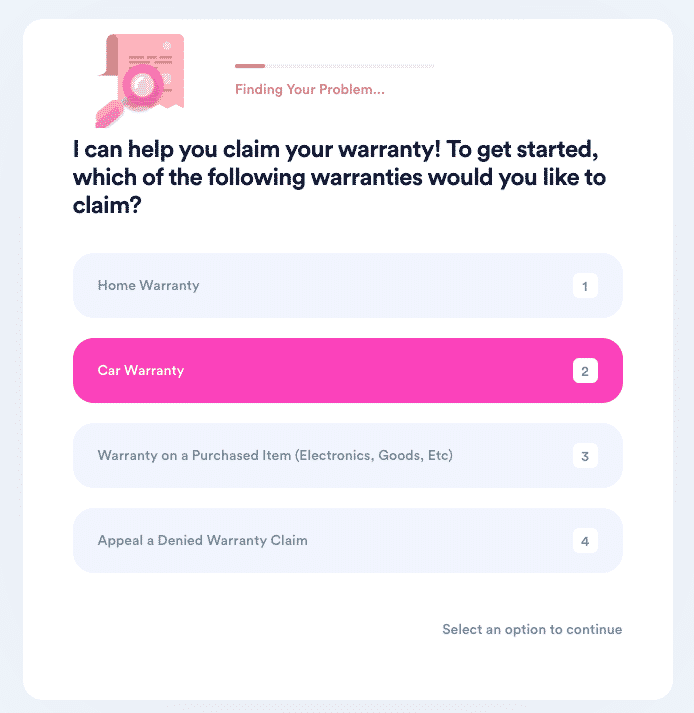 DoNotPay Can File Appeals to Your
Home Warranty Providers
When you file a claim for the first time, the company might reject it. They tend to do this so that you'd withdraw your warranty claim. If you run into this obstacle, DoNotPay can help you file an appeal. Using DoNotPay for home warranty claim appeals will save you a lot of time and energy.
Follow the steps below to file your appeal with DoNotPay:
Sign in to your DoNotPay account

Open the

Claim Warranty

feature

Select

Appeal a Denied Warranty Claim

Indicate against whose decision you're filing the appeal—pick

Product Manufacturer

or

Extended Warranty Provider

Add relevant details and the denied claim, then click on

Submit 
We will collect all your information and generate an appeal. After we submit it, the home warranty provider will contact you as soon as possible.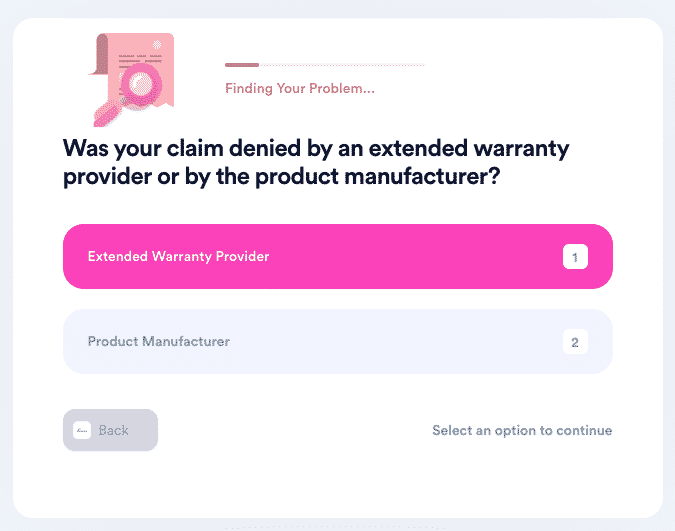 Get DoNotPay for Other Bureaucratic Issues You're Dealing With
We have a wide range of features that make life easier for our users. DoNotPay can help you if your dealer refuses to cancel your extended warranty or you keep having issues with your used car.
DoNotPay can also cancel services you no longer need, such as American Home Shield, if you found a better home warranty, or Vivint, if you're moving to a new home and don't require home smart technology.
To access all of DoNotPay's features, open our app in a web browser of your choice. You'll get help with: