DoNotPay Can File Any Warranty Claim Easily!
Filing a warranty claim helps you save money on repairs. Sometimes the process is complicated, and other times the company denies the claim. DoNotPay makes filing warranty claims quick and easy and can even appeal denied warranties.
Whether you need to file a warranty claim or resolve problems with a dealer who refuses to cancel your extended warranty, DoNotPay has got you covered. We can even help you find the best home warranty in America by offering extensive home warranty reviews.
What Is a Warranty Claim?
Most companies offer a warranty on their products as a promise that the quality of their product is good. When you file a warranty claim, it means that your product is malfunctioning as a result of poor workmanship or bad quality materials.
If the issue you're experiencing is covered with the warranty, you'll get compensation or have your device replaced or repaired for free. Most companies offer additional coverage—extended warranty—that protects your car, home, or purchased item longer for a monthly premium rate. The extended coverage kicks in as soon as your limited warranty expires. Many people choose to purchase an extended warranty for used cars as they tend to break down more frequently.
Before filing a warranty claim, you should read your contract to check if the problem or product in question is under warranty.
What Does a Warranty Usually Cover?
Depending on the type of warranty, it covers different aspects:
Type of Warranty
Covers

Engine

Air-conditioning

Fuel system

Electric components

Car warranties usually don't include damage caused by wear and tear, like damaged tires

Pipes and geysers

Electrical aspects

Refrigerators

HVACs

Manufacturer warranties vary greatly depending on the product that you buy. The general assumption is that a warranty will cover anything that you don't expect to stop working in a specific period
Possible Problems With Warranty Claims
You may experience some problems when trying to claim your warranty. Some companies don't explicitly publish contact details and processes regarding warranty claims. Other companies may deny requests for arbitrary reasons. Most websites are so confusing that it's not even clear what the warranty covers. That's why people don't know if they have a right to claim it.
Many people cover the costs of repairs themselves because they don't know where to start the warranty claim process.
A general rule is that your warranty claim won't be approved if you caused more damage trying to fix the issue by yourself.
How Do You Claim a Warranty?
To claim a warranty, you have to contact the company. Usually, you can claim a warranty over the phone, on the website, or through email. Some companies will allow customers to visit an outlet and claim a warranty in person.
Claiming a Warranty Over the Phone
If the company allows you to claim a warranty over the phone, you can follow these steps:
Dial the number that the company provides

Explain the situation to the representative

Follow the steps that the representative explains to you
Claiming a Warranty on the Website
Most companies let you claim a warranty on the website:
Go to the company website

Look for a tab that says

Warranty Claim

or

Product Repairs

and click on it

Fill in the necessary information regarding your claim

Wait for a representative to contact you
Claiming a Warranty Through Email
Many companies allow for warranty claims using email:
Find the relevant email address

Draft an email explaining the problem you're having with the product

Make sure you include all the necessary details

Wait for a representative to reply
DoNotPay Is the Easiest Way To File Warranty Claims
DoNotPay uses one easy form for all types of warranty claims. You can fill out the warranty claim form hassle-free by following these steps:
Open DoNotPay in your

Select the

Claim Warranty

feature

Indicate what kind of warranty you're claiming:

Car

Home

Purchased item

Provide the details about the problems you're experiencing
DoNotPay will submit a claim letter on your behalf, and the company will contact you directly.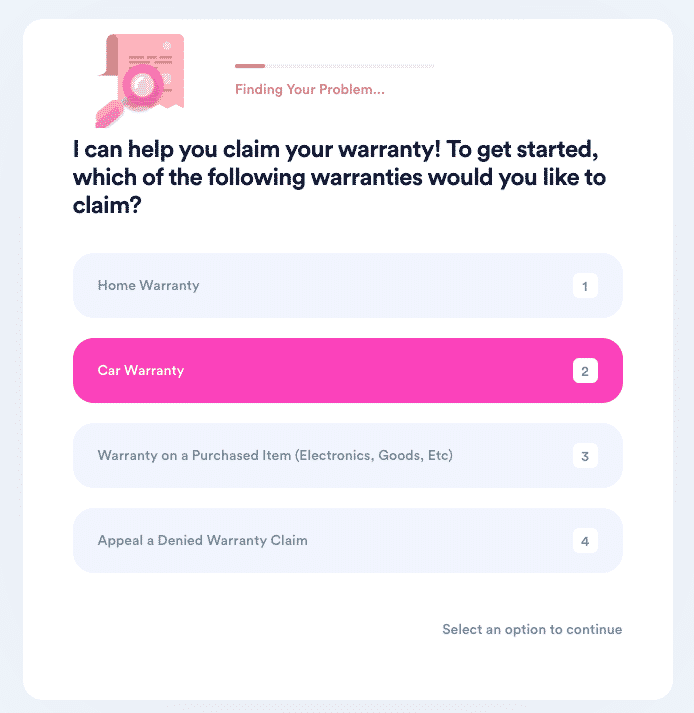 Our platform allows you to file a warranty claim with any company in America, including:
| | | |
| --- | --- | --- |
| Car Warranty | Home Warranty | Purchased-Product Warranty |
| | | |
DoNotPay Can Help Appeal Denied Claims
If the company denied your warranty claim, you have the right to appeal the decision. DoNotPay can help you with the appeal process.
Follow these steps if it becomes necessary:
Open

Choose

Claim Warranty

Select the

Appeal Denied Claim

feature

Provide the details regarding the company and your original claim
DoNotPay will send the letter of appeal to the company, and you can expect the representative to contact you directly.
What Else Can Our Award-Winning App Do for You?
If you think that's impressive, wait until you've heard about other features we boast!
Our powerful app can draft paperwork for you, locate unclaimed funds under your name, cancel subscriptions, sue robocallers, and protect you from stalkers and harassers—all in one nifty browser app!
Our services have been recognized by the esteemed ABA Brown award, serving as a testament to our abilities to assist you with your small claims issues, free trial auto-renewals, college fee waivers, public records, copyright protection, and much more!
More Benefits of DoNotPay
DoNotPay is a useful tool for handling many otherwise annoying life's trifles, including: