MyPillow Return Policy—How To Return Your Purchases Effortlessly
The guarantee of owning the most comfortable pillow and other products is enough to make you place an order with MyPillow. What if the products don't live up to your expectations? Don't stress! The MyPillow return policy allows you to return the products that you are unhappy with.
This guide will help you understand how the return process works. For an even easier and faster procedure, you should .
What Is the MyPillow Return Policy?
The MyPillow return policy offers two warranties that you can take advantage of:
60-Day Money-Back Guarantee—You can return products within 60 days from the order delivery date for any reason. Once you return your item, you'll get a full refund of the purchase price
10-Year Warranty—The warranty allows you to return merchandise that has workmanship or material defects within ten years. This way, you can get an exchange and opt for an item of greater or equal value. The company will also cover the shipping costs
Keep the following in mind about the MyPillow return policy:
Some products may have different return conditions indicated on the product packaging
You can get a full refund or a replacement when you return a product
Bundled purchases, such as buy-one-get-one-free, should be returned as a bundle for a full refund or exchange
You will cover the shipping costs for returning the items within 60 days
Are All MyPillow Items Returnable?
MyPillow considers the sale of the following products final:
The book "What Are the Odds? From Crack Addict to CEO" by Mike Lindell (the "Lindell Book")
Products purchased as a bundle with the Lindell book
How To Return MyPillow Products
MyPillow products are returnable by mail. Here are the options for initiating a return request:
| Can You Initiate a MyPillow Return Request Via | Yes/No |
| --- | --- |
| DoNotPay | Yes |
| Website | Yes |
| Phone | Yes |
| Letter | No |
| In Person | No |
Return Your MyPillow Products Through Mail
To return a product via mail, follow these steps:
Contact the company's customer support to request a Return Merchandise Authorization (RMA) in one of the following ways:
Dial 952-442-6199
Dial 800-308-1299
Visit the MyPillow Support page
Pack your returnable products (possibly in the original packaging)
Add the Return Merchandise Authorization number to the outside of your box and on the packing slip
You can request a prepaid shipping label for the items you wish to return. If you choose this option, the label will be sent to your email, and the amount will be deducted from your refund amount. The cost of the shipping label is $9.98 and any relevant sales tax.
For any other questions regarding your returns, you can contact the customer service phone numbers or send an email to help@mypillow.com.
Return Your MyPillow Purchases Stress-Free—Use DoNotPay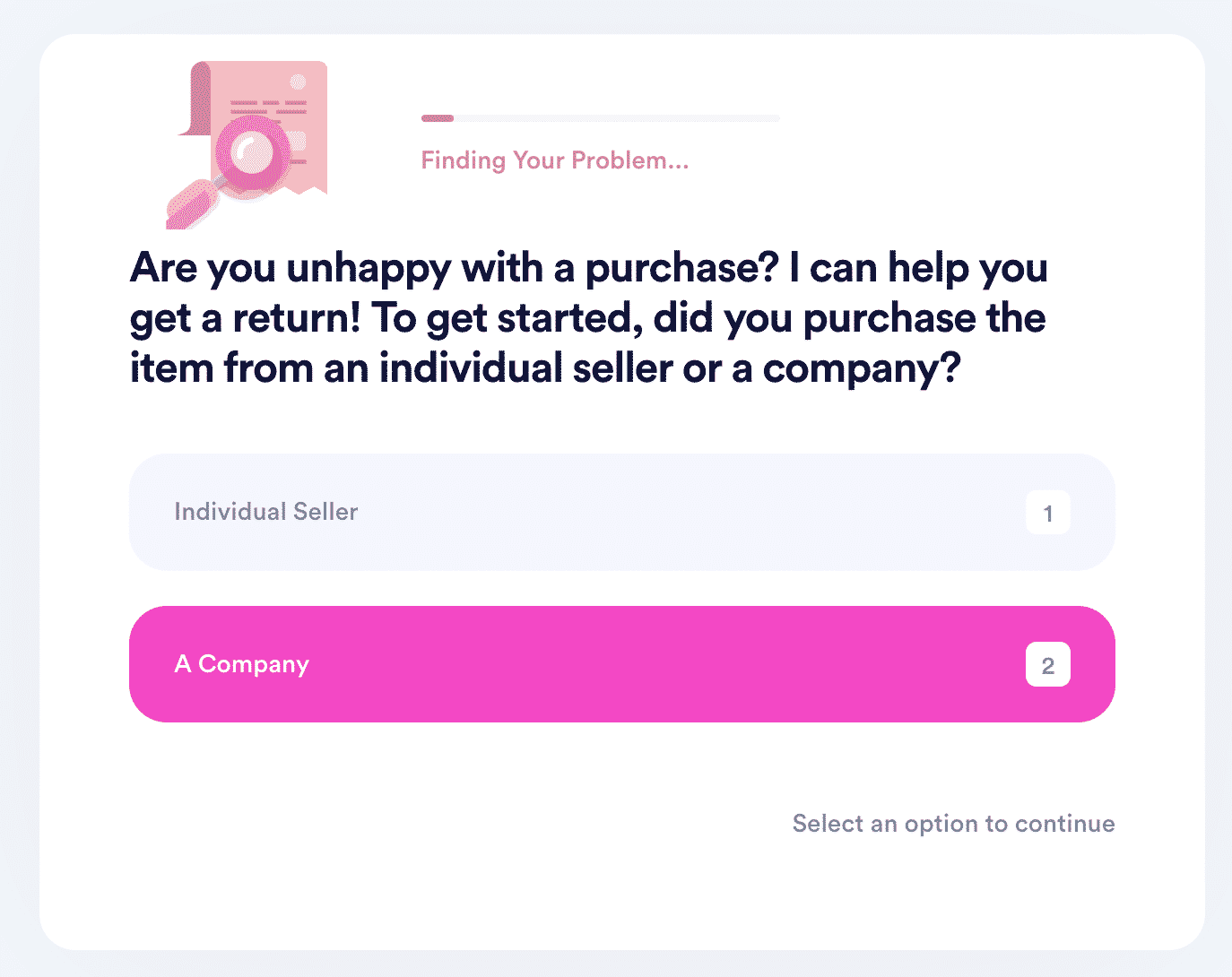 Dealing with customer support can be frustrating and time-wasting. Sometimes, you have to wait in phone queues only to be referred to different people.
Fortunately, you can skip all that by using DoNotPay. Let us save you time and energy and increase your chances of a successful return process.
All you have to do is the following:
using any web browser
Find the Item Return Request feature
Answer a few questions about your purchase and upload photos (if applicable)
Click on Submit
Our app will use the submitted information to generate a personalized return request letter and send it to MyPillow on your behalf. The letter will highlight your reason for the return and indicate if you want a refund or a replacement. A written request can also be handy in case of disputes later on.
We will also send you a return label so that you ship the products free of charge.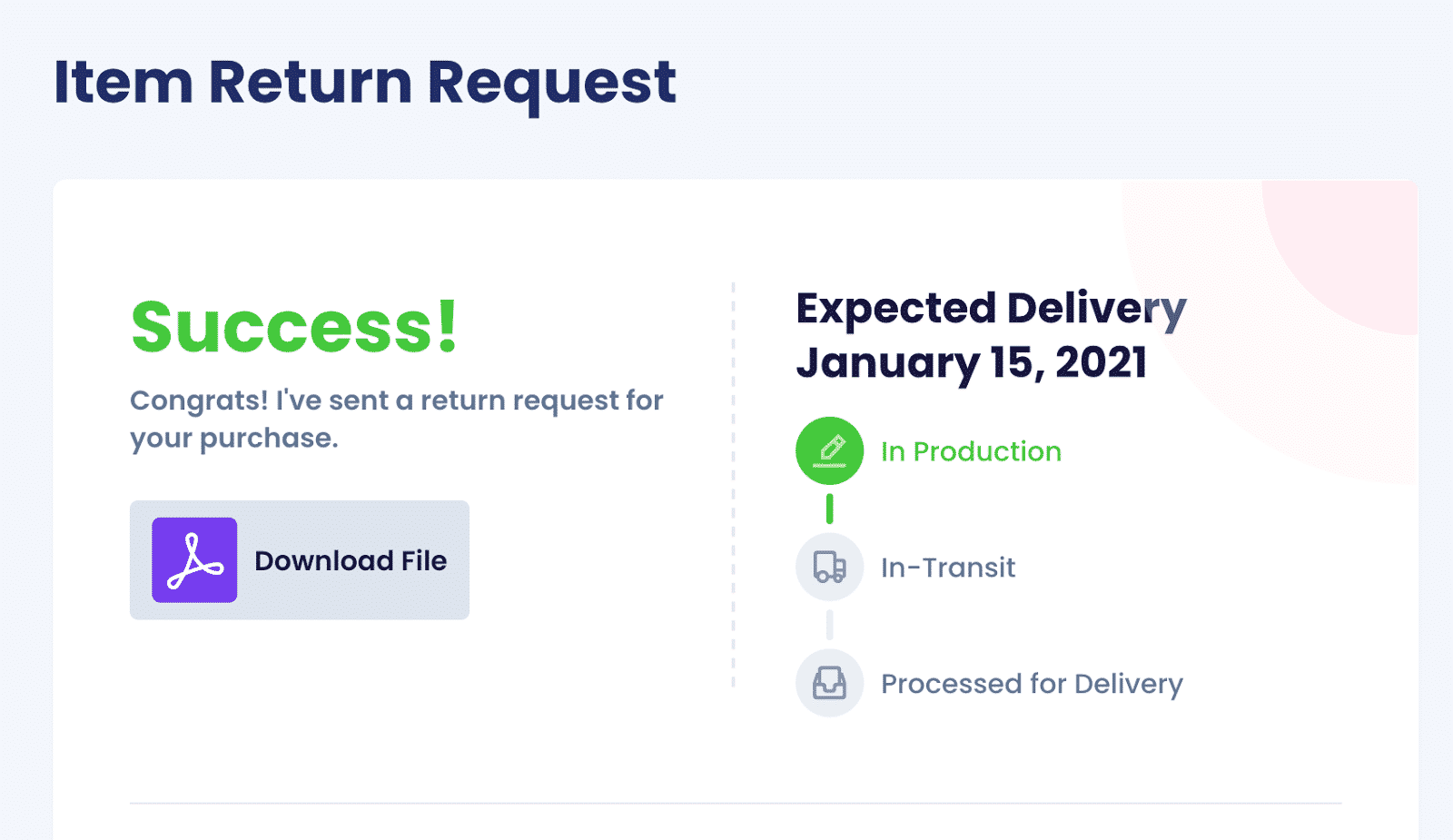 Our AI-powered app can also help you draft return request letters to other companies. Follow the same steps to return your unwanted items to the sellers listed below and many more:
How Long Until MyPillow Reviews Your Return Request?
It can take up to 30 days from the day the company receives the returned package to process your refund. The refund amount will be equal to the purchase price minus the shipping costs. With DoNotPay, you can include your expected return processing deadline in the return request letter to avoid any delays.
Get a Refund From MyPillow With Ease Using DoNotPay
If MyPillow doesn't give you a refund after you return your item, use DoNotPay to demand your money back. We will help you get closer to a successful resolution in four steps:
Find the Chargeback Instantly product
Tap on Get protected
Answer a few questions regarding your return
Click on Sign and Submit
DoNotPay Is a Master at Getting What's Rightfully Yours
Are you dealing with a company that refuses to approve your return? Once we submit a refund request in your stead, we can also prepare all the paperwork you need to sue the merchant in small claims court and win your case.
Need a legal document for the lawsuit? Draw it up with our handy tool. Want to get any document notarized and fax it to someone? We have products that can do that for you as well.
Has an airline rescheduled your flight, or is your package damaged or missing? Demand compensation with DoNotPay!
Do you believe that you may have some unclaimed assets? Count on us to find and get them for you.
It Doesn't End There!
Use DoNotPay whenever you need to tackle any sort of mundane task. If you're sick of wasting your time in long phone queues or the ones at the DMV, we'll help you skip them. Do you want to apply for a college fee waiver or clinical trial? Are you looking to enter a sweepstake or get a passport photo or a tourist visa? We'll do it all in your stead!
If you want to send a letter of warning to a persistent harasser or loud neighbor or want to get compensation for victims of crime, workplace discrimination, or robocalls, let us know and we'll tackle the issue momentarily.