Eddie Bauer Return Policy—Send Back Camping Gear and Get a Quick Refund
You bought camping equipment from Eddie Bauer only to discover that you aren't a perfect match? A bummer, but you share that predicament with many others. Take heart because an easy solution to your problem is at hand.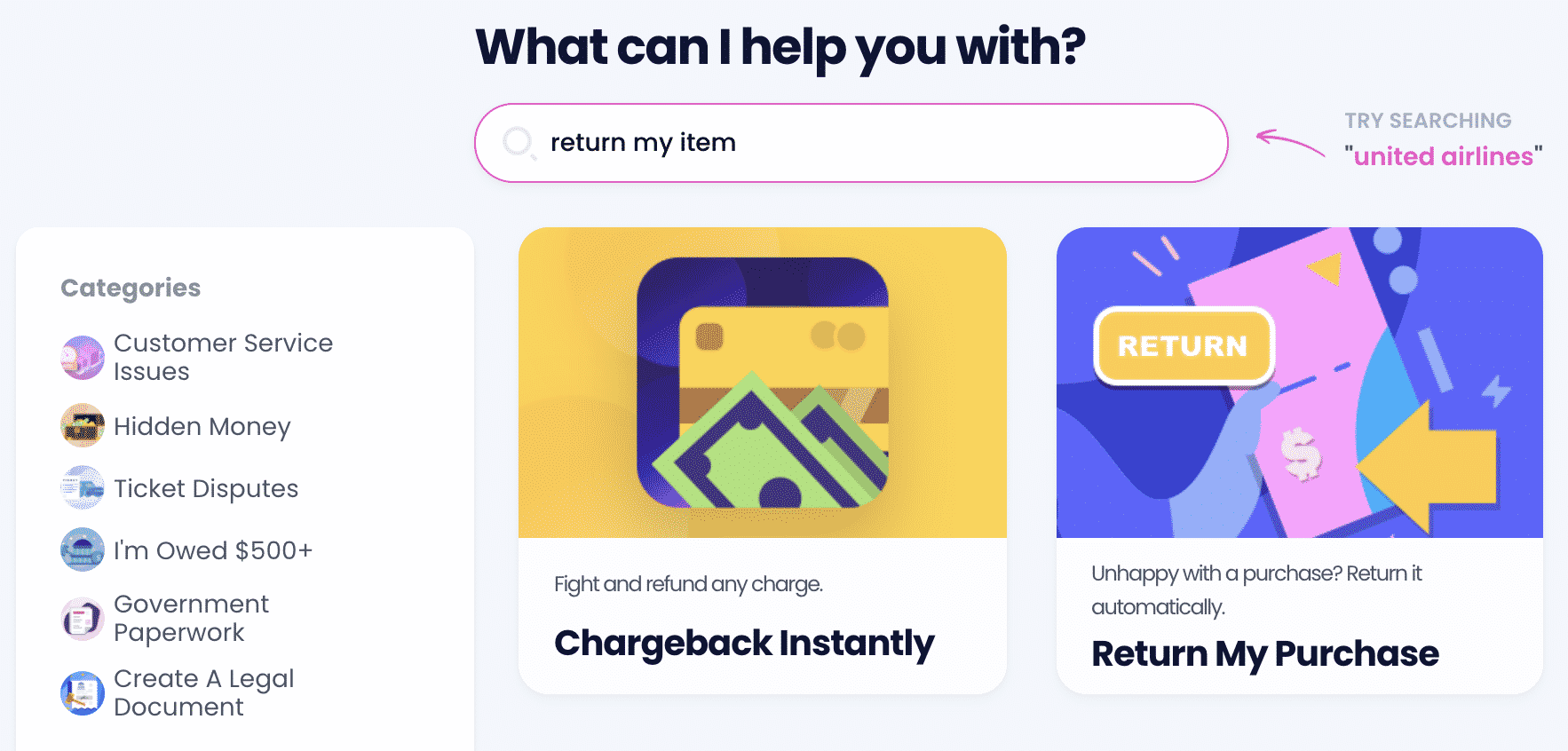 The Eddie Bauer return policy allows you to return purchased goods for a refund or an exchange as long as you meet specific requirements. DoNotPay—the world's first robot lawyer—makes sure that nothing goes amiss in the process.
Eddie Bauer Return Policy—Everything You Need To Know and Do
Eddie Bauer has a flexible return policy. It allows its customers to qualify for a full or partial refund. The business will send the refund back to the original payment method in most cases.
To be eligible for a full refund, you need to either:
Keep the bill you received during the original purchase
Provide a copy of the sales check or the Adventures Rewards number
Specify at least the approximate date of the transaction
What happens if you can't meet these criteria? If you lost a receipt and can't remember when you bought the product, you'll get a 50% refund of the sales price. These funds will be returned in the form of an Eddie Bauer gift card.
How Long Can I Test Merchandise From Eddie Bauer Before Returning Them?
You have a one-year probation period to decide if your new camping equipment is a good fit for you.
How To Return Eddie Bauer Products
The Eddie Bauer return policy allows you to return merchandise in two ways:
To a store
By mail
Both options are available for shoppers who bought wares online, at a shop, or by phone. Note that the mailing address varies on a case-to-case basis.
Returning Eddie Bauer Items to a Store
The procedure for returning products to the store is the same however you purchased them.
Take items to the nearest shop and speak to a customer support agent or another authorized employee. Follow their instructions to complete the procedure.
Returning Eddie Bauer Purchases by Mail
Given that you prefer to send Eddie Bauer merchandise by mail, create a return label first. This procedure relates to products purchased online or by phone. The process is the same whether you are in the U.S. or Canada and goes like this:
Fill out order number, e-mail address, and ZIP (Postal) code boxes
Hit the Start a Return button
Select the items you wish to send back
Choose the reason why you want to return the product
Confirm the order and click Continue
Check the I agree to the Return Policy checkbox and select Continue
Print the label and attach it to the parcel
Send the package to the following address:
Eddie Bauer Returns
6,759 Port Road
Groveport, OH 43,125
Don't feel alarmed if you see the $7 shipping cost ($10 for Canadians) in summary. Your balance will survive the return and processing. Be patient between two to three weeks to receive a refund.
Did you purchase Eddie Bauer camping equipment at a brick-and-mortar store instead? Send your shipment to the following address:
ATTN: Returns
4,599 Fisher Rd
Columbus, OH 43,228
What Is the Eddie Bauer Outlet Return Policy?
Eddie Bauer camping company has the same return rules for everyone. It doesn't matter whether you purchased merchandise in a retail or outlet shop.
DoNotPay Makes Eddie Bauer Returns Simpler
Do you find the overall return process a little bit complicated? Don't worry because DoNotPay has your back. We make things straightforward for you by:
Saving your time and money
Keeping you away from unsupportive customer support agents
To make the most of DoNotPay's useful service, complete a few easy steps:
Select the Item Return Request feature
Answer our chatbot's questions and attach photos where applicable
Click Submit
When you complete the form, DoNotPay sends a custom letter that informs the seller about your request. The letter includes a demand for a timely reply, so you will hear from Eddie Bauer soon.
Sending a written request has other benefits. One of them is the capacity to help settle any disputes that might arise at some point.
Can DoNotPay Assist Me in Returning Other Sellers' Products?
DoNotPay is ready to assist you with whatever item you need to return to any company—whether it's a vacuum cleaner that serves better as a decoration or something else.
For an overview of some of the companies we can help you with, refer to the table:
Want Your Money Back? Rely on DoNotPay!
The world's first robot lawyer can help you get your hard-earned money back in several ways. Are you dissatisfied with a product or service you paid for and want to request a refund? Do you want to request a late delivery refund? No problem—DoNotPay will do that in your stead! Do you think that you may have missing money and want to claim it? We can assist you in finding it!
No matter the issue, DoNotPay is your shortcut through bureaucratic hurdles. Our AI-driven app can help you dispute your parking tickets, get refunds and compensation from airlines, cancel any subscription service in a flash, and so much more!
What Else Is DoNotPay Capable Of?
Being your personal AI-powered assistant, DoNotPay can help you get rid of:
Are you sick and tired of big companies not taking their customers seriously? Our app will lend you a helping hand in the process of suing them in small claims court.
Do you want to skip waiting in lines at the DMV, jump the phone queue when reaching customer service, get help with paying your bills, or get copyright protection for your work? Sign up for DoNotPay to complete these tasks and so much more!