How To Make Sense of the SSENSE Return Policy
SSENSE offers a range of luxury, lifestyle, and streetwear merchandise to cater to its user base, but its inconsistent consumer service can be a killjoy. You can be held up by a long response time and erratic shipping variables while returning an SSENSE product. Deciphering the elaborate details of the SSENSE return policy can be equally intimidating.
Return policy miseries are a thing of the past with DoNotPay. Once you , our AI-enabled assistant can tackle your SSENSE return in under two minutes!
The Essence of the SSENSE Return Policy
The SSENSE return policy etches out terms and conditions that support its global business operations in 114 countries. Due to transportation complications, free return shipping is only available to customers from the United States, Canada, and Japan.
Basic Return Guidelines
These are the three primary prerequisites for returning your SSENSE merchandise:
You must request to return the item within 30 days of delivery
To be eligible for a return, the item has to be:

Original
Unworn
Unwashed
Unaltered

All tags and packaging must stay intact in as-delivered condition
Exceptions to the SSENSE Return Policy
You can return most SSENSE products after satisfying certain conditions, except for Final Sale items because they are already heavily discounted. They cannot be returned after purchase.
Face masks and face coverings are counted as final sales due to hygiene concerns.
SSENSE's Return Policy—Product-Wise Rules of Return
SSENSE has introduced strict and specific guidelines across its merchandise range to narrow down the return eligibility of products. This table gives you a bird's-eye view of the company's rules of return based on product type:
Merchandise
Individual Return Rules
Apparel

You must keep the tags of the garments attached
No items with jewelry tears will be accepted
No deodorant, makeup, or cologne residue can compromise the garments

Intimate apparel, including swimwear

Items must be unused
You need to keep the original hygiene safety stickers sealed

Footwear

Only footwear tried with clean socks on is eligible for return
Footwear must have been tested on a carpeted surface only
You'll be asked to return the shoebox and dust bag in original condition

Self-care items

You need to return self-care items in original state and packaging
The products must be sealed
Tech Category Returns
SSENSE's technology category includes products like phones and wearable electronic devices. Tech returns must adhere to the following requirements:
The device should be wrapper-sealed and undamaged
The battery—if any—should be unimpaired and with its preset configuration
Any returned product that violates any of the terms above will be rejected right away.
What if I Receive a Damaged Item?
If you think you have purchased a damaged or malfunctioning item, you can return the product under SSENSE's warranty scheme.
Important pointers about SSENSE's warranty rules:
Any website purchase carries the individual warranty period specified by the original manufacturer
SSENSE—as a distributor—isn't involved in manufacturer warranty, where permitted by law
You can extract warranty information from the product's user manual for electronics
SSENSE recommends you contact customer service for more clarity on any defective product's warranty and return options.
Can I Initiate a Return on My Own?
You can initiate an SSENSE item return on the website or by calling customer care. Since SSENSE supports paperless ideology and avoids adding return slips to the packages, your first step is to generate a prepaid label for domestic returns or a Return Authorization (RA) for international returns.
Follow these steps for free-shipping returns—for the United States, Canada, and Japan:
Visit the website and go to Order History
Place a request for a prepaid return label under Modify
Collect the return label sent to your registered email
Print the label and follow the shipping instructions listed in the email
A step-by-step guide for making an international return:
Visit the website and go to Order History
Navigate to Modify and place a request for an RA
Find the generated RA number delivered to your email
Use the RA number and related instructions to execute the return via your local post office
Get the package insured, if necessary
Ship the item through standard means and obtain tracking details
SSENSE Return Policy—Miscellaneous Terms
The SSENSE return policy secures the company by introducing two unique aspects of returns.
Return of Dangerous Goods
Dangerous goods include products like oil, scented candles, perfume, electronics with batteries, and pressurized canned goods. If you are returning a dangerous item, SSENSE will hold you liable to get a shipping label appropriate for the sensitive item and to use protective shipping precautions, as instructed.
Action Against Return Policy Abusers
SSENSE claims to flag customers who are found to misuse the company's return terms. Your account can be blocked for seeking frequent unwarranted returns.
Rest Easy & Let DoNotPay Steer Your SSENSE Return
It is unnerving to get lost in the details of SSENSE's return policy and still not have a clear answer. You can avoid this pesky predicament by getting DoNotPay onboard for your SSENSE return. DoNotPay's refined and reliable AI chatbot will guide you through a laid-back item return process, free from frustrating complications!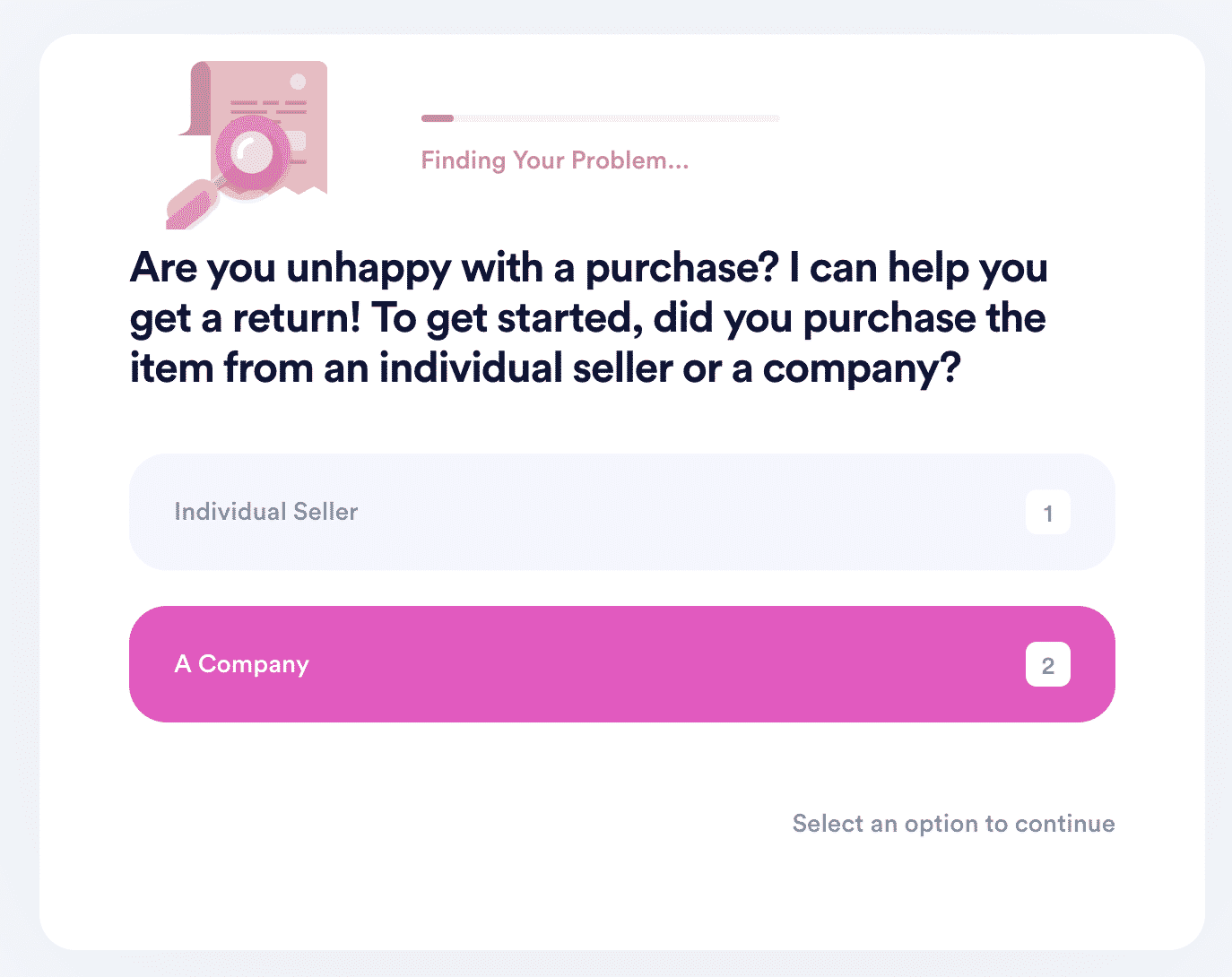 Here's how you use DoNotPay for your SSENSE return:
Look for Item Return Request
Feed in answers for a few order-related questions
Click Submit to finish
Get Your Refund With DoNotPay's Magic Touch
DoNotPay will keep tabs on SSENSE to ensure that the company processes your refund within 5–10 business days. While SSENSE disallows exchanges, DoNotPay can see to it that it credits a full refund to your original payment method.
We can also stand up for you if you ever feel wronged by SSENSE. DoNotPay is the world's first robot lawyer to be recognized by the American Bar Association. If circumstances call for it, DoNotPay can help users sue the company and gather court paperwork for claims.
DoNotPay Can Aid You Across Multiple Return Policies
We understand that decoding these ever-confusing return policies can suck the life out of you. DoNotPay offers you simplified item return manuals for many popular brands. You can browse through some of them in this table.
Want To Save Money and Avoid Bad Purchases? Look No Further!
Aside from helping you send a return request to any company, DoNotPay can also assist you in getting a refund in a flash! We can also help you request a refund for any late, missing, or damaged delivery.
Do you want to stop wasting your money on useless services? Our app can help you cancel them and provide you with a virtual credit card that terminates free trials before companies get to charge you!
If you want to discover some forgotten assets you may have, we can help you find them in just a couple of minutes. With DoNotPay, you can both save money and earn it!
Once you sign up, you can report text and email spammers, annoying robocalls, and real-life stalkers and harassers and earn off them. We can also help you sue any company or individual in small claims court if you feel like they did you dirty.
Getting Rid of Bureaucratic Procedures Has Never Been Easier
The process of composing a return request letter is tiring, which is why you should turn to DoNotPay for help. Our app will assist you if you want to avoid similar bureaucratic hassles, such as:
Sign up for DoNotPay to utilize all of our nifty products!