Struggling With Skype? Account Suspended for No Reason? We Have the Key Intel
Did the security system have your Skype account suspended for no reason?
In today's internet-driven world, this issue can be more than a mere obstacle to a careless chat with friends. You can miss important business meetings or job interviews because the platform's support team is overwhelmed and hasn't still gotten to your suspension appeal.
No need to cancel your Skype account because DoNotPay's got your back!
Our app creates and forwards your complaint letter in no time. All our complaints have a reply deadline clause that requires the companies to send you feedback as quickly as possible. so you can appeal your suspension in no time and with minimum annoyance.
Why Was My Skype Account Suspended?
You found your Skype account partially suspended? It has happened because:
The platform's security system detected some suspicious activity
You may have committed some form of the violation of Terms of Service
You've activated a chargeback process
Whatever the reason is behind the partial suspension, you'll lose access to paid products and the ability to transfer these products to another account. You won't get a refund either, while free calls and messages will remain available to you.
Skype Account Temporarily Suspended Due to Suspicious Activity
Suspicious activity is viewed as a safety concern primarily for the user. This raises concern that someone else has access to your account, so Skype suspends any account that shows signs of unusual activity to protect your data or account from potential abuse.
Skype Account Suspended Due to Terms of Use Violations
Skype can partially suspend your account if you've violated Terms of Use in some way. Check out the list of prohibited activities:
Engaging in any illegal activities via the platform
Using the platform for any activities harmful to children
Engaging in fraudulent activities such as embezzling or impersonating others
Using the service to share inappropriate or harmful content, such as hate speech, graphic violence, pornography, nudity, or offensive language
Intentionally sending harmful software (malware) to other users
Violating other users' rights, including rights to intellectual property
Violating other people's privacy
Stealing private info from other users (phishing)
Spamming, i.e., sharing unwanted content in bulk
Using subscriptions for purposes such as telemarketing or providing call center services
Calling different numbers with the aim of generating profit as a result of placing a call
Unusual activity that doesn't correspond with an individual's usage of our service for private purposes. This includes regular short calls or a large number of calls over a short period
Reselling subscription minutes
Sharing your subscription with another user
Circumventing the restrictions that the company imposed on your account
Helping other users break these rules
Skype Account Suspended During the Chargeback Process
Besides the listed reasons, another one for partial suspension is an ongoing chargeback process since this means there is an issue with your payment info or method.
How Do I Unsuspend My Skype Account?
If your Skype account has been suspended, you'll see a message below the Skype to Phone subscriptions line on your account. The message will contain a link to the support ticket that you should open. Take a look at the whole process:
Log in to your account from a web browser
Look for the banner with the message saying that you have been restricted and containing a link titled Fix your account
Click this link
Choose the payment method you used on your account
Fill out the form that opens
Click Submit
Keep in mind that your complaint may get lost among all others, so don't be surprised if you don't get a response for days.
If you're wondering how to get unbanned from Skype, you can only try to appeal the company's decision via a support ticket. If they don't accept your complaint, they will notify you only of the decision. You won't have info on the reason for the ban nor access to further communication with the support team.
Skype Account Suspended? DoNotPay Has the Fastest Solution!
DoNotPay has a better solution to your Skype suspension problem than waiting for weeks on end for the support's response.
Sign up for DoNotPay and rely on the Unban My Account tool to have your complaint letter written and sent in a matter of minutes.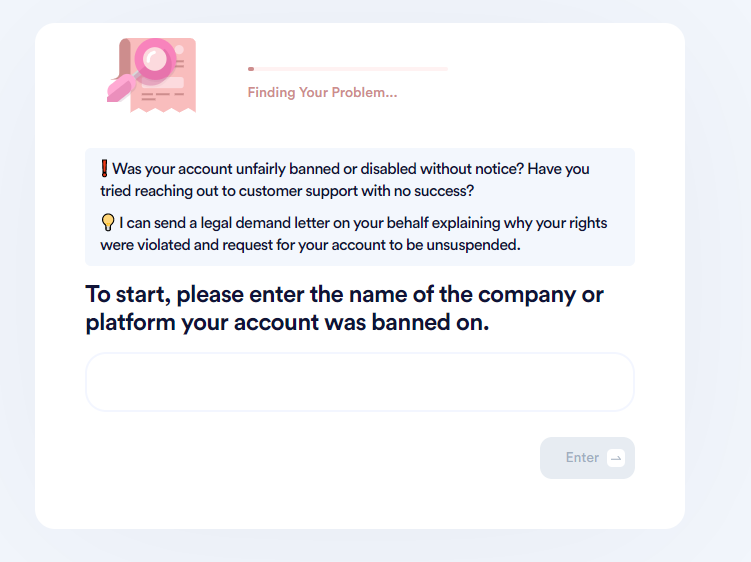 Here is the whole process:
Give us the name of the platform that has you suspended
Provide us with some account and personal details:

Account ID
Email address connected to it
Your physical address (so we can send Skype the hard copy of the letter)

Let us know if you think you are being discriminated against based on your race, color, gender, religion, etc.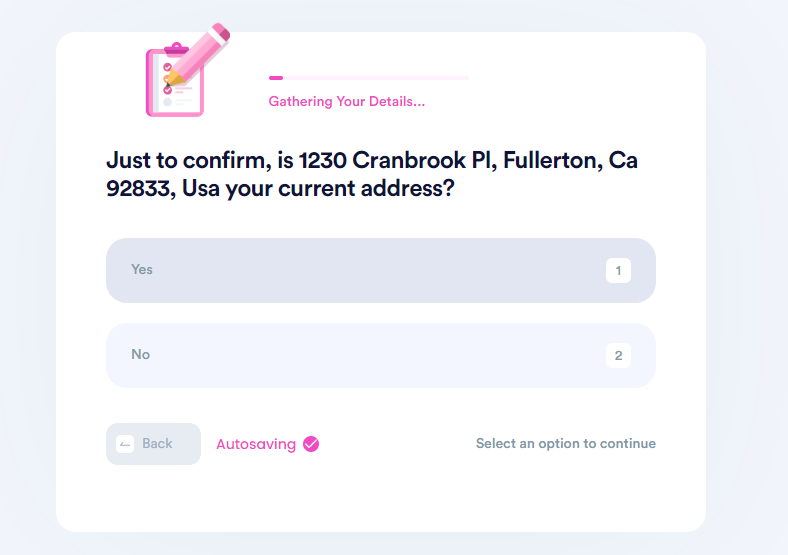 With the data you feed into our app, we will create a complaint letter, send it to Skype, and give their team two weeks to reply. This will push the agents assigned to your case to process your complaint as a priority and quickly reply to it.
We can also help you with account issues on other platforms that provide messaging and/or video and voice calls, such as:
DoNotPay's Unbanning Abilities Stretch Above Video Communication Apps
Our service encompasses numerous popular platforms that have become an integral part of our daily lives. We cover streaming, emailing, and other service apps.
Gamers can also rely on us for help with banned gaming accounts. Our Unban Gaming Account feature resolves issues with multiple gaming platforms.
Take a look at the table below for more details:
Discover the Entire Spectrum of Our Features
A click or two will be enough to discover the amazing universe of DoNotPay's tools and products. Our app is here to show you the best way to get:
Financial Issues? Let DoNotPay Take Care of Them!
DoNotPay can track down your unclaimed money, submit insurance claims, or request compensation for delayed flights on your behalf. This way, you can save some money and get what you're owed. Our app can also make it easier for you to lower your utility bills, cancel active subscriptions and stop further charges, or appeal parking tickets.