Find All Scholarships in Kansas in Minutes
Kansas State has a large number of top-rated higher learning institutions—Kansas State University, University of Kansas, and Wichita State University, to name a few. The high education-related expenses should not stop you from attending these or any other post-secondary institutions in Kansas. The good news is, you can find numerous scholarships and grants in Kansas, whether you are a resident or an out-of-state student.
Finding the right programs can be overwhelming if you don't know where to look. That's why we made this guide to help you find and apply for scholarships in Kansas with minimum effort.
Types of Scholarships for Kansas Students
Scholarships in Kansas are awarded to students in every level of education—high school, college, graduate school, and post-graduate. The opportunities can be categorized based on the providers, as follows:
Federal grants
State of Kansas scholarships
Institutional scholarships
Private scholarships
Federal Grants
Federal grants are available to eligible undergraduate, post-baccalaureate, and graduate students from all states. The primary eligibility criterion for most of the grants is an unmet financial need. The funds are usually administered by participating universities and colleges.
To discover the need-based federal programs you are eligible for, you need to file the Free Application for Federal Student Aid (FAFSA). After you submit the FAFSA, you can consult your school on how much funding you can receive and when. Funds from federal grants can be used for all college-related costs, including living expenses.
State of Kansas Scholarships
The state of Kansas provides various scholarships for undergraduate and graduate students, as follows:
Level of Study
Scholarships and Grants
Undergraduate

Kansas Military Service Scholarship
Kansas Comprehensive Grant
Kansas Teacher Service Scholarship
Kansas Promise Act Scholarship
Kansas Nursing Service Scholarship
Kansas Career Technical Workforce Grant
Kansas Ethnic Minority Scholarship
Kansas ROTC Service Scholarship
Kansas State Scholarship
Kansas National Guard Educational Assistance

Graduate

James B. Pearson Fellowship
Kansas Osteopathic Medical Service Scholarship
Kansas Nurse Educator Service Scholarship
Kansas Distinguished Scholarship Program
Kansas Dental Education Opportunities Program
Kansas Optometry Service Scholarship
Institutional Scholarships
Most higher education institutions in Kansas provide scholarships and grants to their students. Here are some of the institutional scholarships in Kansas you should consider:
Anna Kidd Scholarship—Awarded to high-performing students enrolled at Fort Hays State University
Bishop Quayle Award—Open to students at the College of Arts and Sciences at Baker University
Crimson and Blue Scholarship—Available to students with stellar grades at the University of Kansas
Foundation Plus Scholarship—Designed for high-achieving students enrolled at the Kansas State University
Sedgwick County Scholarship—Open to Wichita State University college freshmen
Private Scholarships
Students can also find scholarship programs run by various foundations, professional associations, and other private providers. Here is a list of scholarships in Kansas awarded by the private sector:
How To Find Scholarships in Kansas
Knowing where to find scholarships can save you a lot of time. Check out our top tips to help you with the search process:
Complete the FAFSA to find the federal need-based programs that you qualify for
Get in touch with your school's guidance counselor
Find local organizations that provide financial aid to Kansas residents
Visit the financial aid office of your current or prospective school
Search for available programs on the Internet
Search Online Like a Pro!
Searching online is the most obvious way to find scholarships, but you could spend days browsing the Internet without getting what you are looking for. Here is what you can do to make your search more efficient:
Check programs available at the official websites of federal and Kansas state education agencies
Search using your field of study, for instance:
Use terms that describe your demographic profile, such as:
Better yet, use DoNotPay. Our platform gives you a list of the scholarships for which you meet the eligibility requirements in under five minutes. and begin applying for scholarships in Kansas stress-free.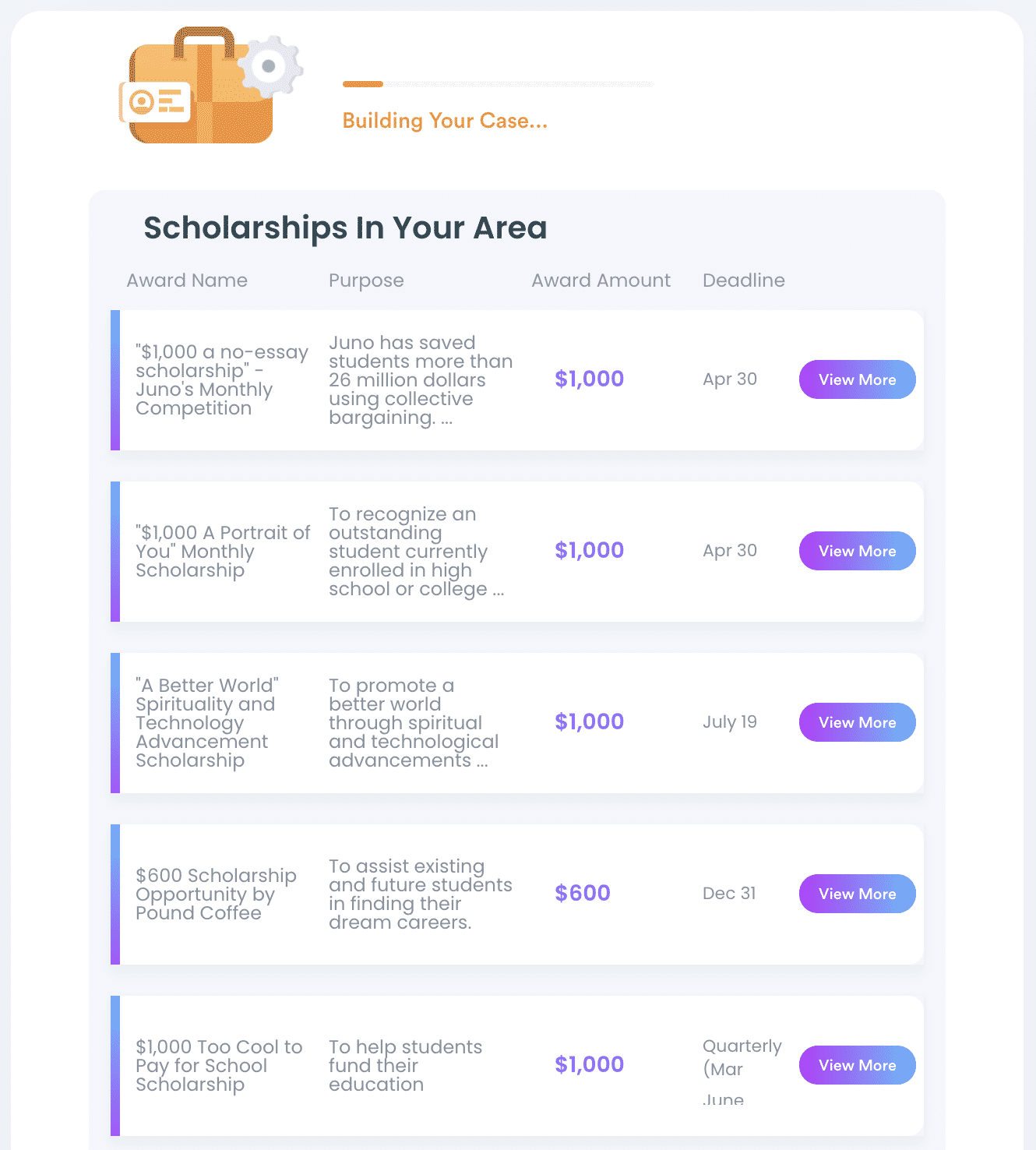 How To Apply for Scholarships in Kansas
Every scholarship program comes with its own application guidelines (you can find them on the provider's official website). We have some tips to help you increase your odds of securing a scholarship:
Get a list of all the scholarships you qualify for (with DoNotPay, this should take only a few minutes)
Check the program application procedure and respect the deadlines
Find out what the required documents are, and prepare all your paperwork on time. Most programs require the following:

School transcripts
The FAFSA
Get a Personalized List of Scholarships With DoNotPay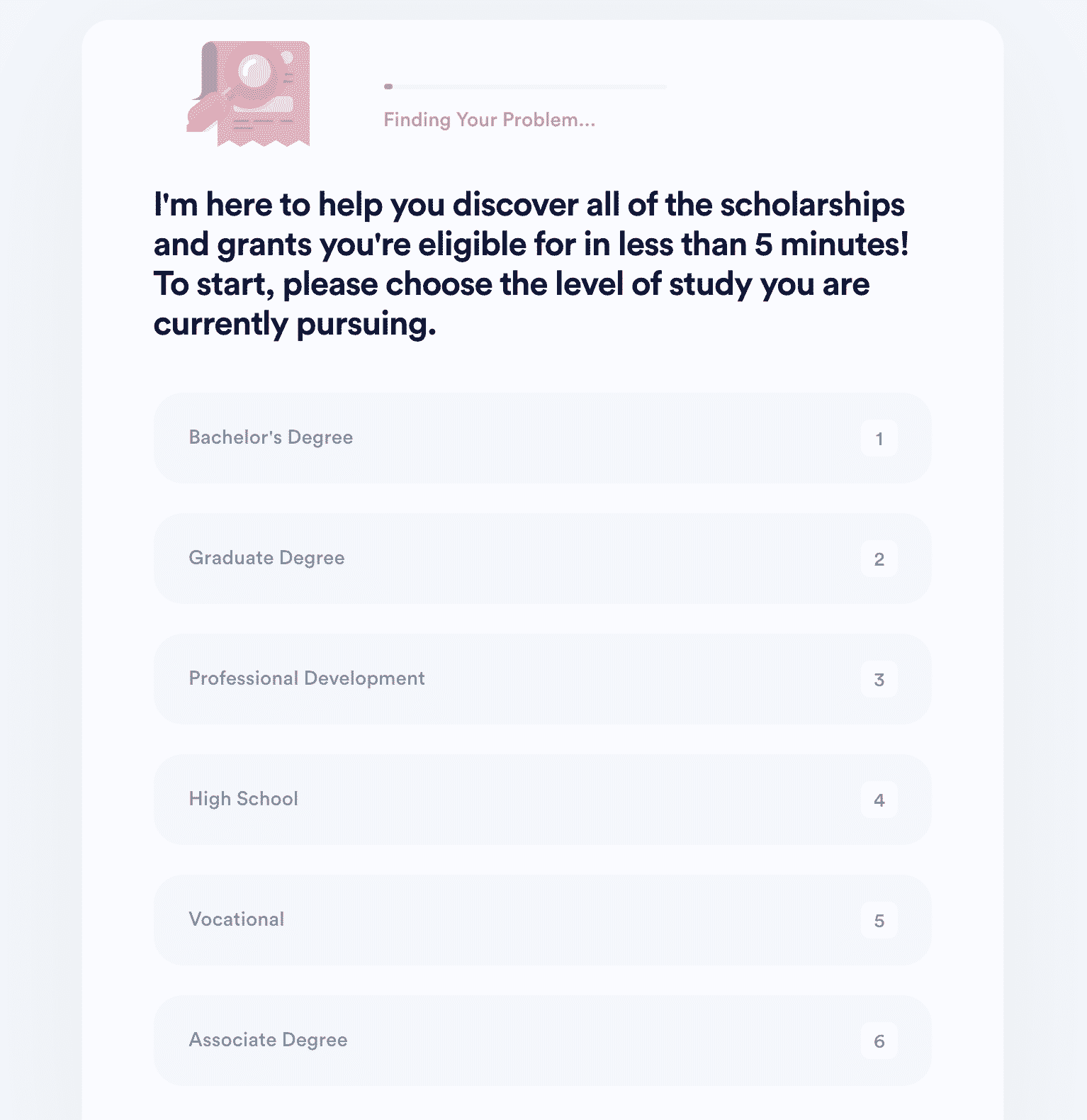 Students who score scholarships are not just lucky—they know what tools and strategies to use to find programs that they are eligible for. Our AI-powered platform is the most efficient scholarship finder. With an up-to-date financial aid database, you are guaranteed to find all the scholarships you qualify for in a minute.
Discover your opportunities by following these steps:
Locate the Apply for Scholarships tool
Answer a few questions about your education
Based on your answers, we will provide a list of scholarships for which you meet the eligibility requirements. You can also choose to apply for no-essay-scholarships with DoNotPay's help and handle the application process in a few clicks.
Is Bureaucracy Getting on Your Nerves? We Have a Solution!
We all know that dealing with bureaucracy isn't pleasant, and it often leads to overwhelming frustration. The good news is that DoNotPay has found a workaround! You can now do the following by using our app:
Let DoNotPay Make Your Legal Troubles Disappear!
Drafting contracts and other legal documents isn't a task you should handle on your own. Don't want to spend a fortune on lawyers? That is why DoNotPay—the world's first robot lawyer—is here to take the lead and help you out! Check out the list below to see some of the legal documents that our app can draft for you:
We don't stop there! Cut through the red tape and let DoNotPay assist you in taking anyone to small claims court, getting your documents notarized, submitting anonymous HR complaints, or requesting crime victims' compensation.