The Ins and Outs of the Rutgers Financial Aid Award
If you applied for financial assistance at Rutgers University, you must be eager to receive the offer. What if the Rutgers financial aid award isn't enough to cover your tuition? Can you appeal the offer? Is there a chance to get more funds after you receive the letter? You don't need to give up on this school as DoNotPay will help you decipher the letter and appeal the decision!
Follow this easy-to-understand guide to get the gist of financial aid offers. If Rutgers disappoints you with a scarce financial package, , and we'll help you appeal the decision.
What Type of Financial Aid Is Available at Rutgers University?
The school offers its students several financial aid options:
Scholarships—This type of aid is awarded to students with outstanding academic records and doesn't need to be repaid
Grants—Financially challenged students can get grants, and they don't need to pay back the funds
Loans—The school offers both federal and private loans. This type of aid must be repaid with interest
Student employment—Rutgers collaborates with the Federal Work-Study Program and Job Location and Development Program to help students find suitable jobs
If you want to know how much financial aid you can get, you can use the Rutgers Student Aid Calculator to get an estimate.
Rutgers Financial Aid—The Required Documents
To be considered for financial aid at Rutgers University, you first need to apply. As part of the application process, you need to fill in the Free Application for Federal Student Aid (FAFSA) form. To do so, you should prepare the following documents:
Social Security number
Driver's license (if you have one)
Tax records
Records of untaxed income
Record of the assets
If the school needs additional documents, it will send you an email. You can check if you need to submit any extras by logging in to your account at the Office Of Financial Aid.
Before you apply, make sure that you check whether you're qualified for the aid. You should also keep track of the application deadline.
How To Check the Rutgers Financial Aid Status
Rutgers will determine its offer based on your Free Application for Federal Student Aid (FAFSA) form and supporting documents.
The school will send you an email when the award letter is ready. Upon receiving the notification, take these steps:
Log in using your NetID or RUID
Select the academic year you are in
View your financial aid award letter
Understanding the Rutgers Financial Aid Award Letter
Knowing what the offer consists of and what you should pay attention to will help you revise it easier. The sections you'll find in the Rutgers financial aid award letter are as follows:
Estimated direct costs
Total estimated cost of attendance
Grants and scholarships offered
Net cost
Options to pay the net cost
Federal work-study programs
Loans offered
Other options
Additional information
Estimated Direct Costs
Direct costs refer to:
Tuition
Mandatory fees
Housing
Dining
The estimated direct cost can change since the final fees you'll have to pay are determined by the Board of Governors in July.
Total Estimated Cost of Attendance
The total estimated cost of attendance is an estimate of your overall academic expenses, based on which the financial aid counselor determines the aid type you are eligible for.
It is calculated by adding up the estimated direct costs and estimated indirect costs.
Grants and Scholarships Offered
Grants and scholarships don't need to be repaid. Any offered grants and scholarships will be listed in this section.
Net Cost
The net cost shows the amount you will need to pay when grants and scholarships cover part of your expenses. You will get the net cost by subtracting the grants and scholarships offered from the total estimated costs of attendance.
Options To Pay the Net Cost
The offer will indicate if there are any available options to cover your net cost. The school might list employment opportunities or loans here.
Federal Work-Study Programs
Students eligible for work-study programs will find the proposal in this section. Rutgers will also provide you with the link for the federal work-study job application.
Loans Offered
Students eligible for loans will find the list of offers in this section. The University can propose federal direct, PLUS, and private loans.
Other Options
The proposed financial aid might not cover the estimated costs. In that case, Rutgers can list alternative funding options in this section.
Additional Information
This section will include any additional information about the offers. The school might have some special terms and conditions that come with the proposed aid.
What if the Rutgers Financial Aid Award Doesn't Offer Enough?
Rutgers' offers are generous, but they don't always meet the students' expectations. If you aren't happy with the proposed amount or got rejected, you should submit an appeal.
To get more information about what you need to file a financial aid appeal, contact the Financial Aid Office.
An unavoidable part of the process is writing an appeal letter, and this is where DoNotPay steps in—we can create a top-level letter and get you more financial aid in a matter of minutes!
DoNotPay Turns the Appeal Hassle Into a Piece of Cake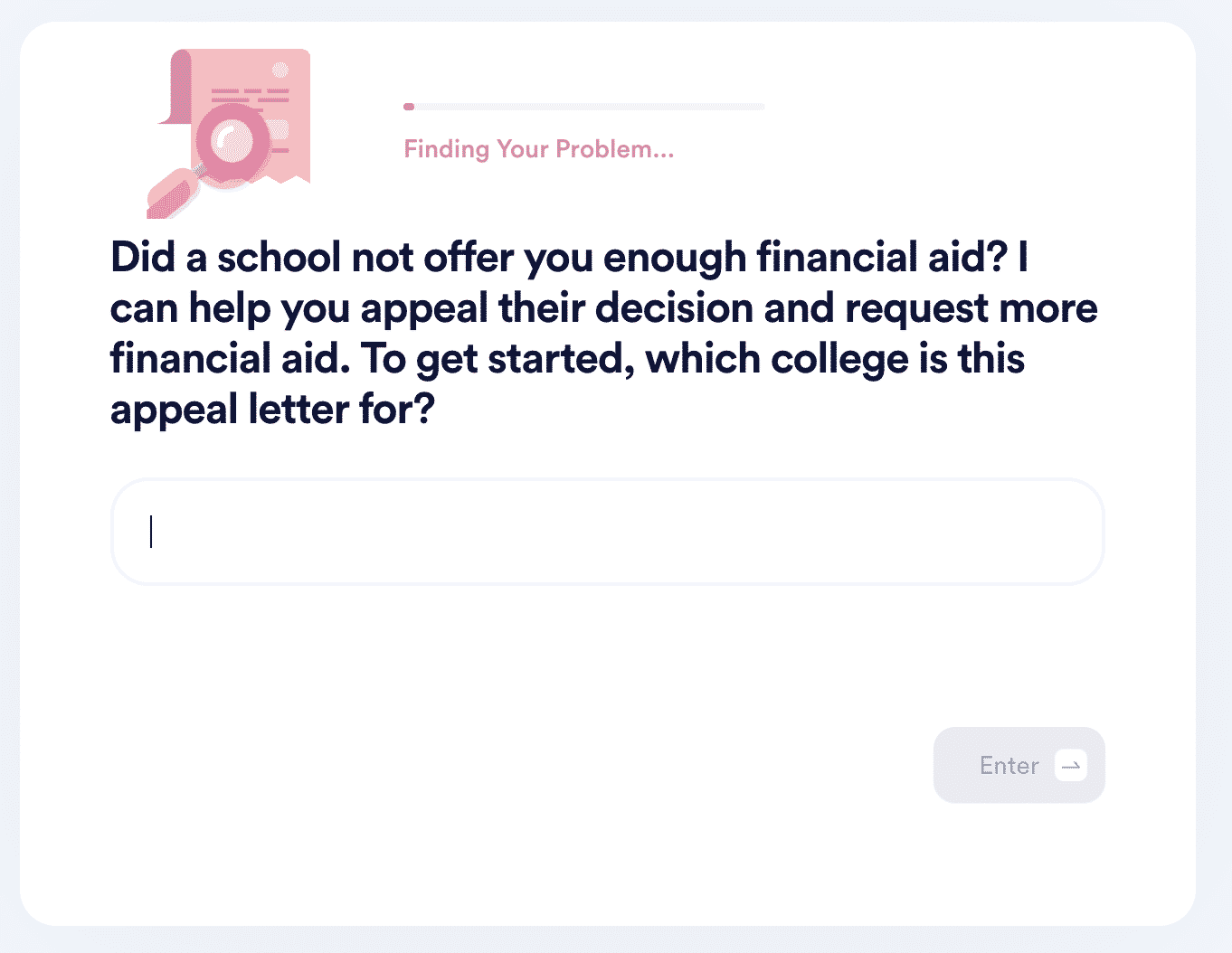 Our easy-to-use tool will generate a customized appeal letter in no time. You are only a few steps away from it:
Select the Appeal for More Financial Aid option
Fill in the questionnaire
You'll need to answer simple questions, such as:
Which college should receive the letter?
What kind of financial challenges make it hard for you to pay the set amount?
Did you receive better financial aid offers from other schools?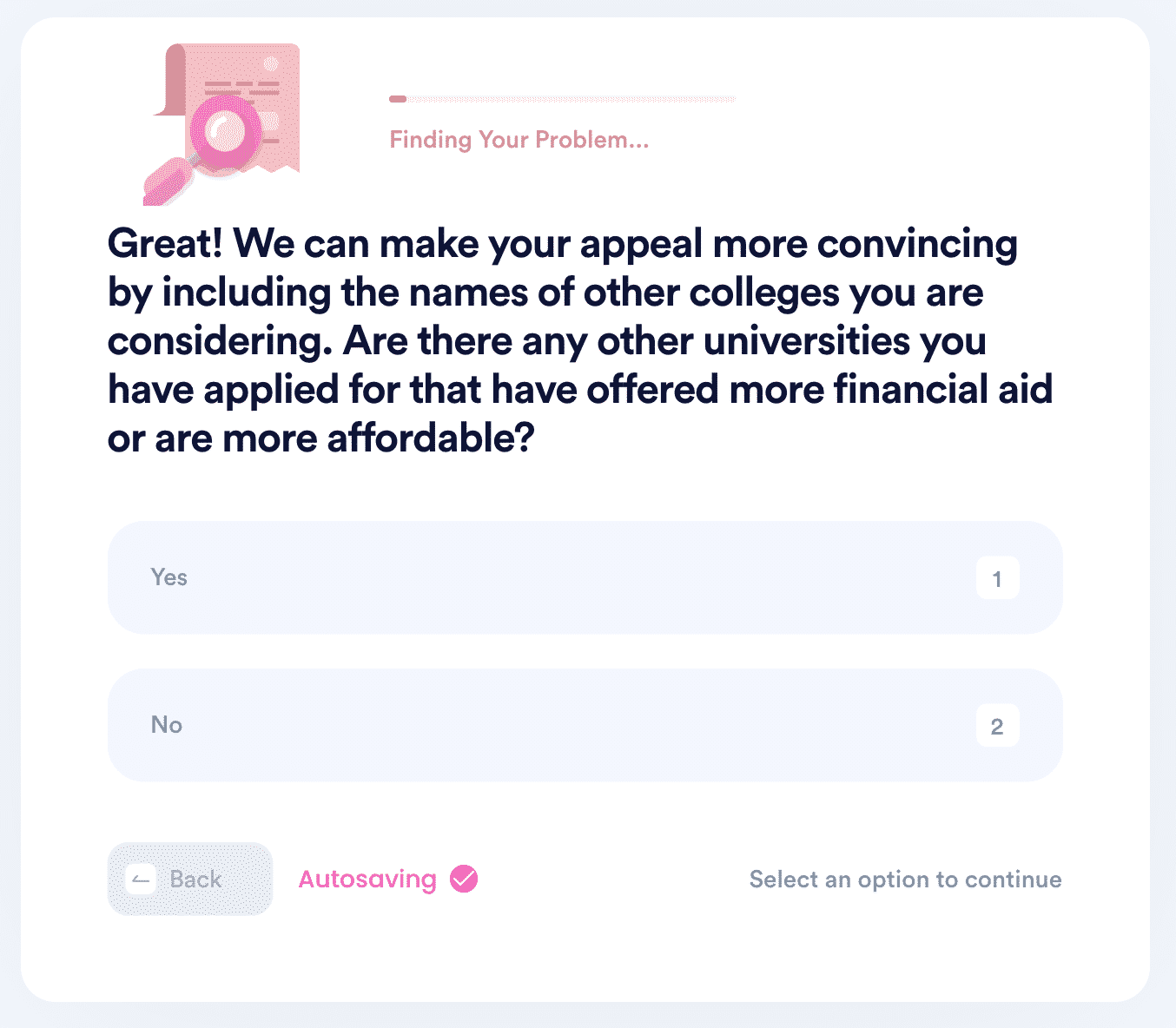 Based on the information you provide, we will put together a winning letter.
You can count on us to help you browse for more financial aid opportunities. Our useful guides can lead you every step of the way:
DoNotPay's guides can also help you get answers to the most common financial aid questions, such as whether you get financial aid in graduate school and for how many years you can receive aid!
DoNotPay Is an App for Everyone
Whether you need help with drafting paperwork, searching through government databases, or managing your bills, DoNotPay has a feature that'll make your life easier. The number of features keeps growing, and you can check out a table showcasing some of them:
Get More Done With Our Do-It-All Platform
DoNotPay can take care of any daily hurdle you come across. For a small yearly subscription fee, you get access to various features that you'll find handy on a daily basis. Besides everyday chores, signing up for DoNotPay will help get you:
The list could go on for days. You can even get in touch with an inmate or fight for discrimination at your workplace!