Have an Item You Don't Need? Learn How To Return It Without a Receipt
Everyone and their mother has faced a situation where they lost a receipt for an item they've been meaning to return. It's a common occurrence and nothing to worry about. DoNotPay comes in with multiple solutions for this hiccup.
Our article will show you all the options for getting money for the item you don't need and explain how to return it without a receipt!
Can You Return Something Without a Receipt?
Whether you can return an item without a receipt or not depends on the store's policy. Most companies have a set window during which you can return items.
For example, you can return most products bought at Target within 90 days from the purchase, while Barnes & Noble offers 30 days to return a product. Some stores—such as Walmart—will give you money back for any items bought for under $25 without asking for a receipt.
Stores That Give Cash Back on Returns Without a Receipt
Many stores have return policies that don't require you to have a receipt to get your money back for an unwanted item. The issue is that most of them will not offer a refund but store credit or a gift card instead. Here are some examples:
Items You Can't Return
Regardless if you have a receipt or not, most companies will not accept returns for some items, such as:
DVDs
CDs
Games and computer software
Make-up
Toiletries
Food
Flowers
Personalized items
How To Return Something Without a Receipt
You've lost your receipt, now what? Check out the table below for some tips on how to return your item as painlessly as possible:
Tip
Details
Return the item as soon as possible
Regardless of whether the store has a time limit on item returns or not, you need to return the item as soon as you can. Returning the item on time increases the chances of getting your money back
Bring proof of purchase
Every info you have regarding the purchase will improve the likelihood of returning the item without a receipt successfully. Be sure to bring:

The credit card you used to purchase the item
A bank statement showing the specific date of the purchase
The original packaging

Say it was a gift
In case you don't have any evidence of purchase or you're over the store's time limit, say that the item you want to return was a gift.

Many stores accept returns for items purchased as gifts, especially during the holiday season

Use DoNotPay
Use DoNotPay's Item Return Request product, and we'll file a return request in your stead. You won't have to deal with the store representatives because we'll handle the situation for you
Use DoNotPay and Return Your Items in a Snap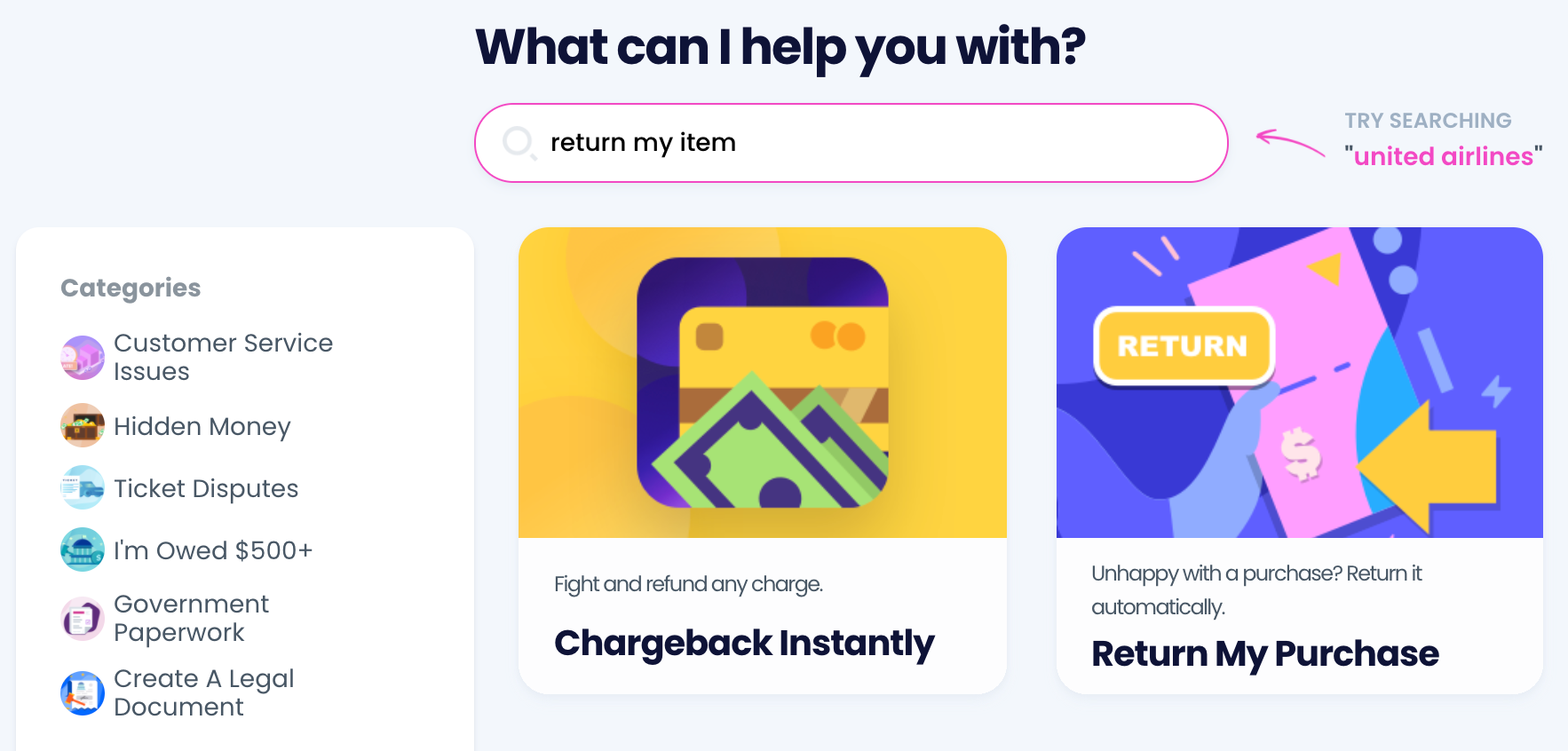 Returning your unwanted item to the store—with or without a receipt—can be a tedious process. DoNotPay has developed the Item Return Request product that'll make your life easier. You can save yourself the headache of returning the item on your own and let us do all the work! Here's what you need to do:
Sign up for DoNotPay in your web browser
Select the Item Return Request product
Answer our chatbot's questions
Add photos of the item you want to return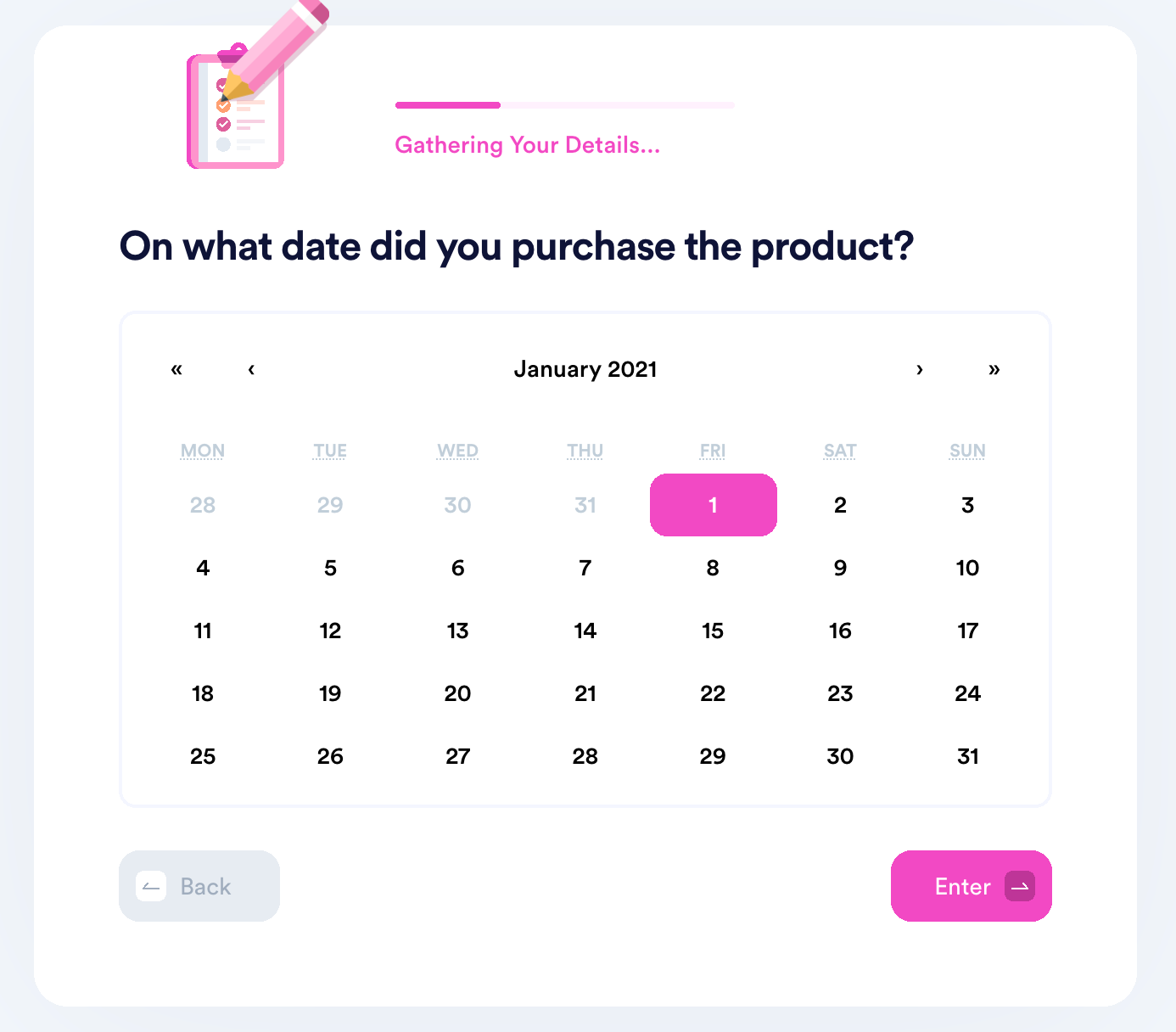 DoNotPay will send your request explaining the situation to the store you got the item from. We will also add a deadline so that the company takes action faster. You'll be able to ship your item free of charge as you'll get a return label.
For information regarding return policies from other companies, check out the table below:
Has the Company You Got the Item From Wronged You? DoNotPay Will Help You Sue It in Small Claims Court
If you think that your consumer rights have been violated by a company you got the item from—whether that's eBay or Walmart—DoNotPay can help you sue it in small claims court! We will:
Write a demand letter
Fill out all court forms
Gather all the necessary paperwork
File your complaint
Create a script that will serve as argumentation in the court
Manage Your Tasks Easily With Our Help
DoNotPay is the perfect solution whenever you need to resolve legal or bureaucratic matters. Here's a fraction of what our AI-driven app can help you out with:
No Matter What You Need, DoNotPay Is by Your Side
Do you have a bunch of subscriptions that you waste money on but don't even use? We can help you cancel them effortlessly! After that, our app can initiate a refund request and make sure you get your money back.
Facing financial difficulties? DoNotPay can help you lower your bills, get free raffle tickets, get gift card cash back, find your missing assets, and so much more!
For a low monthly fee, you'll get access to our impressive range of products, so sign up now!