All About the HazMat Awareness Test
Many workers deal with hazardous materials, such as firefighters, HazMat technicians, and HazMat CDL drivers. Each of these jobs needs certain testing and training, which includes HazMat awareness.
We'll focus on breaking down the HazMat awareness test regarding CDL drivers. DoNotPay will explain the process—from applying for a HazMat endorsement, taking the HazMat knowledge test, and completing the HazMat awareness training and testing.
Can I Be a HazMat Truck Driver?
A CDL HazMat driver is one of the highest-paid truck driving jobs. It comes as no surprise that more and more people apply for a hazardous materials endorsement (HME) once they pass a CDL test.
According to the Transportation Security Administration (TSA), you are eligible for the HME if you are at least 21 years old, are not a criminal offender, and are one of the following:
U.S. citizen

Naturalized citizen

Lawful permanent resident

Nonimmigrant alien, asylee, or refugee in lawful status
Getting the HazMat Endorsement Explained
Every state has different regulations and processes regarding the HME. Some states, like Pennsylvania, require you to take the HazMat test before going through the TSA security threat assessment. In other states, such as Ohio, Florida, and California, you need to pass the TSA background check before taking the test.
The TSA Security Threat Assessment
The TSA check consists of the following steps:
Completing the

application

Booking an appointment

online

or by calling

(855) 347-8371

Going to an

application center
Before you visit a TSA center, you should check and gather the required documentation. Once you're there, you'll submit your documents and fingerprints.
This process will cost you $86.50 or $67 if you have a TWIC card. You may not qualify for a reduced fee in certain states, so it's best to check.
The TSA typically takes 30 to 45 days to approve your application.
Booking the HazMat Test
Some states or cities may allow walk-ins without the need to schedule the HazMat test. You should visit your state's BMV or DMV website or call and check what you need to do.
The test fee also varies depending on the state. It's usually between $10 and $50.
What Is the HazMat Knowledge Test?
The CDL HazMat test is a written test consisting of 30 multiple-choice questions.
The test is based on the CDL manual or handbook of your state—usually section 9, which deals solely with hazardous materials.
The HazMat test covers the following topics:
Emergencies

Communication rules

Loading and unloading

Driving and parking rules

Responsibilities of drivers

Bulk tank loading, unloading, and marking
You need to have a minimum score of 80% to pass the test, which means you should answer at least 24 questions correctly.
Prepare for the HazMat Test Using DoNotPay's Practice Tests
Even if you already have the HazMat endorsement, that doesn't mean you're done with the HazMat test. In most states, you need to retake the test and undergo the security threat assessment every three to five years. Especially if you have a job and you need to retake the test soon, we advise you to take it seriously and practice. This way, you won't fail it and prolong renewing your endorsement.
Follow these steps to get our HazMat practice tests:
Access DoNotPay from a

web browser

Type in

HazMat Test

in the search bar

Pick your preferred test length

Take the practice test
While you should study from the CDL manual, that can be boring and ineffective if you don't check your knowledge. DoNotPay's HazMat practice tests are a perfect way to do that and more.
Check out more benefits of practicing with our help:
Accessing practice tests from any device

Taking practice tests whenever you want to

Tweaking the test length—10, 20, or 30 questions

Retaking practice tests as many times as you need to

Retrying a question after a wrong answer or after you finish the test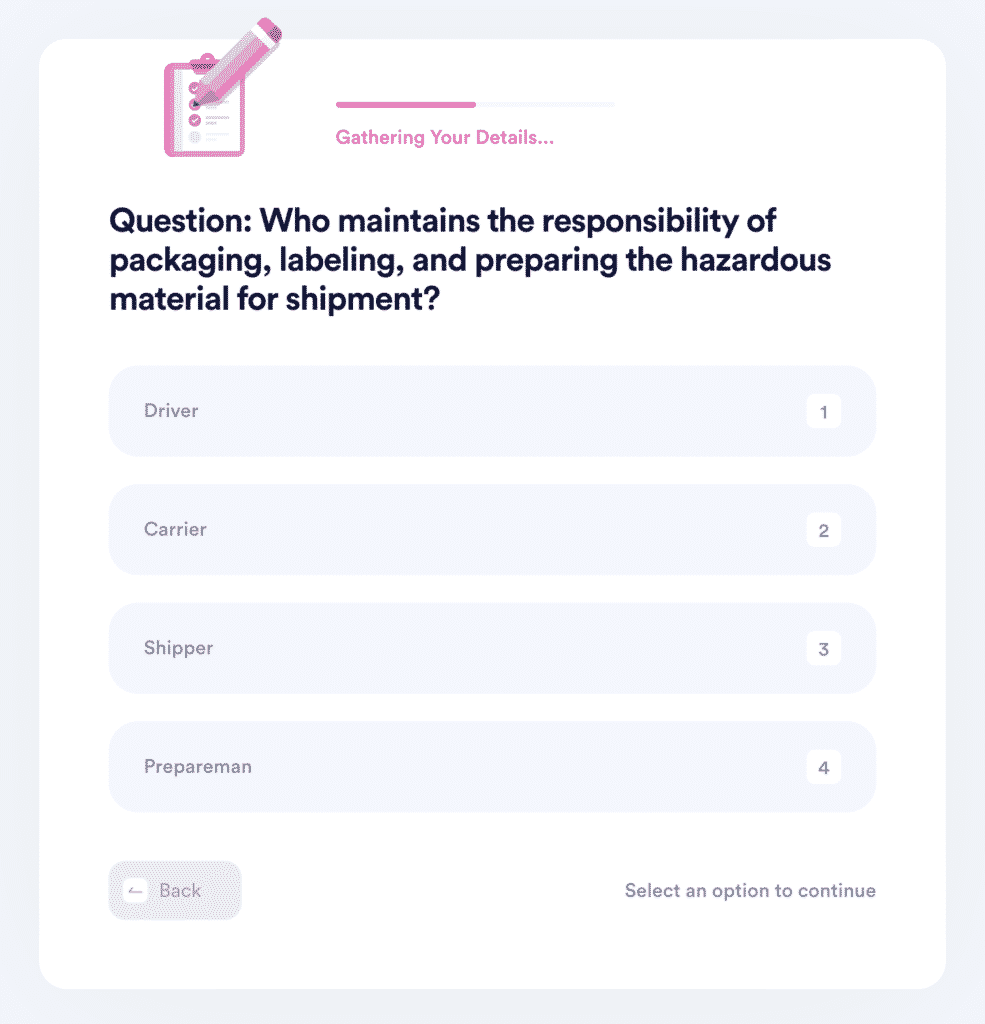 What Types of HazMat Training Are There?
HazMat awareness is only one part of HazMat training you will need to take. The training differs depending on the job and your duties, but generally, HazMat training consists of the following parts:
HazMat Training
Brief Explanation

General awareness/familiarization

Learning the basics of dealing with hazardous materials

Function-specific

This training depends on the job and its roles

Safety training

Learning of potential dangers of hazardous materials and protection

Responding to a hazardous materials emergency

Security awareness

Security risks HazMat drivers face

In-depth security training

If a security plan is required, employees need to take this training

Driver training

Training HazMat employees how to operate a motor vehicle transporting hazardous materials
What Is HazMat Awareness?
As per Title 49 CFR, Part 172, Subpart H, general awareness training should cover the following topics:
Placarding

Packaging

Shipping papers

Marking and labeling

Security requirements

Hazardous Materials Table (HMT)

Carrier requirements for highway, air, rail, and water (for CDL drivers, only highway)
One of the most important parts of HazMat awareness training is recognizing an issue, such as a leak or an emergency.
Where Do I Get HazMat Awareness Training and Tests?
HazMat employers need to provide training and testing for their employees, including HazMat awareness. They can use an outside source, such as a training school or course. Regardless of where you get training, it needs to comply with the Hazardous Materials Requirements (HMR). 
After the training, you should take a test to prove you can perform your duties as requested. The tests can be written, performance, or a combination of both.
Your employer should keep a record of your training and testing and have documents that will certify what training you have completed.
How Often Do I Need To Attend Training?
If you are a new HazMat employee or you changed jobs or job functions, you need to complete the initial HazMat training within 90 days. If you do not, you can perform certain job functions, but only with supervision.
You have to go through training every three years to keep working as a HazMat employee.
Pass More Government Tests With the Help of DoNotPay
Our platform doesn't only come in handy for CDL and HazMat tests, but we also boast other government practice tests that you or your loved ones may take in the future. Check them out below:
DoNotPay can also assist you in dealing with the DMV. If you need to make a driving test appointment or pass the written driving test, count on our help.
We know how complex the ASVAB test is, so if you plan on taking it, you can also check our rundown on the ASVAB test scores.
Use DoNotPay To Complete Boring Tasks and Solve Tough Problems
If you're overwhelmed with different chores and caught up in red tape, DoNotPay is the assistant you need. The world's first robot lawyer and AI-powered app can come in handy in numerous ways, not only the ones related to government tests.
Open DoNotPay in any web browser and take advantage of our app's full potential whenever you need to:
Appeal your speeding tickets

Overturn your traffic tickets