DoNotPay Knows How Many Questions There Are on the CDL Test
Obtaining a Commercial Driver's License (CDL) can bring you many advantages. Depending on the seniority, experience, qualifications, and type of material you are transporting, you can earn up to $65,000 a year in the U.S.
Before you start contemplating a career as a truck driver, you should learn all about the CDL driving test. DoNotPay is here to explain what the written test entails, how many questions you can expect, and where to find reliable practice material.
How Much Is the CDL Test?
Each state establishes its application fees, so the best way to find the exact information is to visit your state's DMV website. The prices can depend on the type of endorsement you intend to obtain. Most states charge all tests separately.
Here is the list of average fee prices for every step of the application process:
Getting a Commercial Learner's Permit—

The fee for the CLP varies from no cost to $78

Obtaining a Commercial Driver's License—

Scheduling the driving skills test costs from $25 to $275. CDL license fees range from $15.50 to $133.50
What Does the CDL Knowledge Test Cover?
A CDL test is a two-part exam that contains a written knowledge test and a driving skills assessment. You are required to pass both parts to obtain your CDL license.
The knowledge test consists of seven parts that are scored separately. One is a general knowledge test, five cover special endorsements, and the last one is an Air Brakes test. There may be regulation differences depending on the state you live in, especially regarding the transportation of hazardous materials. All driving rules are available in your state's Driver's Manual.
While the general knowledge test is obligatory, most applicants take three or four written knowledge tests out of seven, depending on the type of commercial vehicle they intend to drive.
Topics covered by the general knowledge test include:
Vehicle inspection

Railroad crossing

Accident procedures

Dangers of drinking and driving

Communication with other drivers

The significance of being alert and fit to drive
How Many Questions Can You Expect on the CDL Test?
CDL general knowledge test usually consists of 50 multiple-choice questions and lasts one hour. To obtain a passing grade, you need to achieve an 80% test score. If you fail the test, you must wait for 24h to retake it.
CDL tests are not difficult to pass, as long as you adequately prepare. While you can find all the information in your state's Manual, there are other learning techniques that you mustn't neglect. Most people fail due to unfamiliarity with the structure and form of the test rather than insufficient knowledge.
Stick with us and discover the most reliable method of preparing for your CDL test. Open our app in your and find information on how to pass any written driving test!
How To Prepare for Your CDL Driver's Test
There are many useful methods of preparing for your CDL exam. The trick is to recognize which ones are necessary and which provide a welcome addition to your learning routine. Check out the possible practice material sources and their importance below:
Material Source
Benefits

CDL Manual

It is the most reliable and complete information source

Driving test apps

They are practical and accessible

Apps contain examples of test questions

Some of them offer additional information

Study guides

They contain summarized information from the Manual

Study guides often provide useful information regarding the exam procedure

Practice tests

They provide context for the information from the Manual

Practice tests copy the form of the real exam

They help you retain information better

You can use them to follow your progress

They contain various question combinations
The best preparation method involves combining the CDL Manual and practice tests. DoNotPay will spare you the trouble of deciding on one of the numerous but sketchy online practice tests by offering a reliable solution!
How Can DoNotPay Help You Prepare for Your CDL Driver's Test?
DoNotPay provides practice material for various government tests, such as DMV, CCAT, Notary, ASVAB, Postal, CompTIA A+, and the U.S. citizenship test. Our app allows you to retake the test as many times as you want and even choose the number of questions.
Another useful perk is that you can retry a question on the spot or retake the test after you see the final score.
If you want to prepare with DoNotPay and nail the CDL test, you should:
Visit DoNotPay in any

Type in

CDL Practice Test

Choose between 10, 20, or 30 questions

Answer questions one at a time
We guarantee that you will be ready to schedule your DMV driving test appointment in no time. Make sure to consult your driving test checklist before you decide to take the test.
You can use our app to get insight into ASVAB test scores and pass one of the most challenging government exams with ease!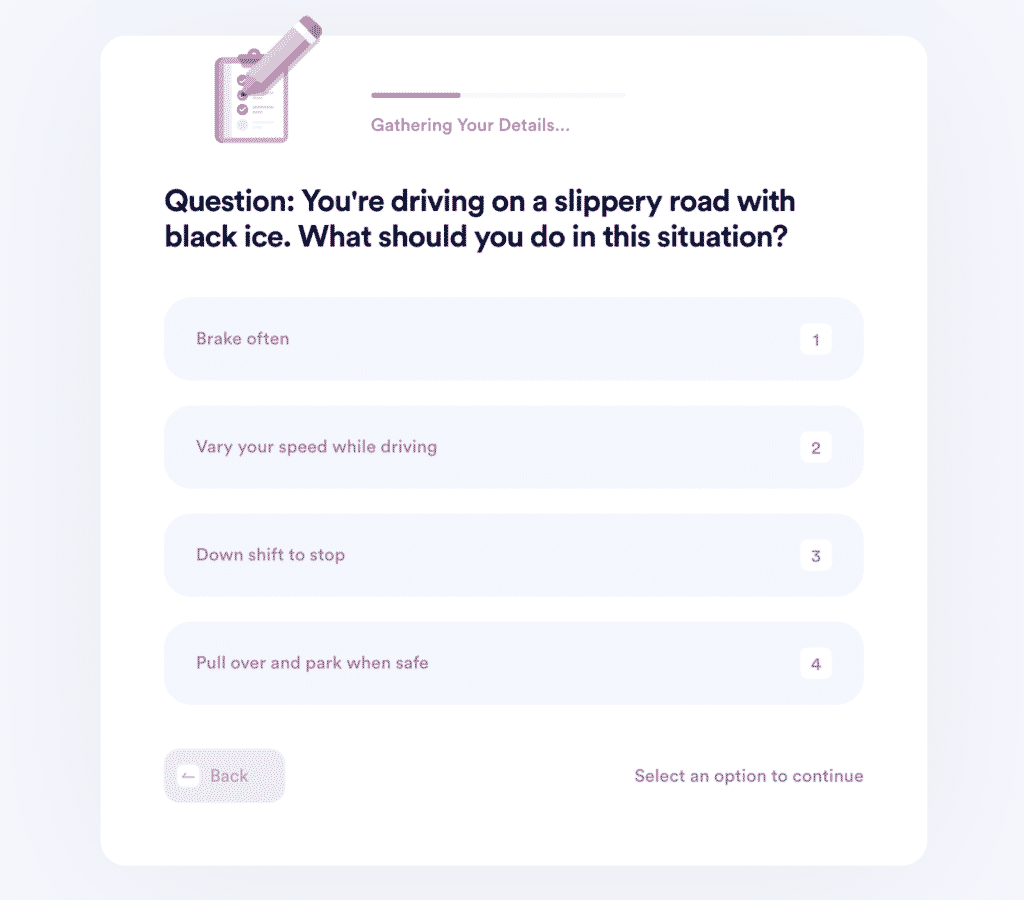 Forget About Bureaucracy With DoNotPay
There's no end to what our service can help you do. From asking for bill extensions and reducing property taxes to connecting with an inmate in a federal prison and contesting parking citations, DoNotPay can handle it all and cut through the red tape.
Need to pass a government test? Use our practice tests database to nail it. Looking to file an insurance claim? You've come to the right place. College applications drained your accounts? Request college fee waivers with our assistance.
The DoNotPay app is so versatile that it can easily locate any unclaimed funds under your name or any clinical trials that you're eligible to participate in. We can also schedule DMV appointments and take care of your small claims court documents.
Check Out What Else DoNotPay Has in Store
DoNotPay never stops upping the game. You can explore some of our latest features and see how you can access public records, receive free online fax, submit a warranty claim, or get compensation if you were a victim of a crime.
Alternatively, check out some of our most popular products that aim to reclaim your funds—from getting airline flight compensation and submitting refund and chargeback claims to canceling your unused subscriptions and getting class action cash from email, text, and robocall scammers.