How To Nail the CompTIA A+ Certification Exam Like a Pro!
CompTIA A+ is an IT certification that people who want to establish a career as a networking technician, a help desk, or a support center take. CompTIA provides tests for anyone seeking to launch a career in the Information Technology sector.
The company has been developing training and certification exams for computing support, networking, security, Linux development, cloud, and mobility for over twenty years now.
If you are curious about the CompTIA A+ exam cost or want to know how to take the CompTIA IT Fundamentals practice test or get an A+ certification, you can find out with DoNotPay!
What Are the
CompTIA A+ Exams
?
The CompTIA A+ certification exam encompasses two series of tests:
Core 1 (220-1001)
Core 2 (220-1002)
The two series cover the testing of the next segments:
Demonstrating baseline security skills for IT support professionals

Dealing with the increased variety of Information Technology environments, including cloud computing, Linux, iOS, and Android

Troubleshooting and problem-solving core service and support challenges while applying best practices for documentation, change management, and scripting

Supporting basic IT networking

Arranging and supporting PC, mobile, and IoT device hardware

Executing basic data backup and recovery methods and applying data storage and management best practices
When you pass both series successfully, you will get your CompTIA A+ certification.
Why Should I Prepare for the
CompTIA Tests
?
Considering how complex CompTIA exams are and how much material there is to go through before taking the exam, preparing thoroughly for it is a must. The longer you practice for your test, the better your chances to ace it will be—it's as simple as that.
You will also be much more confident and calm knowing that you studied, so nerves will not get in the way of you nailing the exam. The key is to organize your time the best way you can and take the preparation seriously. Remember—practice makes perfect!
How Do I Prepare for the
Current CompTIA A+ Exam
?
There is no shortage of methods you can use to practice for your exam!
One of the most useful practicing tips is to read through the CompTIA A+ exam objectives to get an idea of what the most important part to focus on is. You can download the objectives from the CompTIA website and use them as a guide.
Another way to prepare is to turn to the internet and find any useful information, articles, and additional study material relating to the CompTIA exams.
Practice tests are also super helpful and a great way to see what kind of questions you will be given on your real exam. DoNotPay provides you with free CompTIA A+ practice tests, along with eight other practice tests you may need! Think in advance and leave enough time for studying because that is the best way to ace any test!
How Can I Take the CompTIA A+ Practice Tests With the Help of DoNotPay?
DoNotPay makes the process of finding and taking practice tests easier by having them all ready for you in one place! You can take your CompTIA A+ practice test in a few clicks by following the next steps:
Open your

and visit DoNotPay

Look for

CompTIA

practice tests

Choose which test you want to practice for

Pick how many test questions you would like to have (10, 20, or 30)

Take your test!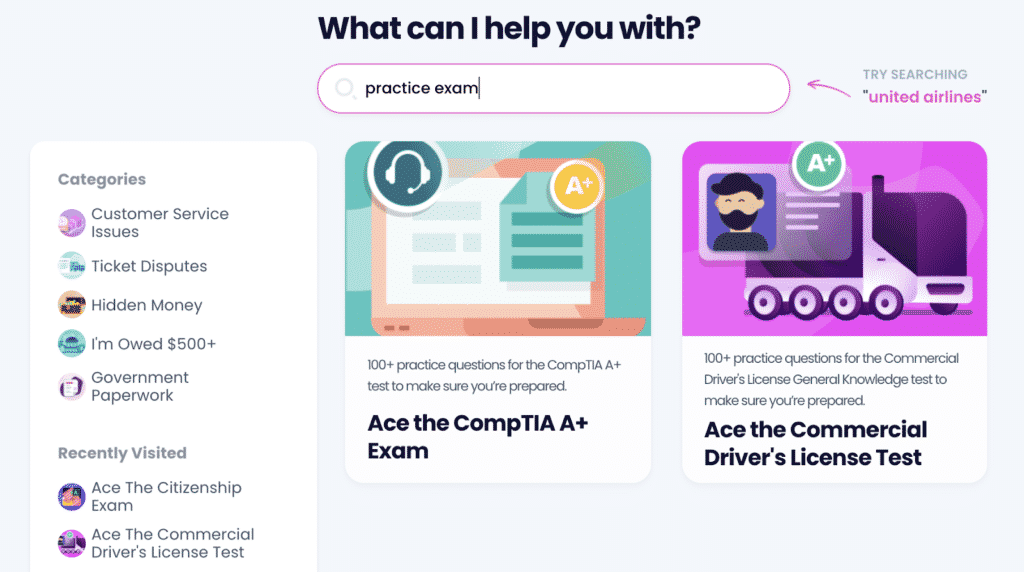 If you make a mistake or get a question wrong, you have two options:
Retry the question on the spot

Take the test again after you see the results
We can offer you practice tests for nine test types. Here is a list of all the tests you can practice for using our app: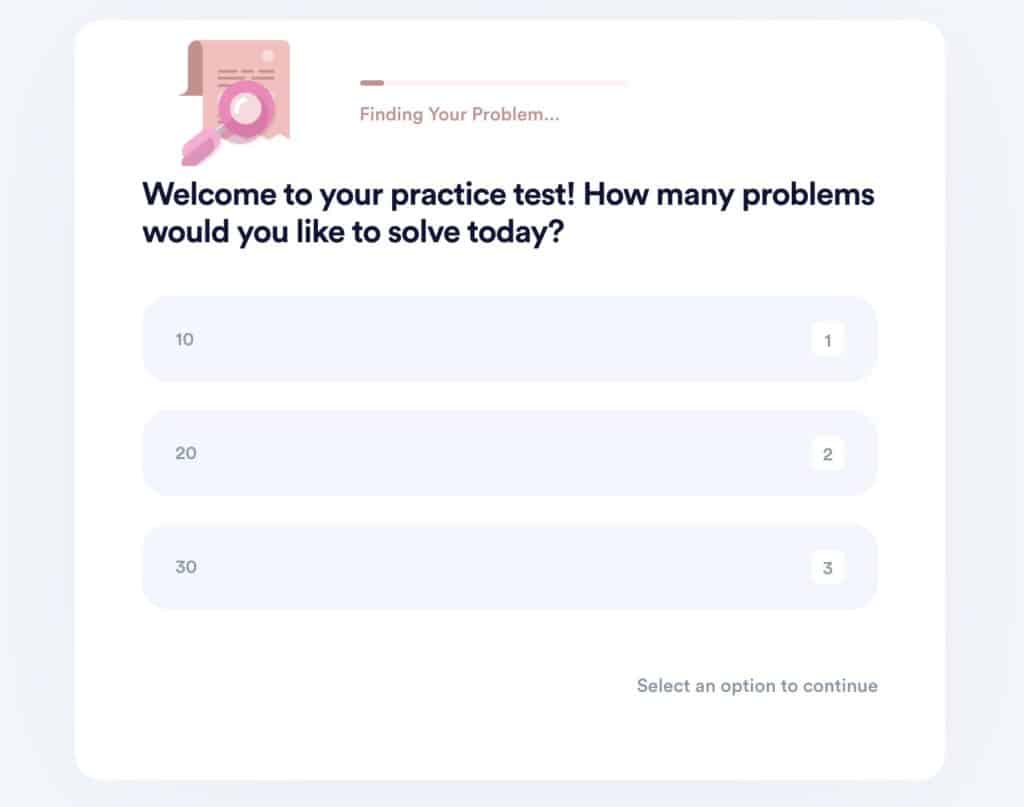 Where Can I Take the
CompTIA A+ Certification Test
?
The CompTIA A+ exam can be taken either in person at one of the Pearson VUE test centers or online from the comfort of your own couch. It is up to you to decide which option you prefer, but there are certain benefits for each of these methods.
Check out the table below to see what the benefits of these options are before you choose the method you want to go with.
Option
Benefits

Taking the exam online

You can take the exam from the comfort of any private area you find suitable

You can take the exam at any time that is convenient for you

Taking the exam in-person

Not having a strong internet connection or access to a computer won't present a problem

You would be able to get assistance on the spot
How To Take the CompTIA A+ Certification Exam Online
You will need to review and accept a few of CompTIA's terms before you take the exam. After you read them carefully and agree to them, you can get on with the steps we listed below.
These are the terms:
Follow the next three steps to take your CompTIA A+ test online:
Do a

system test

on the computer and network you are going to be using to complete your test

Make a

Pearson VUE testing account

Schedule and finish

the online exam
How To Take the CompTIA A+ Certification Exam in Person
If you decide to take your exam in person, you can do it by following the next five steps:
Register and create a

Pearson VUE testing account

Log in to your Pearson VUE account

Locate a testing center close to you and schedule your test

Look through the

testing policies

and procedures

Check into the Pearson VUE test center and take your exam
What Can I Expect From the
CompTIA A+ Certification Test
?
On the CompTIA A+ exams, you will get 90 questions and 90 minutes to finish them. The questions can be multiple-choice or performance-based and include topics about the Windows operating system, software troubleshooting, and other operating systems and technologies.
If you are planning on taking the exam in person, make sure to arrive at the Pearson VUE test center on the earlier side, in case an unexpected issue occurs and it takes more time than planned to process you.
DoNotPay Can Offer You So Much More!
Use DoNotPay to deal with any issue that comes your way head-on! Find the CompTIA testing centers, CompTIA A+ exam objectives, and CompTIA A+ 1001 practice tests in only a few clicks!
Apart from assisting you with passing your CompTIA exams, we also offer you a bunch of features you can use to overcome any bureaucratic hurdle in a few minutes! We made a list of all the tools you could find helpful in your everyday life—check it out down below!
Open DoNotPay in any and see how we can assist you in completing these tasks:
Fighting speeding tickets

Disputing traffic tickets