Pass Your Notary Public Exam With Flying Colors!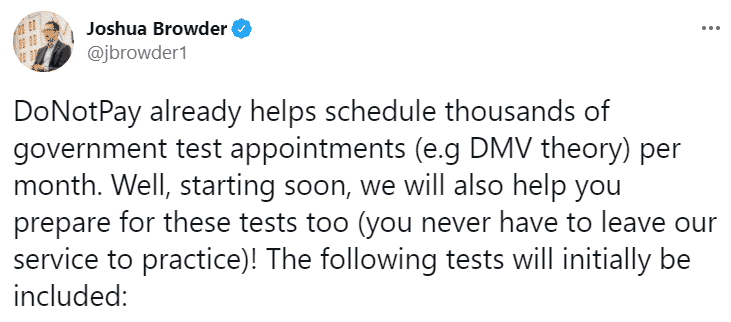 Are you thinking about taking your , but you are not sure what you can expect on it or how hard it is going to be? Don't worry! Follow our simple guide and instructions, and you will be ready in no time!
DoNotPay's practice tests are your fastest way to prepare and ace any notary exam you need!
Understanding the Notary Test
The notary test is a 60-minute exam administered by each state's Secretary of State. It includes questions regarding notary public laws and their importance. A notary public's job is to verify the signature of an individual on various legal documents like mortgages, deeds, or contracts.
You must take the notary test at one of your state's testing centers or online (if your state offers the online notary exam).
How To Prepare for Your Notary Public Test

Preparing for your notary public test is a crucial step towards passing it. The test is difficult and covers the material you don't come across in your day-to-day life, so studying is the only way to ensure you will score high.
The Notary Public handbooks are a great place to start studying, considering that all the questions you will get are from that manual. You should read your state's Notary Public handbook as many times as you need until you feel confident enough to move on to the next studying method.
Take practice tests to improve the areas you find difficult and use them as a simulator of your real notary exam! DoNotPay's practice tests are designed to give you a real-life experience of your notary exam and provide you with the questions you will most likely get on it.
Take the Notary Practice Exam With DoNotPay in a Few Clicks!
Taking your notary practice test with DoNotPay is the easiest and most undemanding way to practice! We streamlined the procedure completely and made practicing feel like a breeze!
Here is how you can take your notary practice exam in three simple steps:
Visit DoNotPay from the

of your choice

Look for the notary practice tests

Pick the number of questions you wish to have on your test (choose from 10, 20, or 30 questions)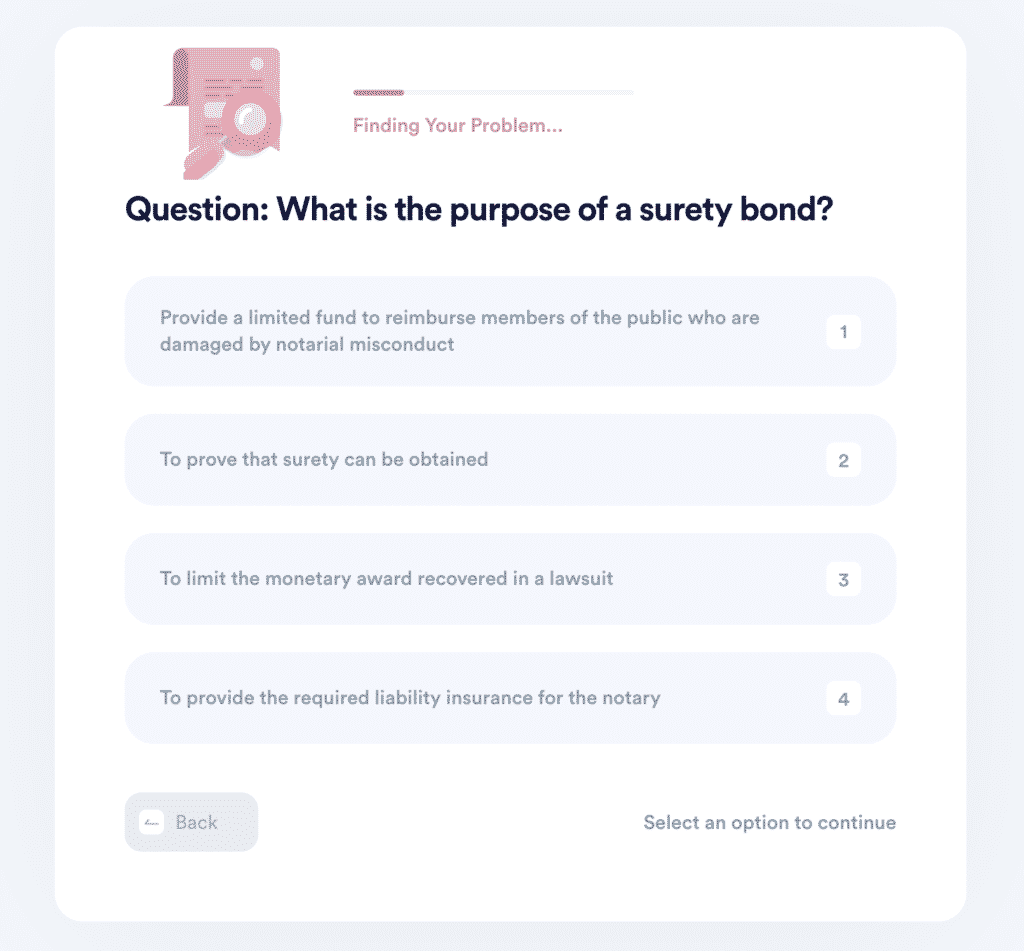 DoNotPay can also help you practice for the following government tests:
Use our app to find your ASVAB test scores or learn how to pass your written driving exam on a first try! You can also use it to make your DMV driving test appointment in a few minutes! Check out some of the state-specific notary tests we can help you pass:
Important Info About the Notary Test
All notary candidates have to be 18 years old and legal residents of the state with no criminal record. The costs you will have to pay to become a notary vary. It can be anywhere from $100 in some states up to several hundred in others, depending on that state's requirements.
The cost of becoming a Notary is different depending on the:
Application filing fee

Expenses of any notary training

Exam

Background screenings

Necessary notary supplies

Cost of your bond (if applicable)
Some states require a background check to become a notary. If you state in your application that you have been convicted of a felony in the past, the officials will most likely require a background check, even if it isn't mandatory.
Notary training is a must in many states, including California, Colorado, Florida, Missouri, Montana, Nevada, North Carolina, Ohio, Oregon, and Pennsylvania. Delaware requires training and continuing education for all the electronic notaries. If you want to get Notary training, the first place you should check is with a Notary regulating agency in your state— usually the Secretary of State's office.
The Notary Public Exam Requirements
The notary exam criteria vary depending on the state and its laws, but here are the common requirements:
Make sure that you meet all of your state's qualifications

Fill out and submit an application

Pay your state's filing fee

Get training from an approved education agent (if applicable)

Pass a state-administered exam (if applicable)

Complete fingerprinting and background check (if applicable)

Receive your commission certificate from the state

Get your surety bond (if applicable)

File your commission paperwork (and bond) with your Notary regulating official

Get your notary supplies
Enjoy Services Worry-Free With DoNotPay
Do you want to try out a new service but are worried about being charged if you forget to cancel it before it ends?
With DoNotPay, you can sign up for free trials without worrying about auto-charges. Our virtual credit card makes sure you enjoy your trial run of the service and prevents any company from taking money out of your real account.
This free-trial card also protects you from email spam because it generates an alternate email address for the free trial sign up.
If you want to keep your phone number private and deter robocallers and text spammers, use DoNotPay's Burner Phone feature when subscribing to services.
In case the company does charge you, initiate a chargeback on your credit card transactions quickly with our app.
Discover DoNotPay's Amazing Features
DoNotPay is a virtual lawyer app that can take over annoying bureaucratic tasks from you.
We can cover anything you may need help with—dealing with customer service reps, booking appointments with the DMV, securing refunds and compensation from airlines, disputing your parking tickets, or getting you an extension on bill payments.
Our app can help you draft any legal document in minutes or access public records from state and federal databases.