Ace Your CompTIA A+ 1001 Practice Test!
Computing Technology Industry Association (CompTIA) is a renowned association that sponsors A+ certifications. CompTIA A+ is an IT certification test for individuals seeking to start a career as a help desk, support, service center, or networking technician. The optimal way to prepare for your CompTIA A+ exams is by taking practice tests and studying in advance.
What Is a CompTIA A+ 1001 Practice Test?
The CompTIA A+ 1000 series consists of two exams—the first one is the 220-1001 exam, and the second one is the 220-1002 exam.
CompTIA A+ 1001 test assesses your knowledge of networking technology, mobile devices, hardware, cloud computing, and network troubleshooting. The test contains 90 questions, and the passing score is 72%.
CompTIA A+ 220-1002, in contrast, covers installing and configuring operating systems, extended security, software troubleshooting, and operational procedures.
Reasons To Prepare for CompTIA A+ 1001 Practice Test
Preparing for any test is important and necessary to ensure that you will pass it with flying colors, but also to calm your nerves and boost your confidence beforehand. CompTIA tests can prove especially difficult if you are taking them for the first time, so preparing and practicing for your exam is something you should take seriously.
Although CompTIA has plenty of resources to help you prep, you should get some hands-on experience with the test itself to get ready for it to the best of your abilities. DoNotPay offers you free CompTIA A+ practice tests, so why not use them to improve your knowledge and ace it like a pro?
How To Take a CompTIA A+ 1001 Practice Test With DoNotPay
Follow the next five steps to take your CompTIA A+ 1001 practice test with DoNotPay:
Go to DoNotPay in any

Search for the

CompTIA

practice tests

Select the test you want to practice for

Choose the number of questions you want to have on your practice test (10, 20, or 30 questions)

Nail your test!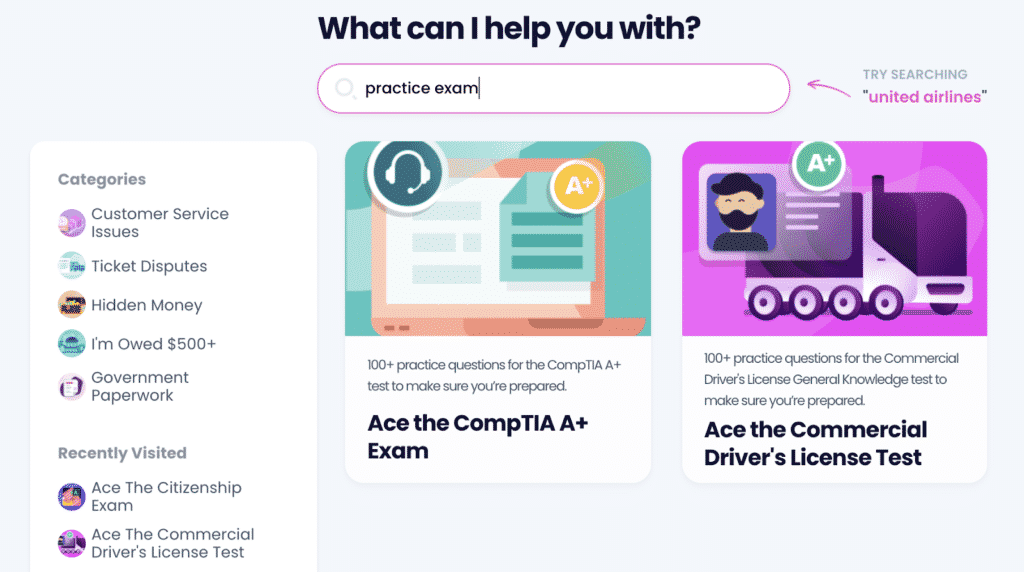 If you answer a question incorrectly, DoNotPay allows you to:
Retry the question on the spot

Take the test again after you check your score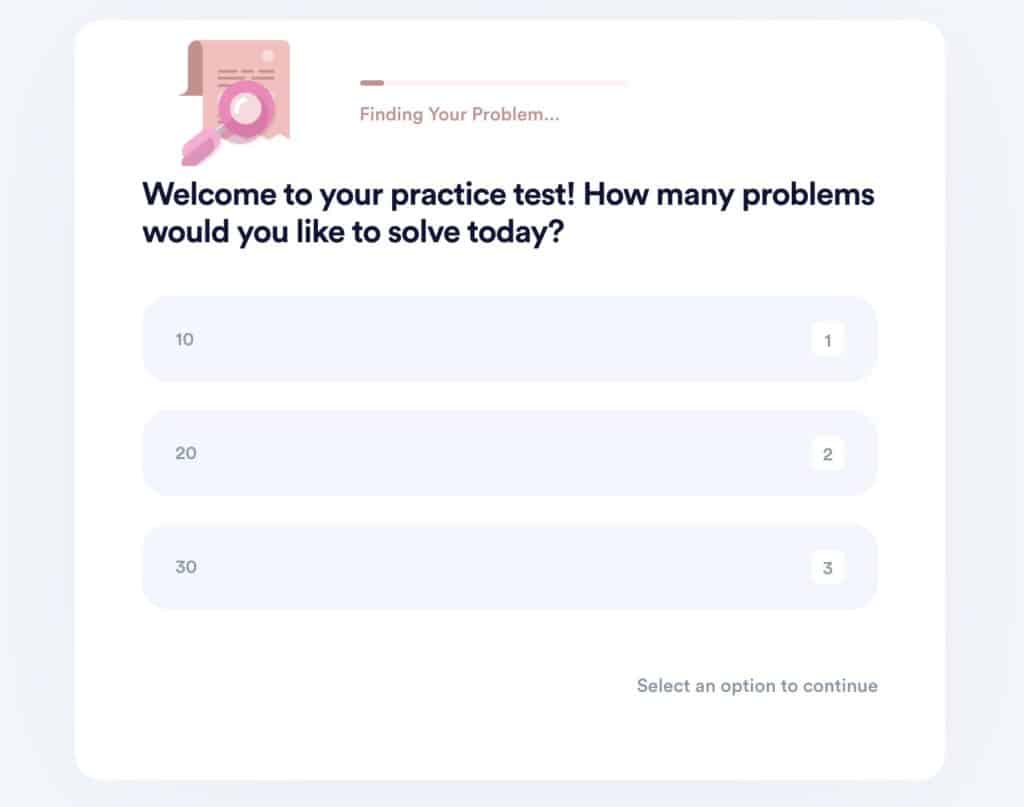 DoNotPay presents you with a streamlined process of taking practice tests for nine different test types! Here is a comprehensive list of the tests we can help you practice for:
How Can I Prepare for a CompTIA A+ 1001 Test?
You can use several methods to prepare for your test thoroughly.
Take into consideration what type of learner you are and decide if you will write things down, use flashcards, draw diagrams, use different highlighter colors, or opt for other methods that work for you. Whatever you think would be useful—do it.
Be sure to use the official CompTIA textbooks or materials from well-established industry pros. You can also download the CompTIA A+ exam objectives and read through the document to get a comprehensive overview of the topics and questions that you will encounter on your test. It is also important to leave enough time before your exams so you wouldn't rush and panic.
What Are CompTIA A+ 1001 Practice Tests?
Practice tests are one of the best methods to use when it comes to boosting your chances of passing a test on the first try. You can find the practice tests online on the CompTIA website and get a good idea of what a real CompTIA A+ 1001 test looks like.
Where Can I Take My Real CompTIA A+ 1001 Test?
You have two options when it comes to taking the real CompTIA A+ 1001 exam. You can either do it online or in person. There are certain benefits for both online and in-person exam options.
Taking your test online offers you the ease and convenience of testing for your certification from any quiet, distraction-free, secure location. Taking your test in person provides you with testing options at any of the many Pearson VUE test centers located all around the world.
Method
Benefits

Online Testing

A secure and easy way to test from your home, office, or any place that has privacy and you have access to

The flexibility to schedule your exam at any hour that works for you

Technical support if anything goes wrong during your exam session

In-Person Testing

Finding access to a private, distraction-free location isn't necessary

Reliable internet access is not needed

Having language barriers will not be an issue
Taking the CompTIA A+ 1001 Exam Online
Before you get on with the steps to take your test online, be sure to review and agree to the conditions below—otherwise, you will not be able to take your test successfully.
Once you review and agree to the conditions mentioned above, follow the next three steps:
Run a

system test

on the computer and network you will be using during your exam

Create a

Pearson VUE testing account

Schedule and complete

your online test
Taking the CompTIA A+ 1001 Test in Person
To take your exam in person, follow the next steps:
Create a

Pearson VUE testing account

Sign in to your Pearson VUE account

Find a testing center near you and schedule your exam

Review

testing policies

and procedures

Check into the test center

Take your exam
How Can I Schedule the Real CompTIA A+ 1001 Test?
You can schedule and complete your CompTIA 1001 test online on your own. Follow CompTIA's guide and make certain that you review and agree to all the terms and conditions, or you won't be able to take your test.
What To Expect During the Real CompTIA A+ 1001 Test?
On the real CompTIA A+ 1001 exam, you can expect to get no more than 90 questions. They will consist of multiple-choice questions, performance-based items, and drag-and-drop activities. You will have an hour and a half to finish your exam.
Other Issues DoNotPay Can Help You Solve Without a Hitch
Don't sleep on DoNotPay's countless neat features that you could use to complete any administrative task and issue easy-peasy! Our app provides you with help for a lot of mundane tasks that you find burdensome, like making DMV appointments or canceling subscriptions and memberships. We can also teach you how to pass your DMV driving test or written driving test on the first try!
There is an abundance of tasks our app can assist you with, so go to DoNotPay in your and see how we can help you:
Fight speeding tickets

Dispute traffic tickets