How To Pass the ASVAB Test With a High Score
The Armed Services Vocational Aptitude Battery (ASVAB) is an aptitude test that you take to check your strengths and potential to be successful in military training. If you want to be enlisted in the United States Armed Forces, you should take your time to prepare thoroughly and practice beforehand as much as you can. The best way to prepare is by taking practice tests and studying from the material that you will ultimately encounter on your real ASVAB exam.
What Is the ASVAB Test?
The ASVAB test serves as a way to determine whether you are qualified for enlistment in the United States Armed Forces or not, and it consists of multiple-choice questions on various topics, including math, science, and word knowledge. The ASVAB test is developed by the Department of Defense, and it helps you see if you qualify for one of the jobs in the military.
Why Should I Prepare for the ASVAB Test?
Considering that the ASVAB test is quite difficult and that it consists of several segments, preparing for it is the only logical way to pass it and score high. There are nine parts to the ASVAB exam, and these are the four core ones:
Arithmetic reasoning

Mathematics knowledge

Paragraph comprehension

Word knowledge
The extra sections of the exam are:
General science

Auto & shop information

Mechanical comprehension

Electronics information

Assembling objects
To pass all of them with success, you will have to take some time to study and prepare for the exam to the best of your abilities. If you fail any of the first four segments, you will have to take the test again.
The Best Way To Prepare for the ASVAB Test—
ASVAB Test Tips
To prepare for the ASVAB test, you should first do the research and find out what you can expect on the exam. Ask any friends or family members who've already taken the ASVAB exam what they know about it and if they can share their knowledge with you.
If you realize that any of the four segments are not your forte, be certain to focus on improving that segment. You could even find a tutor to help you understand it better and perfect your knowledge before practicing on your own.
You should take as many ASVAB practice tests as you can—they are your golden ticket to acing the real one! Find them online or use DoNotPay to practice for the ASVAB exam in only a few clicks!
Taking the ASVAB Practice With DoNotPay Is a Piece of Cake!
If you don't want to search for the ASVAB practice tests online and you want to get them done easily and efficiently, DoNotPay is the way to go!
You can take your ASVAB practice tests in a few minutes by following this five-step guide:
Load DoNotPay in any

Find the

ASVAB

practice tests

Pick the test that you want to practice for

Say how many test questions you want to have (10, 20, or 30)

Start practicing!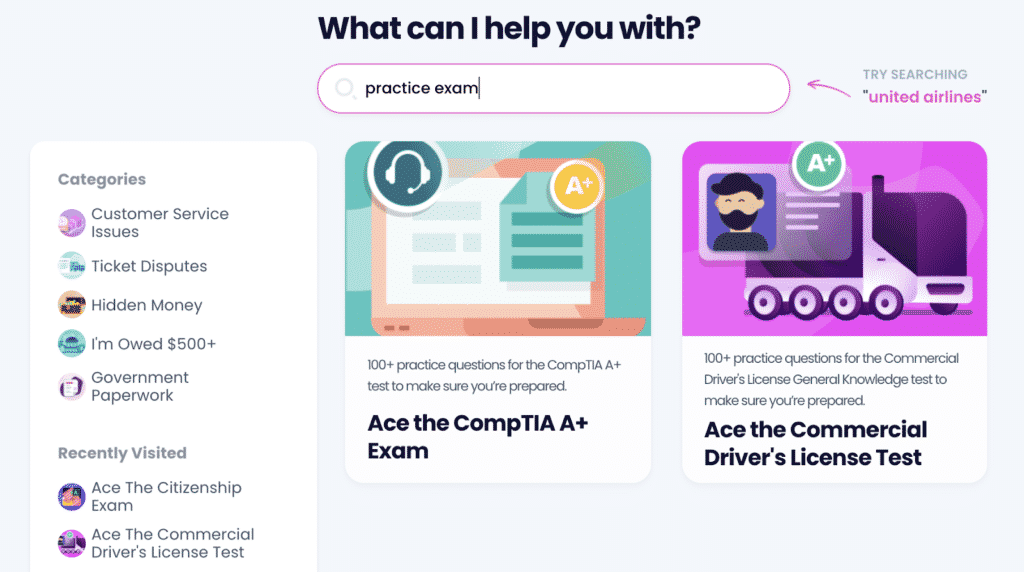 If you happen to get any of the questions wrong, you can:
Try a different answer on the spot

Wait to see your results and take the practice test again
Apart from the ASVAB practice test, we offer you eight more tests you can practice for using our app! Check out the list of all the tests we have below: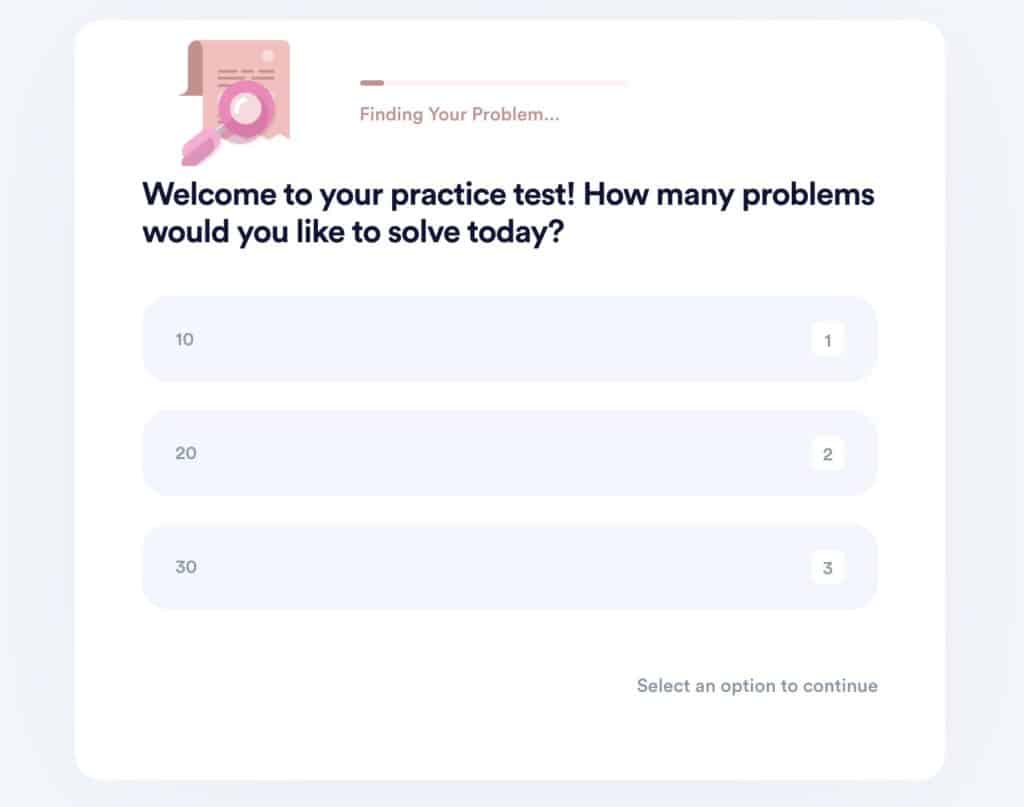 Where Can I Take the ASVAB Test?
If you want to take the ASVAB test to apply for the military, you will need to get in touch with a military recruiter.
To find a recruiter near you, visit this website. When the recruiter determines that you are qualified, they will set up a time for you to take the ASVAB test at the closest Military Entrance Processing Station (MEPS) or a Military Entrance Test (MET) site.
You will have to bring valid identification so that you could be admitted into the ASVAB testing room. Before a recruiter sends you to take the ASVAB test, they will ask about your marital status, health, education, drug use, and arrest record, and it is important for you to answer these questions honestly. You will then be scheduled to take the ASVAB.
And it's super important that you aren't late for the exam—if you are, you will be turned away and will have to reschedule your test.
What Does the Real ASVAB Test Look Like?
On the real ASVAB test, you will have to answer questions about science, including questions about botany, zoology, anatomy, and physiology, and ecology. A set of arithmetic reasoning questions will test your ability to solve basic arithmetic problems, including operations with rational numbers, ratio and proportion, and percentages.
Equations, geometry, measurement, and probability are also likely to appear on your exam as part of your Math knowledge.
The segment of the exam referred to as Word knowledge will test your ability to understand words and differentiate synonyms and their meanings.
All candidates complete the ASVAB test at their own pace. Once you finish a subtest, you can move on to the next one without waiting for everyone else to finish. There are certain time limits, but almost all candidates finish the individual subtests before the time expires.
In general, it takes about two hours to finish the ASVAB test. Your test results will be available immediately after your testing session at the MEPS or MET site.
DoNotPay Can Offer You So Much More!
With our app, you can practice for the ASVAB practice test, ASVAB electronics practice test, and check your ASVAB test scores!
Apart from using our app to practice for the ASVAB tests, you can also use it to pass your written driving test and the DMV driving test!
If you are in need of useful guides on how to understand and nail your CompTIA A+1000 or CompTIA IT Fundamentals exams, we got you covered!
Once you go to DoNotPay in your , you will see how our app can assist you in dealing with numerous tasks, such as:
Fighting speeding tickets

Disputing traffic tickets