Ace Your Exam With Our North Carolina Notary Reappointment Practice Test
You are a notary in North Carolina, and your commission is about to expire. If you like the job, you'll surely want to apply for it again. The trouble is—you'll need to retake the notary test.
Don't be discouraged by your reappointment notary public exam because DoNotPay can help you prepare for it perfectly! Forget about getting a passing grade of 80%—with our app, you can achieve the best result on your test.
Apart from helping you prepare for your NC notary reappointment test, our platform offers practice tests for the DMV, HazMat, CompTIA A, Commercial Driver's License (CDL), Criteria Cognitive Aptitude Test (CCAT), Armed Service Vocational Aptitude Battery (ASVAB), and many others.
Should You Prepare for the
NC Notary
Reappointment
Test
?
As with any test or exam, practice and preparation are everything. You may feel confident enough that you'll pass the test because you've been performing notary duties for five years, but you should still do at least a few exercises. This way, you will ace the test in no time.
What Can You Expect From the NC Notary Reappointment Test?
The NC notary reappointment test has 30 multiple-choice questions and lasts for 50 minutes. You can apply for a reappointment ten weeks before your commission expires and no earlier. The good news is that you can take the notary reappointment test online. You can do it on the official NC Secretary of State website.
After you access the NC Notary Reappointment test, you'll need to sign in to your notary user account using the Notary Number and Password.
You won't have to take the test if any of the following statements apply to you:
You are a licensed member of the State Bar of North Carolina

You have North Carolina commission since July 10, 1991, and you have never lapsed nor been disciplined by the secretary of state
How To Prepare for the NC Notary Test
There are a few ways you can prepare for your North Carolina notary reappointment test. Find them in the table below:
| | |
| --- | --- |
| How To Prepare for the Exam | Description |
| Using the Practice Manual | If you were already commissioned, the chances are that you have the practice manual. Go through the exercises a few times to gain confidence. The more you practice, the higher the result will be |
| Relying on DoNotPay | Use DoNotPay to practice and get the best results. Practice tests on DoNotPay are easy to find and use |
| Organizing time properly | Time management is essential when preparing for any type of exam. Be sure to give yourself enough time to prepare. Under no circumstances should you study the night before your exam |
| Getting enough sleep | You should be well-rested when taking any test because your brain will work with you instead of against you. After getting enough sleep, you'll be able to focus better and ace your reappointment test |
| Relaxing before the test | It's always important to blow off some steam before stressful situations such as taking an exam. Even though you'll be taking the test online, you should find a way to relax beforehand. Having a mind clear of all thoughts can be highly beneficial during the test |
Where Can You Find the
NC Notary Public Exam Questions and Answers
?
You can find the preparation tests on Amazon or call your local bookstore to check whether they stock the manual called North Carolina Notary Public Exam. If you don't feel like buying it, your only option is taking the online tests.
Unfortunately, the platforms for finding NC notary practice tests are scarce, and many of them look sketchy. Even after you search for the online tests on Google, you won't know where to choose from or whether it's a reliable website. You won't have this problem with DoNotPay.
Make Sure You Nail Your NC Notary Test With the Help of DoNotPay
When you open DoNotPay in your web browser, you'll learn why our platform is the best choice when it comes to test preparation. Our interface is user-friendly, the instructions are straightforward, and our practice tests database is extensive. This means that you'll be able to access multiple different tests on one platform and find your way around all of them easily.
Follow the step-by-step instructions below if you want to prepare for your NC notary test perfectly:
Log in to your account

Enter the name of the test you're preparing for in the search box—

NC Notary Test

in this case

Choose the test you want to do, and pick the number of questions you're ready for (10, 20, or 30)

Keep redoing the tests one by one, and achieve the perfect score
DoNotPay offers two options if you answer a question incorrectly. You can:
Retry the question immediately

Continue and redo the whole test once you complete the first one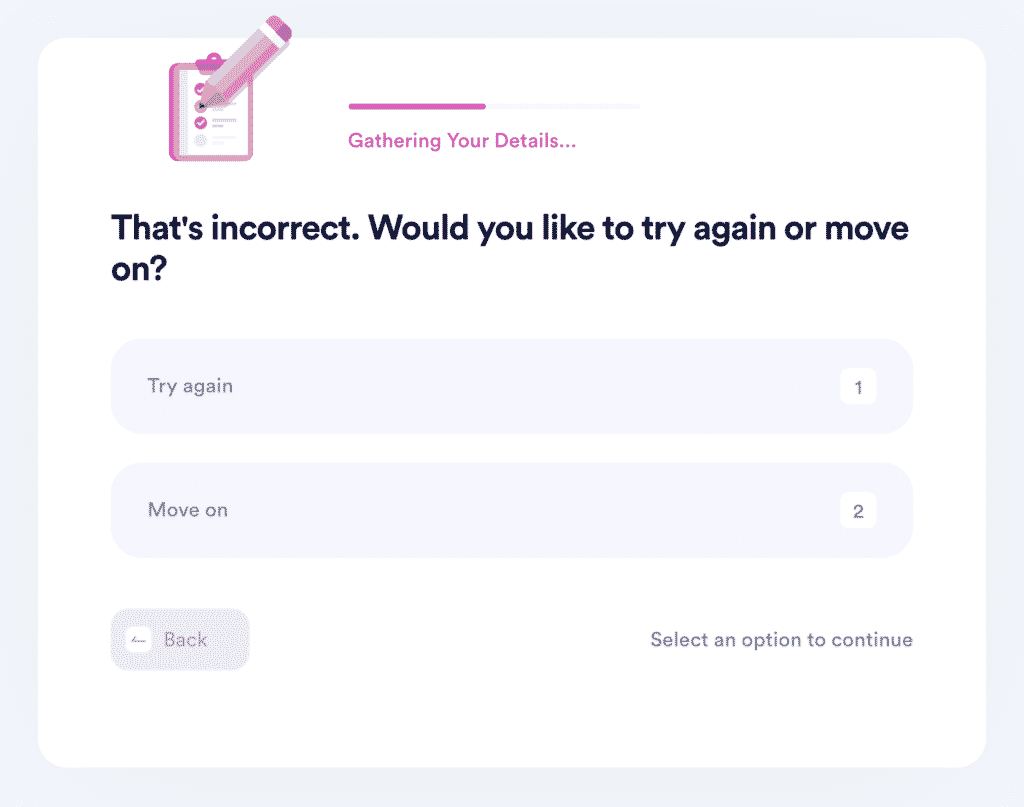 Apart from helping you nail your NC notary reappointment test, DoNotPay can help you achieve the perfect ASVAB test scores, pass your written driving exam, schedule your driving test appointment, and prepare for the postal exam and U.S. citizenship test.
DoNotPay Helps You Deal With Many Legal and Bureaucratic Matters
DoNotPay is called the world's first robot lawyer. We were awarded the ABA Brown Award for Legal Access because we've helped numerous clients get justice in small claims court.
Apart from helping you practice for your NC DMV permit test, our app can help you schedule an appointment with the DMV in a flash. If you have trouble paying for your electric bill in North Carolina, don't worry—DoNotPay will help you postpone the deadlines.
We can also help you earn extra cash by locating the best paid clinical trials in NC.
The features we've shown you are great, but DoNotPay can do so much more! Check out what we have in store for you after you create an account in any web browser.
We'll help you:
Fight speeding citations in any state in America

Fight traffic tickets in various U.S. cities