How Long Is the ASVAB Test? Learn How DoNotPay Can Help You Ace It
The ASVAB test is a critical part of the military enlistment process. You have to do well to secure your career in the armed forces. This article will tell you more about the details of the test, including how to prepare.
What Is the ASVAB Test?
The Armed Services Vocational Aptitude Battery is the test you need to take to be considered for a role in the armed forces. Every branch focuses on different aspects of the test. Your ASVAB test scores will determine what career you'll be able to follow in the armed forces. You can also be eligible for enlistment bonuses. You have a total of three hours to complete the entire test.
What Is the Format of the ASVAB Test?
The computer-based test consists of 145 questions, while the written test has 225 questions, spread over nine sections. Both versions of the tests have the same format but different length:
| | | |
| --- | --- | --- |
| Topic | Written Test | Computer-Based Test |
| General science | 45 questions | 15 questions |
| Arithmetic reasoning | 30 questions | 15 questions |
| Word knowledge | 35 questions | 15 questions |
| Paragraph comprehension | 15 questions | 10 questions |
| Mathematics knowledge | 25 questions | 15 questions |
| Electronics information | 20 questions | 15 questions |
| Auto and shop information | 25 questions | 10 questions |
| Mechanical comprehension | 25 questions | 15 questions |
| Assembling objects | 25 questions | 15 questions |
Why Should You Prepare for the ASVAB Test?
The ASVAB test can be daunting, as it determines your entire future in the armed forces. If you're prepared, it will allow you to reach your potential. You can't fail the ASVAB test, but your scores show your vocational ability.
Candidates who are well-prepared feel less nervous on the day of the test, which improves concentration and, ultimately, their scores.
How Can You Prepare for the ASVAB Test?
There are several online resources you can use to prepare for the ASVAB test, all of which are paid services:
The recruiting page of the official military site offers practice tests that you can take when you sign in.
You should be able to find study material at the local library. The Department of Defence also has resources at major bookstores.
Prepare for Your ASVAB Test With DoNotPay
DoNotPay offers practice tests to help you prepare well for your ASVAB, where you can choose how long the test should be. You can also get useful tips and tricks on how to do well on other tests, like your DMV test.
The DoNotPay practice test makes preparing for the ASVAB easy. Follow these steps:
Log on to the DoNotPay site in your

Search for the ASVAB practice test

Indicate whether you want to do a 10, 20, or 30 question test

Answer each question
DoNotPay gives you a choice to complete the test and then retake it to fix any mistakes or to fix them by going back to the question while you're doing the test.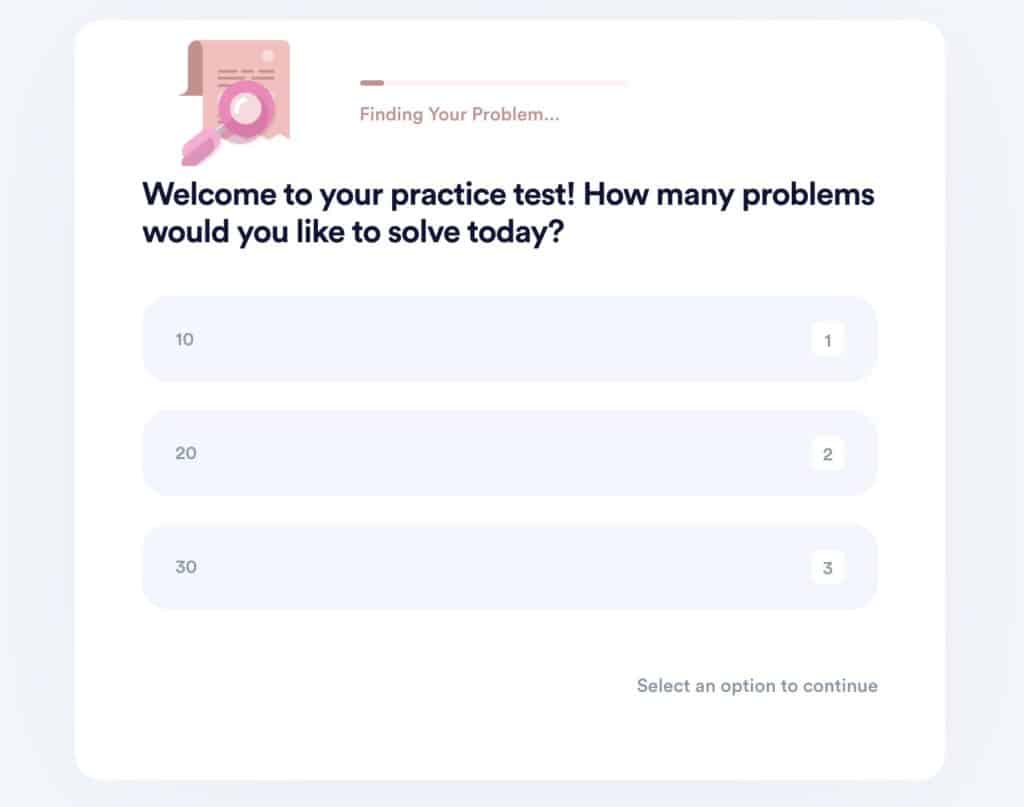 The CompTIA and CCAT practice tests that DoNotPay offers work in the same way.
DoNotPay has plenty of Government mandated tests for you to practice, including HazMat tests and notary tests. You'll also find practice tests for the postal service and the U.S. citizenship test. If you're interested in getting your driver's license, DoNotPay can help with the commercial and non-commercial driving test and assist you in scheduling an appointment.
How Long Is the ASVAB Test Preparation Time?
The Department of Defence suggests that you start preparing for the test at least two months ahead of the time. Follow these steps to ensure that you use the time well:
Find a good, distraction-free place for studying

Make sure you have relevant study material

Set up a study schedule

Focus on your weaknesses

Take a few

ASVAB practice tests

with DoNotPay

Revise your work
What Can You Expect From the Real ASVAB Test?
You're either going to do a computer-based test or a pen-and-paper test. The real ASVAB test is similar to the practice test that offers.
You could feel nervous on the day of the test, but being well-prepared should ease your nerves. To make sure that your nerves don't get the better of you, you should:
Get enough sleep the night before

Eat a healthy breakfast so that you can concentrate better

Leave for the test venue early so that unforeseen circumstances don't cause unnecessary stress. A flat tire or an accident on the road won't cause you to be late

Wear comfortable clothes

Take deep breaths before you start the test

Concentrate on the questions you know first, and then do the ones you're unsure about
DoNotPay Can Do Your Paperwork for You!
Feeling like you're in bureaucratic hell? Our app will draft the paperwork you need and get you out of any hurdle before you know it!
We can compose most of the documents that you require for any administrative purpose in your jurisdiction, most notably:
More of What We Can Do for You
Our multifaceted app can call and record the conversation with the customer service of the company that just won't let you go! If you are having trouble canceling an unwanted service via the traditional channels, use DoNotPay to get it over and done with!
We can help you stop the persistent robocalls and robo texts from the nagging company and request a refund for unused services in a matter of minutes.
We'll also lend a helping hand in stopping spam mail—whether it's electronic or paper. Our Spam Collector product unsubscribes you from unwanted emails and cleans up your physical mailbox too!