How To Pass the CDL Road Test Effortlessly
Getting a commercial driver's license (CDL) requires passing the CDL test. If you want to drive commercial motor vehicles in the U.S., having a CDL is mandatory. That is where practice tests come in handy.
DoNotPay can help you practice before taking the CDL road test. Aside from practicing for commercial driver's license tests, we offer assistance with other driving-related tasks, such as taking DMV practice tests, making driving test appointments, or passing the written driving test without any trouble.
How To Get a Commercial Driver's License
Driving commercial vehicles is not an easy task, so the license requirements can be strict. Some of them can vary depending on the state you live in, but most of the time, you have to:
Be at least 18 or 21 years old

Submit your CDL application and pay the fee

Provide your identity and Social Security number verification

Provide proof of U.S. and state residency

Submit a filled out

Medical Examination Report Form

and

Medical Examiner's Certificate Form

Pass a vision examination

Pass a knowledge test

Claim your Commercial Learner's Permit (CLP) after passing the knowledge test

Set up the CDL road test after waiting for at least two weeks

Pass a pre-trip vehicle inspection

Pass the road skills and driving examination using your own vehicle

Pay the necessary fees for your new CDL
What Is a CDL Test?
A commercial driver's license is a driver's license required for operating large, heavy, or placarded vehicles carrying hazardous material. Testing for the commercial driver's license entails taking and passing knowledge and skills tests. The CDL knowledge test consists of:
One general knowledge test

One or more endorsement tests

An air brakes test
Types of Endorsement Tests
CDL testing involves seven knowledge tests, and five of them are endorsement tests. Depending on the kind of commercial motor vehicle you want to drive, you must pass one or more of the following endorsement tests:
Tank endorsement

Double and triple trailer endorsement

Passenger endorsement

School bus endorsement
How Much Is Taking the CDL Test Going To Cost Me?
To take and pass the CDL and obtain the license, you have to pay the obligatory fee, which is non-refundable. You have to pay the fee for the knowledge exam and air brakes test separately, and there are additional costs for every endorsement test you take. The fee for taking the CDL road test should be paid to a third-party examiner.
The fees depend on the state in which you're taking the exam. It is best to contact your state's Department of Motor Vehicles (DMV) to get detailed pricing information.
Use DoNotPay To Practice for the CDL Test
You cannot take the practice road test, but you can perfect your knowledge for the written portion of the CDL testing. DoNotPay has all the information and the best CDL practice tests that will help you ace the CDL written exam in no time.
To take a practice CDL test, access DoNotPay from any , and follow these steps:
Search for the practice CDL test by typing the

commercial driver's license

in the search box

Select the test once it appears in the search results

Choose the length of the practice test—10, 20, or 30 questions

Start the test
You can retry questions you got wrong immediately or retake the test after you've seen your score.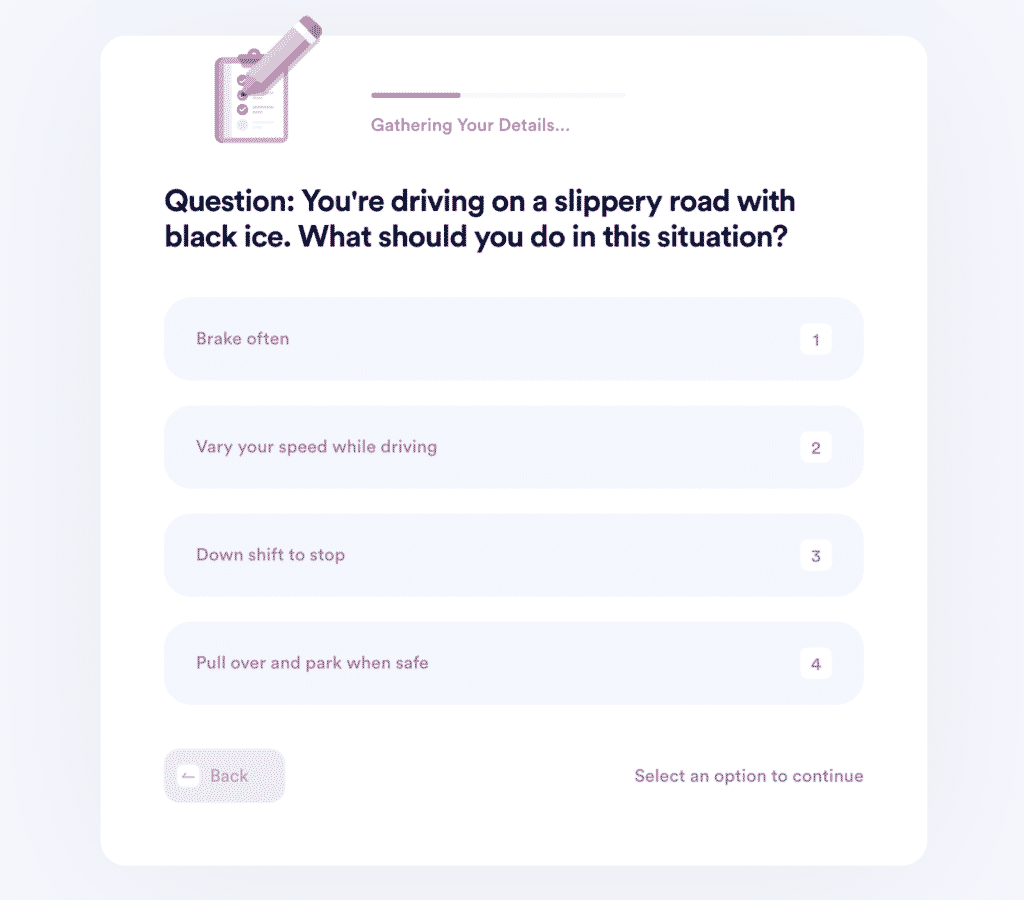 With DoNotPay, you can always expect more! Use our app to take other government-issued practice tests for: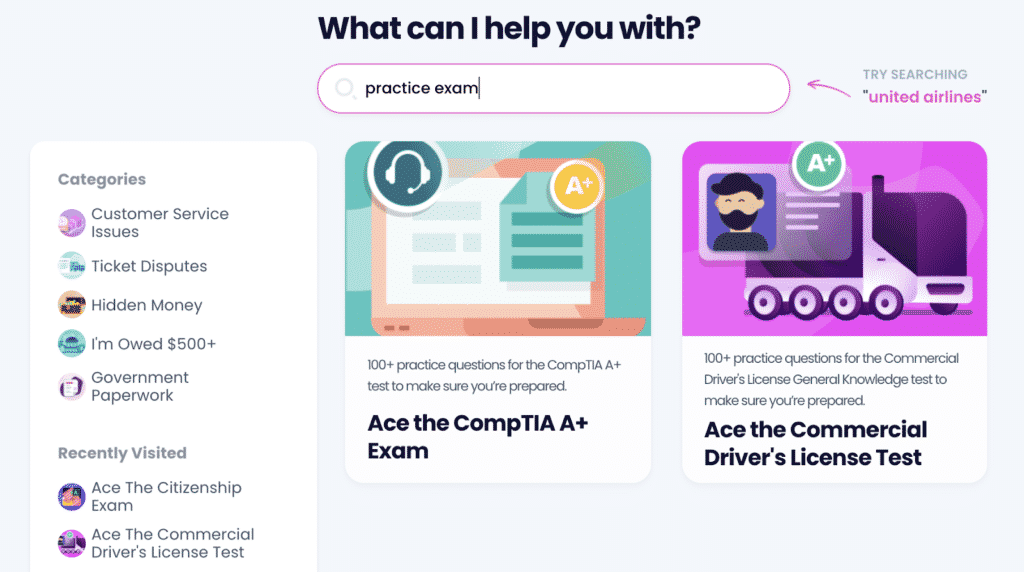 We provide other information related to government tests, such as an explanation of ASVAB test scores.
What Does CDL Skills Testing Look Like?
During the skills part of the CDL test, your examiner will be taking a look at how you operate the vehicle in normal and uncommon situations. The instructor will examine your general driving behavior and your ability in the following situations:
Turns

Steering

Intersections

Lane changes

Urban businesses

Railroad crossings

Use of turn signals

Regular traffic checks

Expressways and highways

Bridges, overpasses, and signs
The examiner will tell you what to do in English, as it is mandatory to speak the language to pass the exam. To pass the CDL road test, you must avoid critical errors and make fewer than 30 errors in total. Critical errors include failing to signal a turn and running a red light. You must wear a seat belt, obey traffic signs and laws, and finish the test without causing an accident.
Before taking the CDL skills test, consult the official DMV website for more information.
Prepare for the Test With These CDL Road Test Tips
Taking the CDL road test can be stressful. To tone down the anxiety, you should follow these practical tips:
Watch some road test videos

Find the CDL road exam location near you

Use the DMV's

online road test appointment scheduler

and schedule the appointment beforehand

Get a good rest the night before and avoid caffeine to lessen the anxiety

Arrive 15 minutes earlier than your scheduled appointment time

Take your time and be confident in your decisions
What Are the Required Road Skills Tests for Different CDL Classes?
Each CDL class has its set of required road skills you must possess to obtain the license. To prove you have the necessary skills, you have to pass the exam according to the category. Consult the following table for a simplified overview of the said skills and their tests:
CDL Category
Required Skills Road Test
Endorsements

Class A

General commercial class A knowledge test

Combination vehicles

Air brakes test

Passenger (P)

School bus (S)

Double/triple trailers (T)

Class B

General commercial class B knowledge test

Air brakes test

Passenger (P)

School bus (S)

Class C

General commercial class C knowledge test

Passenger (P)

School bus (S)
Find Out How Else DoNotPay Can Improve Your Everyday Life
Sometimes the CDL requirements can vary depending on the state where you're taking the test. To prepare the best you can, you should get all the information about the CDL testing in your state specifically. DoNotPay can assist you with that, as you can now use our app to practice CDL tests in Virginia, Florida, California, Illinois, and other states.
You can study for other driving tests, such as Arkansas, Oklahoma, or Idaho driving tests. If you worry about passing other tests, don't fret! Use our app to practice taking Hazmat tests in Indiana, Tennessee, or New Jersey.
DoNotPay can do so much more! Access our app from your preferred and get our assistance with:
Disputing traffic tickets

Fighting speeding tickets