How To Prepare for the CDL Medical Exam
Once you have decided to obtain a commercial driver's license (CDL), you should start collecting all the information, documentation, and requirements you need to meet for the CDL exam.
There are certain medical criteria you need to fulfill to operate a commercial motor vehicle (CMV). This medical examination shows your fitness to perform the job.
What Is the CDL Medical Exam?
A CDL medical exam or a Department of Transportation (DOT) physical examination is the physical and mental checkup you need to pass to receive your CDL. A commercial driving job can be challenging for your health, and that is why DOT created a standardized test to make sure you and all the others on the road are safe.
Who Can Conduct the CDL Medical Exam?
Not all doctors can conduct your CDL physical exam as they have to be licensed and listed on the Federal Motor Carrier Safety Administration (FMCSA) National Registry.
If medical examiners determine CDL applicants have physically qualified to operate CMVs, they will complete a Medical Examiner's Certificate (MEC), and you can proceed with the following CDL exam steps.
A CDL DOT physical exam is valid for two years, but certain medical conditions require more frequent monitoring. In that case, the medical examiner will issue a certificate for a shorter period.
CDL Medical Exam Near Me
As only certified medical examiners can conduct CDL physical exams, you should find the most suitable location for you.
You can search for a medical examiner by entering one of the following:
Enter
Steps
Additional Information

National Registry number

Enter the National Registry number

Click

Search

If there are no results, either the National Registry number is not valid, or the medical examiner is not certified

Name of the medical examiner

Click

Advanced Search Options

Enter the first and last name

Click

Search

If there are no results, the medical examiner is not certified

Business name

Click

Advanced Search Options

Enter the business name

Click

Search

City and state/the ZIP code

Enter the city and state or the ZIP code

Click

Search

If there are no results, enter a new city and state or a different ZIP code
The last option offers a way to find medical examiners near you, saving you time and money. Use the provided contact information to schedule your CDL medical exam.
What Does the CDL Medical Exam Include?
The CDL medical exam includes the tests of your:
Vision

Hearing

Heart

Blood pressure

Urine
Apart from that, the medical examiner will check your general appearance, ears, eyes, mouth, throat, abdomen, and other body systems to see if there are any abnormalities. The examiner will note obesity, hernia, heart murmurs, or other irregularities on the report.
You should provide your medical records or any relevant medical documents from your doctor to help the medical examiner conducting the CDL DOT physical exam understand your overall health condition.
Are You Qualified To Operate CMVs?
If the medical examiner identifies a medical condition, they will decide whether it is a disqualifying factor preventing you from obtaining a CDL. In that case, the examiner should suggest treatment options that will allow you to take your CDL exam.
Disqualifying criteria might be temporary, and you can apply for a CDL medical exam after undergoing adequate medical treatment.
You should inform the examiner of a medical condition being treated and provide any additional information from your treating doctor. Unless your condition or the medication you use affects your driving, the medical examiner should issue your medical certification.
Can You Apply for an Exemption?
If you have disqualifying medical conditions, such as vision or hearing impairment and epilepsy, but your medical examiner finds you fit to operate a CMV, you can apply for the FMCSA's driver exemption programs. In case of additional questions, you can call the Office of Bus and Truck Standards and Operations, FMCSA, at 703-448-3094.
Drivers with an impaired or missing limb need to get a Skill Performance Evaluation (SPE) Certificate and perform a road test as part of the CDL application process.
Who Can I Contact Regarding CDL Medical Exam Questions?
Should you need any further explanations, you should contact FMCSA via email at FMCSAMedical@dot.gov or mail at the following address:
Federal Motor Carrier Safety Administration
Medical Program
1200 New Jersey Avenue SE
Washington, DC, DC 20590
Ace Your CDL Exam With DoNotPay!
DoNotPay can help you prepare for different government tests, such as CompTIA, CCAT, DMV, U.S. citizenship, postal, notary, or ASVAB test. Choose the test you would like to study for and practice with us!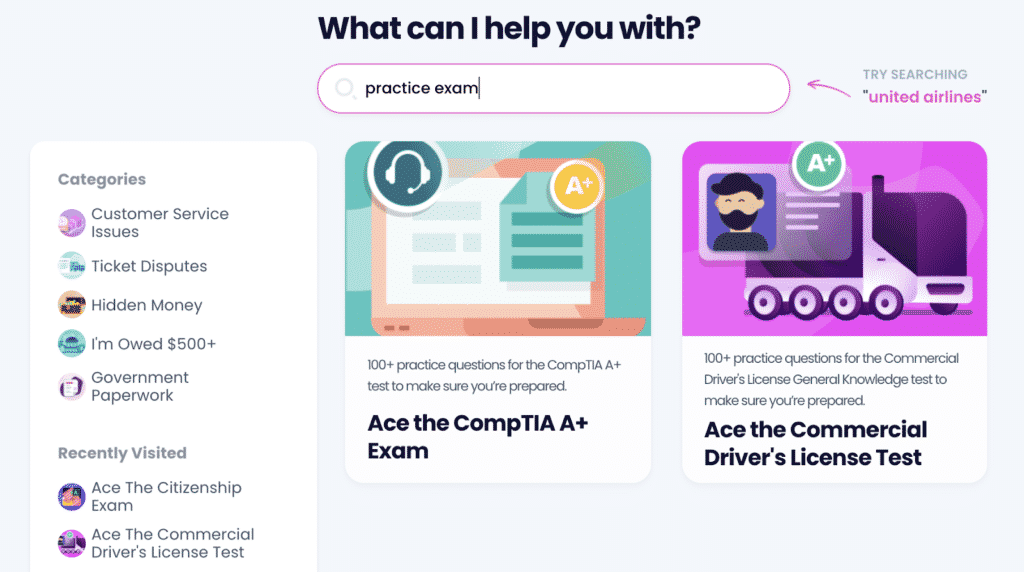 You can prepare for your CDL exam by reviewing the CDL manual of your state of residence and practicing with the DoNotPay's test. Here is how to ace your CDL exam:
Open DoNotPay in a

Opt for the practice test by typing

CDL

or

commercial driver's license

Pick the test you would like to do

Choose the length of your test—10, 20, or 30 questions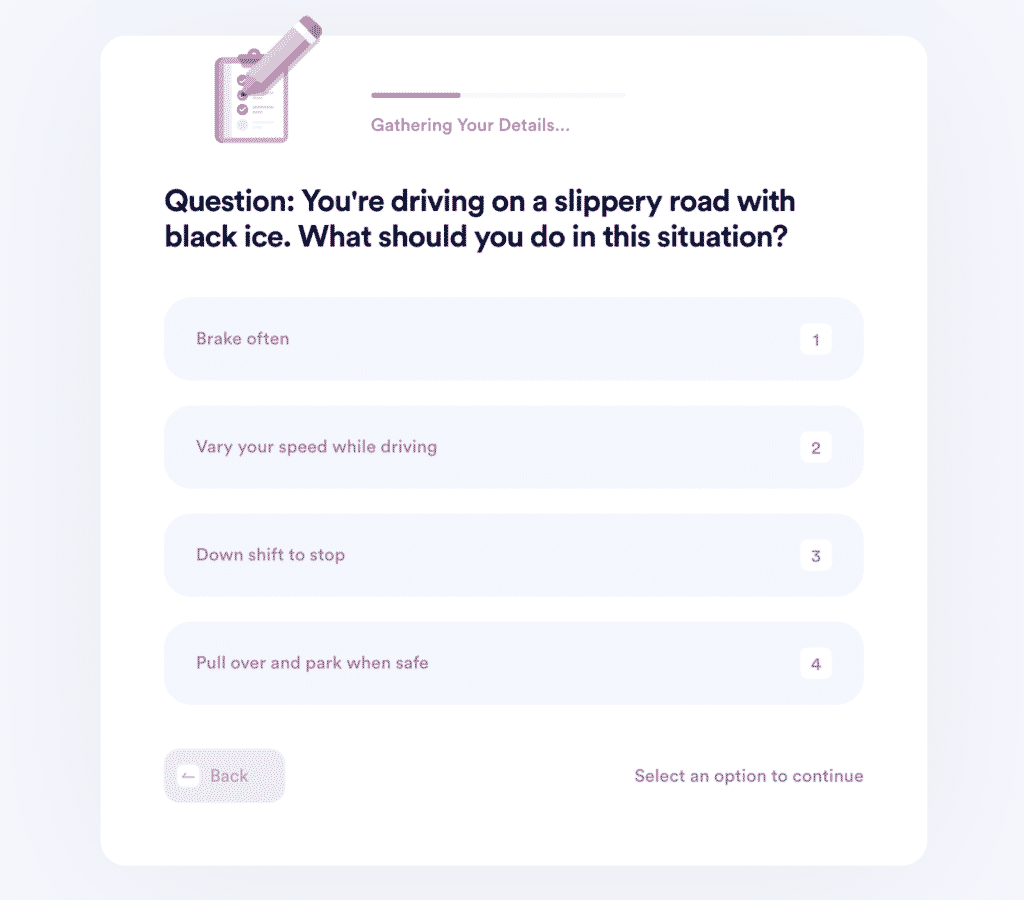 Do the test at your own pace, go back to each question you have answered incorrectly, or check out the final result to decide whether you would like to retake the test.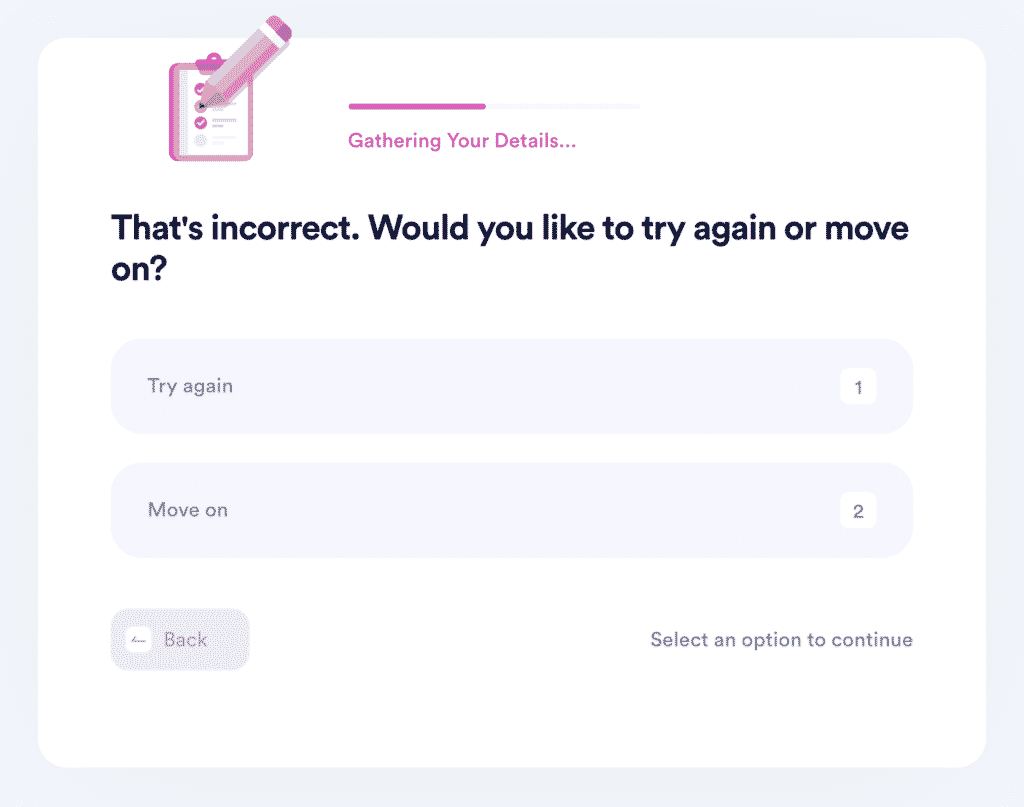 Have you passed your CDL exam? Consider adding a HAZMAT endorsement to your CDL. can help you prepare fast!
We can also help you make a DMV driving test appointment and pass the written driving test.
How Else Can DoNotPay Help You Find and Save Cash
Our Missing Money feature helps you find any unclaimed assets in your name in any state. An additional perk is that you can claim your money right in the app—no need for further research!
We can also make sure you don't pay for any unfair parking citations and get the rightful compensation from airlines for any canceled or delayed flight.
Don't let big companies scare you into not claiming your warranties or insurance. DoNotPay helps you file these claims and appeal any rejections in minutes, which brings you closer to getting your money.
We can also delay your bill payments, get your college fees waived, or sign you up for paid clinical trials to earn some extra cash!
DoNotPay Keeps the Spammers Away
Whether you're dealing with email spam, text scammers, robocalls, or severe harassment, DoNotPay can help.
Use our virtual credit card or the Burner Phone feature to sign up for free trials safely—without revealing your real info. DoNotPay will make sure that no company can reach you when you use our tools.
We provide a fake email address, credit card info, and phone number that are in no way connected to your real data.
We can also help you cancel services or request a refund without you having to contact the company directly.