All You Need To Know About CompTIA Testing Centers
The information technology industry brings many attractive job offers. Because of better opportunities and higher salaries, many people decide to improve their IT skills and take certification exams. 
The best way to get verified licenses is by using renowned companies, such as the Computing Technology Industry Association (CompTIA). It's an Illinois-based non-profit organization that helps people obtain various types of IT certifications. 
In this article, we will explain how CompTIA testing centers work and how you can schedule a test with this company the easy way.
What Kinds of Tests Does CompTIA Offer?
CompTIA divides all its certification tests into four groups. The table below shows the overview of all levels and their sub-categories:
Certification Level
Level Sub-Categories
You Can Learn More About

Core

A+

Network+

Security+

IT Fundamentals

Security

Hardware

Networking

IT essentials

Mobile devices

Implementation

Cloud computing

Operating systems

Operations and incident response

IT concepts and terminology

Risk, governance, and compliance

Software development and troubleshooting

Infrastructure

Storage

Cloud security

Disaster recovery

Server architecture

Server administrations

Configurations and deployment

Cloud management and maintenance

Linux automation and scripting

Linux troubleshooting and diagnostics

Linux hardware and system configuration

Cybersecurity

Incident response

Risk management

Attacks and exploits

Information gathering

Planning and scoping

Penetration testing tools

Vulnerability identification

Reporting and communication

Software and system security

Security operations and monitoring

Compliance and assessment

Enterprise security architecture

Threat and vulnerability management

Research, development, and collaboration

Additional Professional

CTT+

Project+

Cloud Essentials+

Cloud concepts

Project basics and constraints

Teaching tools and techniques

Project tools and documentation

Management and technical operations

Communication and change management

Business principles of cloud environments

Cloud risk, security, governance, and compliance
The company offers two testing methods—online and in-person—and it doesn't propose an age limit for taking any of their exams.
How To Find the Nearest CompTIA Testing Center
CompTIA doesn't have a testing center within the organization. It uses Pearson VUE testing centers in various locations for certification exams.
If you are thinking about taking an in-person CompTIA test, the first step is to find the nearest testing center. Here's how you can do it:
Visit the

CompTIA Certification page

on the official Pearson VUE website

Select

Find a test center

on the right

Enter your home address and click on the search button
The website will list the nearest testing locations. All you need to do is choose the one that suits you best and proceed with scheduling your exam.
How To Schedule a CompTIA Exam in Any Testing Center
There are two methods for setting a date for your CompTIA exam:
Phone scheduling

Online form submission
Scheduling a CompTIA Exam Over the Phone
To set your exam date by phone, follow these instructions:
Dial

(877) 404-3926

Inform the representative that you want to schedule a test

Provide relevant details, such as test type and date
Note that you may need to wait on hold if the customer care line is over-engaged.
Scheduling a CompTIA Exam Online
An online scheduling procedure requires the following steps:
Go to the official Pearson VUE website

Pick

For test-takers

and select

Schedule an exam

from the drop-down menu

Type

CompTIA

in the

Ready, Set, Go

field

Follow the steps to sign in to your account—if you don't have one, make sure to create it before you proceed further

Click on

View Exams,

select the test you wish to take, and pick the testing center

Complete the online form by entering all the required details and submit it
Once you confirm your exam date, you will get access to various learning materials and practice tests. The exam simulations on this website may be useful, but there aren't too many of them. To find a more extensive test collection, use DoNotPay.
DoNotPay Helps You Prepare for Your CompTIA Exam With Zero Stress
Are you thinking of getting a CompTIA A+ certification? DoNotPay has a huge selection of practice tests you can use to prepare for your exam. Our user-friendly platform makes it simple to find all relevant exam simulations in one place. 
To access our test collection, proceed as follows:
Log in to DoNotPay using any

web browser

Type

CompTIA A+

in the search box and pick the test you wish to prepare for

Specify the desired test length—10, 20, or 30 questions

Start the test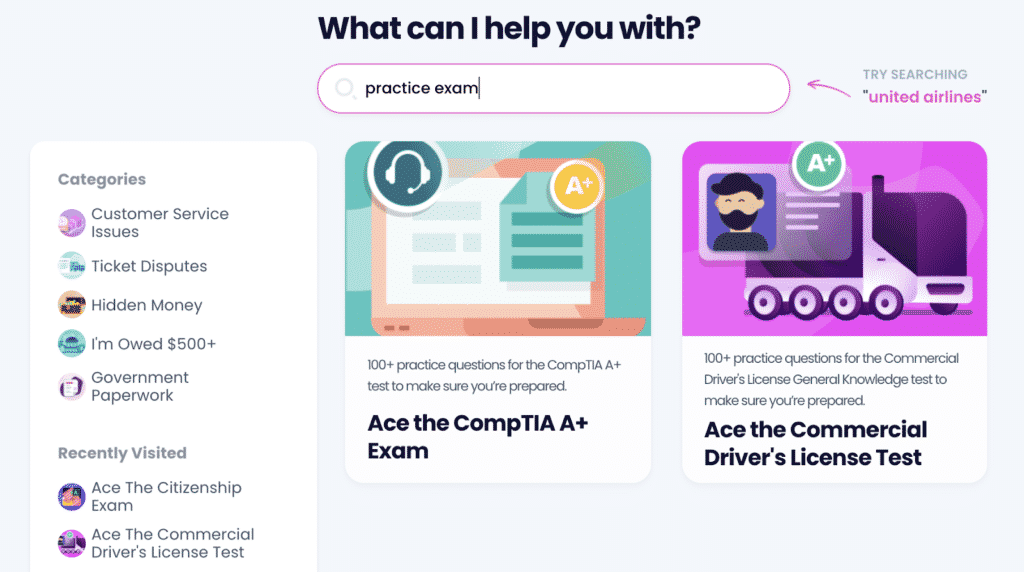 Our system lets you retry incorrect questions or repeat the whole test after you answer all the questions and see your score.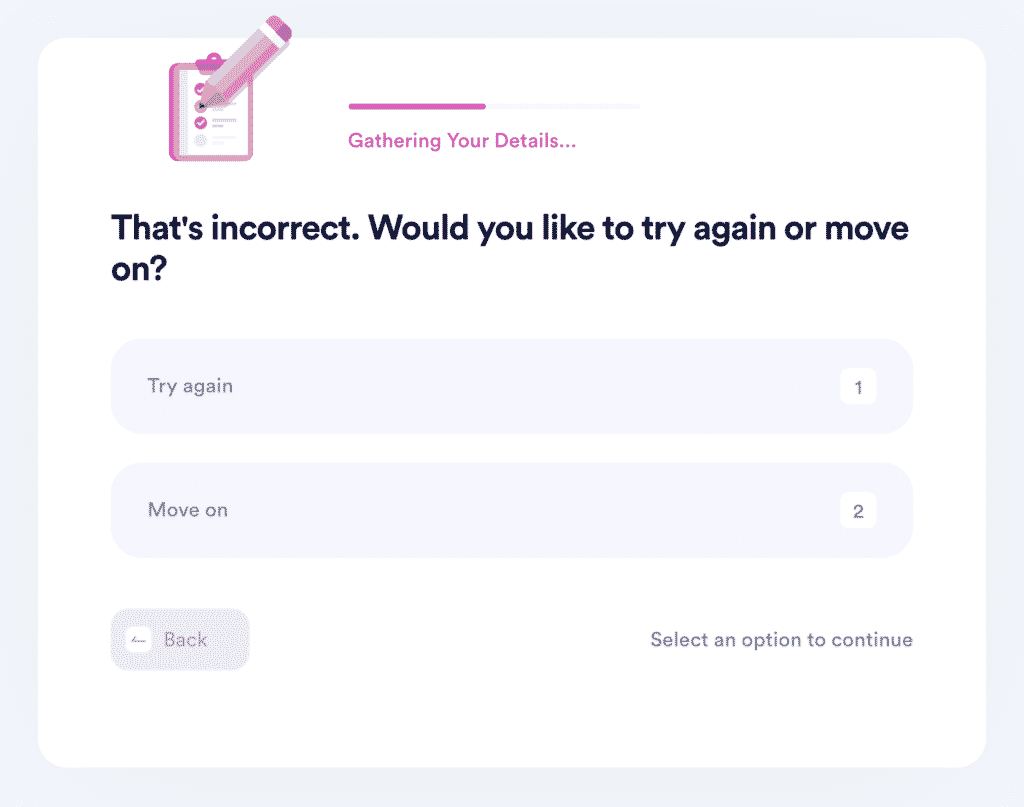 Besides the best CompTIA A+ test examples, we can also help you with other types of tests, such as:
What Are CompTIA Testing Rules?
Before taking any exam CompTIA offers, a candidate needs to agree to numerous terms and rules. To understand the test regulations better, check out the table below:
Regulation Type
Details

Identification

Testing centers don't accept expired IDs

Candidates need a primary and a secondary ID

Primary ID examples include a valid passport, driver's license, military ID, etc.

Secondary ID examples include any identification document with the full name and signature

Minors need to come to the testing center with an adult who has a valid government-issued ID

Testing Conditions

Test duration ranges from 60 to 90 minutes

The passing score depends on the exam type

Candidates can't bring their belongings into the testing area

Applicants should arrive at the testing center at least 15 minutes earlier

Test administrators will take a picture of each applicant for security reasons before they enter the testing location

Retesting

CompTIA can request retesting in case they suspect there were any fraudulent activities

Candidates can retake the test anytime if their first attempt failed, but they need to wait for two weeks if they fail the next time

Rescheduling and Cancellations

Candidates can cancel or reschedule their test appointment at least 24 hours before the exam

Exam fees will increase in case a candidate fails to cancel or reschedule the appointment in the given time frame
Use DoNotPay for Tackling All Your Bureaucratic Issues
Let DoNotPay become your virtual assistant and complete all those bureaucratic tasks you hate. We can arrange a DMV driving test appointment with no hassle, give you some amazing tips for passing your written driving test, and help you get the best Marine and regular ASVAB scores. Use our resources to improve your knowledge on many driving-related topics.
Visit our portal in any web browser and check out our valuable advice on:
Appealing traffic tickets

Appealing speeding tickets