Finding the Best CDL Practice Test for a General Knowledge Check
A general knowledge test is one of the essential parts of the Commercial Driver's License (CDL) test, along with the CDL road test. It's a written exam that all candidates who apply for this type of license need to take, regardless of the CDL class.
By listening to our advice, you can learn how to get the best out of the CDL practice tests and use them for passing your general knowledge test easily.
CDL General Knowledge Test Requirements
The rules and regulations related to general knowledge tests vary depending on the location. The table below contains the overview of some general requirements that apply in most U.S. states:
Criteria
Details

Age

At least 18 years old

Test type

Multiple-choice

Number of questions

50

Passing score

80% or more

Documentation

Social Security number

Proof of the U.S. residency—a paycheck, voter registration card, etc.

Two valid identification documents—a passport, regular ID, birth certificate, etc.

Costs

$75 to $100

Additional $5 to $10 per each endorsement test you wish to add to your CDL

Class A knowledge requirements

Traffic signs, rules, and regulations

Theory of operating combinations of vehicles heavier than 26,001 pounds—trucks, flatbeds, trailers, tank vehicles, tractor-trailers, livestock carriers, etc.

Class B knowledge requirements

Traffic signs, rules, and regulations

Theory of operating single vehicles heavier than 26,001 pounds—box and straight trucks, trucks with small trailers, and regular and segmented buses

Class C knowledge requirements

Traffic signs, rules, and regulations

Theory of operating vehicles that carry hazardous materials or more than 16 passengers—vans and the vehicles not included in the first two classes
You can also take additional exams—the so-called endorsement tests. Whether you need them or not depends on the license type you wish to get. Some of them are:
HazMat

exam

Air brakes test

Passenger test

School bus exam

Tank endorsement
Tips on Preparing for a CDL General Knowledge Test on Your Own
Your success depends on the way you prepare for the exam and the effort you put into the preparation. Below you can see a few steps that will help you organize your studying better and achieve better results:
Rest well before studying

Start preparing your CDL knowledge exam on time

Read the driver's manual—it's an essential learning resource

Use handbooks, tutorials, and articles related to the topic if you can find any

Remain focused on the subject and stay away from anything that may distract you

Make your notes and outlines to clarify ambiguities and understand the lessons better

Start a

CDL Premium training course

and use the help of an interactive manual and exam simulator

Run through all practice tests you can collect—DoNotPay can help you here with its extensive test collection
Why You Should Use Practice Tests to Prepare for a CDL General Knowledge Test
Doing practice tests is the best preparation method you can use. It's an interactive way of revising and a great example of a form similar to the real exam.
Here are some benefits of this learning resource:
Being calmer when the exam date comes.

The more you know, the bigger your self-confidence. Taking practice tests will bring you peace of mind and make you more relaxed once the exam date comes

Understanding what the real test looks like

. By revising the question combinations, you get familiar with the CDL general knowledge test form. Most CDL practice quizzes consist of multiple-choice questions that are present in the real exam

Outwitting the test creators.

CDL tests can be full of tricky questions. The lack of preparation can lead to the wrong interpretation and incorrect answers. If you dedicate yourself to studying practice tests details, there will be no confusing questions for you

Obtaining long-term knowledge.

You don't need to know all the essentials only for the written test. The knowledge you retain using practice tests will be crucial for driving properly and complying with the traffic rules
Where To Take a CDL General Knowledge Practice Test
Accessing practice tests isn't difficult—the challenging part is finding the relevant ones.
Relevant tests contain updated examples from reliable sources, featured on the top of Google search results.
You can also check out reviews on the platform—if there are any—and read the experiences of others who did the tests on the website. At times, you can find out whether the real test contains similar questions or whether the examples help.
Below you can see the table with the three most prominent test sources that can help you prepare for your CDL general knowledge exam:
Platform
Features

Three test examples only

Several air brakes and HazMat practice tests included

Poor choice of question variations

Multiple choice and true-or-false test options

All endorsement practice tests included

Many tests unavailable for non-premium users

Positive reviews

Useful FAQ and additional information
How To Prepare for a CDL Knowledge Test With DoNotPay
Choosing relevant practice tests may be tricky, but DoNotPay has found a way to simplify the search process! Our user-friendly app lets you access the best knowledge test examples in only a few taps.
You can choose the preferred number of questions for each test and correct wrong answers one by one or all at once. With our help, you will ace your general knowledge test and obtain your license before you know it!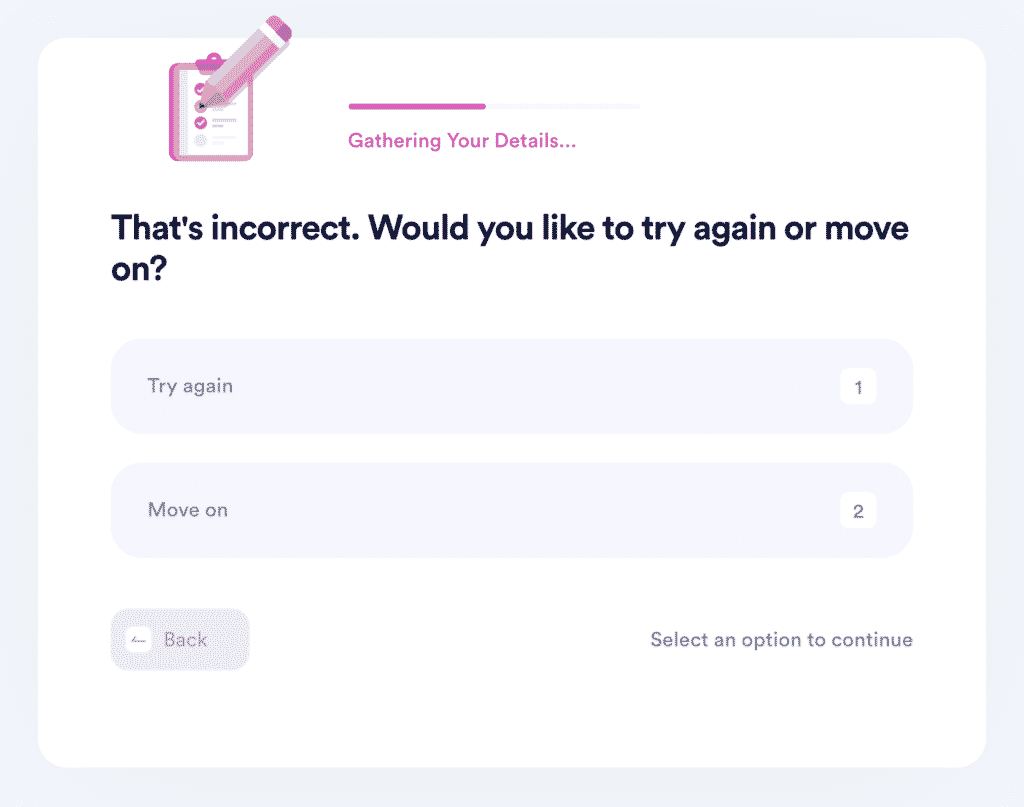 To use this service, follow the instructions below:
Access DoNotPay from your

Search for a specific kind of test you want to take by using the keywords, such as

CDL general knowledge test

Pick the desired length of the test

Start answering the questions
Besides a wide choice of CDL practice tests, we also offer test prep for other certification exams. We can help you prepare for DMV, CCAT, CompTIA A+, U.S. Citizenship, The Postal Service tests, and many more.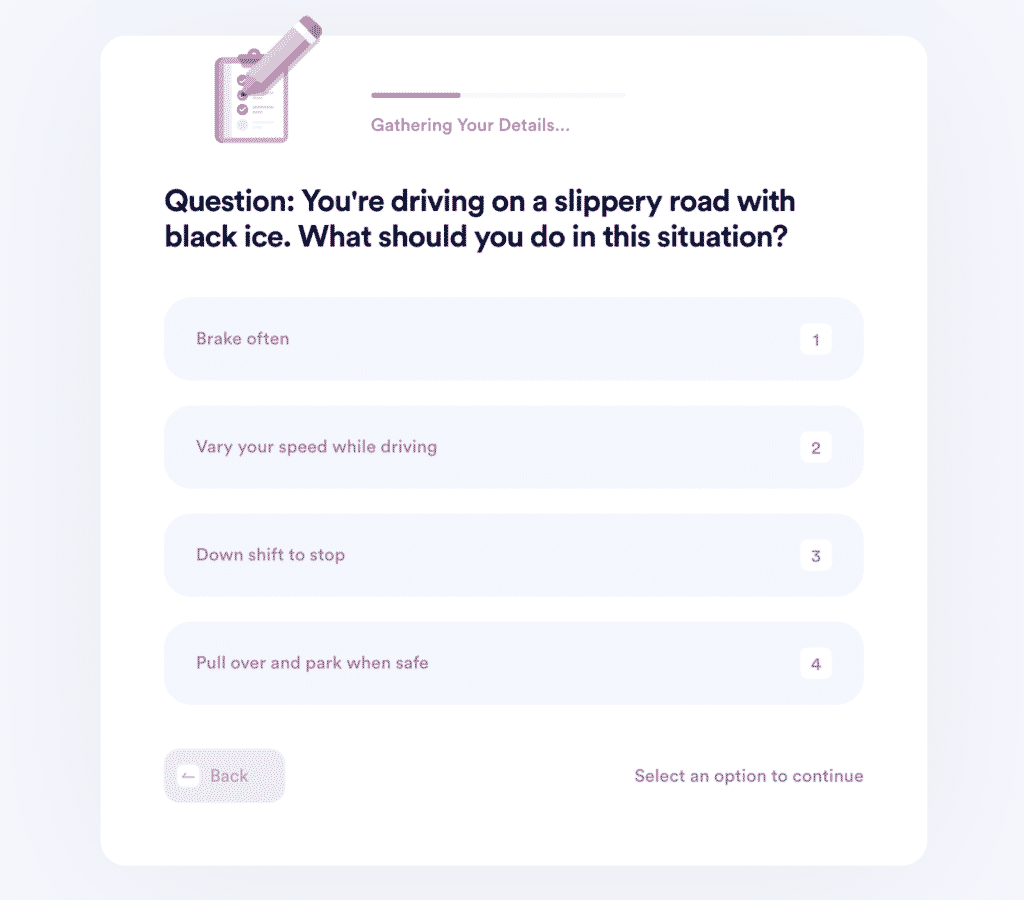 Say Goodbye to All Bureaucratic Chores With DoNotPay
Our goal is to make the preparation for tests—like the ASVAB or Notary Exam—as carefree as possible.
Our knowledge base has solutions for understanding ASVAB scores and scheduling DMV tests. Take advantage of all our tips and make passing your written driving test as easy as pie!
Assisting you with test-related issues isn't our only service. Our app helps you appeal parking tickets in Denver, Chicago, Atlanta, Seattle, Rochester, or any other city in the USA.
You can access the best tips for avoiding tiresome bureaucracy anytime from your and learn how to:
Fight speeding tickets

Appeal traffic citations in the U.S.