Do You Have To Book an In-Person Appointment With a Notary in Washington, PA?
Since you're looking for a way to book a meeting with a notary in Washington, PA, we're happy to show you the quickest option! Besides in-person visits, you can also choose to get your documents notarized online and save a lot of time!
for the fastest online notary service on the market!
Notary in Washington, PA
—How It Works
Notaries in Washington, Pennsylvania, can:
Notarize (sign and stamp) your documents

Witness the document signing

Verify your identity

Check whether you're under the influence during the signing

Make sure you are aware of the contents and of sound mind upon signing
The government appoints the notary to perform these tasks and consequently minimize the chances of fraud and forgery.
If you're curious what documents a notary can notarize for you, here's a list of the most common ones:
How To Prepare for a Visit to a
Notary in Washington, PA
If you plan to visit a notary in Washington, PA, in person, you should get prepared. This is how the process works step-by-step:
Steps

What To Do

Finding a nearby notary office

Use online registries, such as:

You can also visit public places, like:

Contacting the notary

Call or email the office to schedule a meeting

Finding out all about

notary fees

Make sure to inquire about notary fees to avoid any surprise costs once you get there

Preparing your documents

Gather all the documents you want to get notarized to avoid rescheduling the meeting

Bringing your ID

Don't forget to bring proof of identity because a notary must verify your identity before notarizing your documents. It can be your photo ID, passport, or driver's license

Finalizing the procedure

Pay the notary fees and sign the documents. The notary will add his or her

signature

and finish the process
Notary in Washington, PA
—Fees
Notary fees are different throughout the country, but each state sets a maximum fee a notary can charge for a specific act.
A maximum notary fee in Pennsylvania is set at $5 per signature, excluding the costs for additional documents. If you want to get more than one document notarized, you will have to pay an additional fee—from $1 to $5.
Notary Types in Washington, PA
In-person notarization isn't the only way to notarize documents in Pennsylvania. You can also try:
DoNotPay Helps You Get Your Documents Notarized Online Effortlessly!
If you are looking for a quick way to deal with notarization, DoNotPay will show you how to get in touch with a remote notary in a matter of minutes! We made sure the process is simplified to a tee! Follow this simple, three-step guide to get it done:
Choose the

Notarize Any Document

feature and attach your documents

Type in your email address
Our app will send a link to a notary appointment timetable. You can use it to schedule your meeting easily!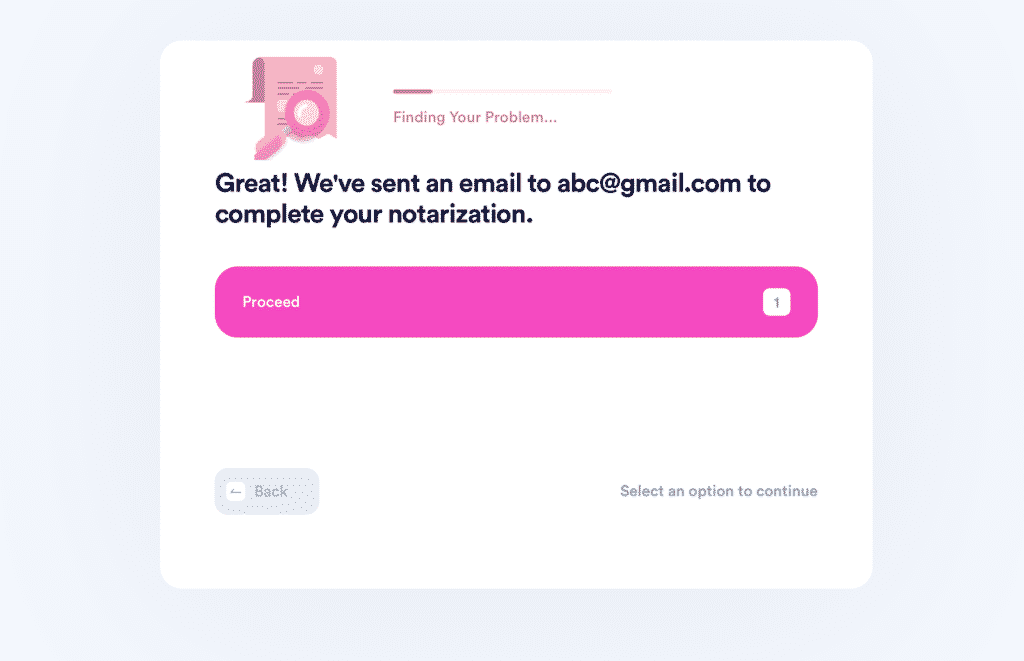 A remote notary will witness the signing of documents over a video call and add their digital signature.
The best part is that we are available 24/7! You can make your appointment using our notary service any time you want.
If you have additional notary-related questions, you can explore DoNotPay's vast database. We can explain all about notary service, including where to find a notary, what a notary does, whether you can notarize a birth certificate, how to get forms and letters notarized, if it is possible to get a diploma or contract notarized, and much more!
We Can Help You Create Legal Documents As Well!
If you ever need to draft a contract quickly, DoNotPay is the perfect solution! Besides helping you get documents notarized, we can also draw them up in a few minutes. Here are the agreements we can generate for you:
Business Contracts

Other Contracts

Non-Disclosure Agreement

Independent Contractor Agreement

Bill of Sale

General Business Contract

Non-Compete Agreement

LLC Operating Rules Document

Residential Lease Agreement

Intent To Purchase Real Estate

Estoppel Certificate

Quitclaim Deed

General Affidavit

Promissory Note

Prenuptial Agreement

Parenting Plan (Child Custody)
There's More DoNotPay Can Do for You
In case you're struggling to cover your bills, our hacks may help you earn or save some extra money. Use our app to sign up for paid clinical trials in your area and try your luck with free raffle tickets. You may not even know that you have funds lying around—rely on DoNotPay to uncover your unclaimed money.
If you have any documents or letters you need to send, we can save you the trouble of using a fax machine or waiting in line at a post office, thanks to our nifty products—Online Fax and Mailing Service.
Fast-Track Your Tasks With DoNotPay
If you've been putting off your errands because they take too long or they are too complicated, we know what to do! From filing insurance claims, getting documents notarized, and getting a child travel consent—there isn't much we can't streamline for you.
You can count on our assistance even for more serious and complex tasks, such as: