Finding a Notary Public in the Upper East Side Doesn't Have To Be a Hassle—Use DoNotPay
Finding a notary public in the Upper East Side and getting your documents notarized can be a tiresome experience. Locating an available notary public in the Big Apple, scheduling an appointment, visiting them in person, and waiting to get the notary's signature is a thing of the past.
You don't need to find a traditional notary public because there are better ways to get a document notarized. Find out everything about notarization from our simple-to-follow article and learn how to get your documents notarized remotely with DoNotPay!
How Does Notarization Work?
Notarization is an official act performed by a notary public whose duty is to witness the signing of a document, thus adding legal weight to it. The purpose of notarization is to avoid fraud and coercion and to have the notary:
Verify the signers' identities by asking them a couple of authorization questions or by checking their IDs

Ensure that all parties are signing the document of their own free will

Check if the signers are sound of mind and not under any influence

Witness the signing of the document

Notarize the document by adding an official

signature

and seal
Notarization doesn't make a document valid, but in some cases, a document is only accepted as legitimate if it's notarized.
What Services Are Notaries in the Upper East Side Allowed To Provide?
Notaries in the Upper East Side are empowered to:
Where Can You Find a Notary in the Upper East Side?
Finding a notary in the Upper East Side can be a chore as you have to check the phonebook or visit one of these websites:
If you want to find a traditional notary, you'll have to see if the following places in the Upper East Side offer notary services:
Prices of Notary Public Services in the Upper East Side
Notaries in the Upper East Side will charge you depending on what you need notarized. Here's a table containing some notary fees:
| | |
| --- | --- |
| Service | Price |
| Jurats | $2.00 each |
| Oaths & affirmations | $2.00 each |
| Protests | $0.75 |
| Proofs | $2.00 and $2.00 for each sworn witness |
| Acknowledgments | $2.00 and $2.00 for each witness |
Types of Notaries Available in the Upper East Side
You can choose to get your documents notarized by various types of notaries, including:
How Does Remote Online Notarization Work?
Apart from being more convenient, online notarization is also safer than the traditional method. To make sure that it's more secure, a notary must complete several steps:
Two-part identity proofing

—a notary must analyze the signer's photo through automated technology and has to ask them several authentication questions

Approved platform usage

—all parties have to communicate via an audio-video call on an approved platform. The call is digitally recorded and stored for a set number of years

Digital seal

—the notary has to sign the document with an electronic seal and a digital signing certificate
If you want to get your documents notarized in a snap, !
Get Your Documents Notarized Online Easily With DoNotPay
The easiest way to get your documents notarized online is to use DoNotPay's neat product that connects you with a remote notary in a matter of clicks!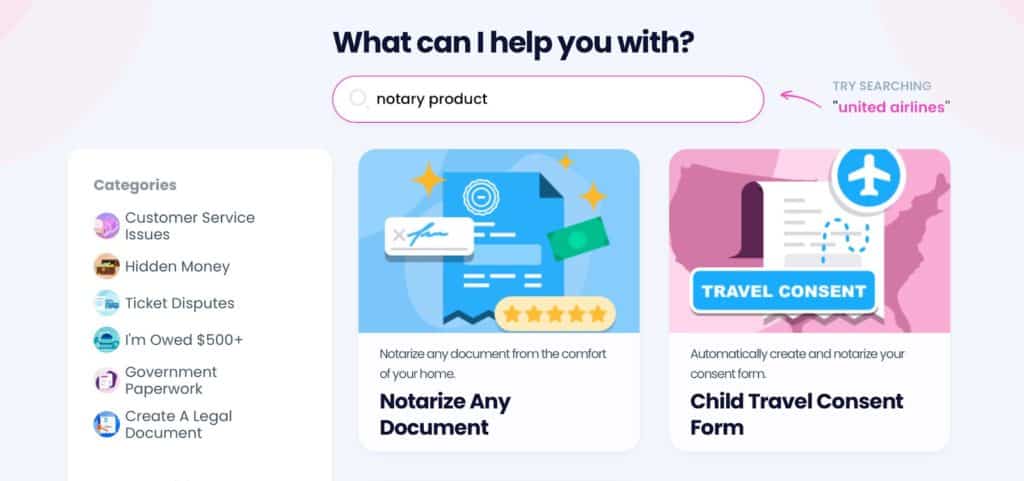 To get your documents notarized with our app, just and:
Choose the

Notarize Any Document

product

Upload the document you need to get notarized

Input your email address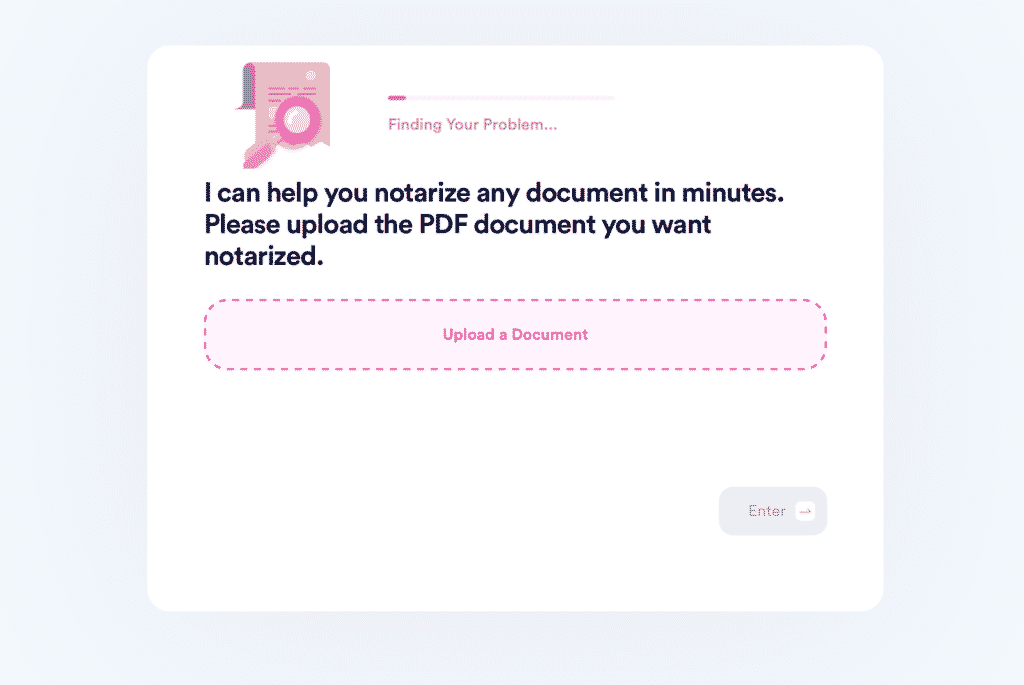 You will then receive an email from us containing a link to schedule an appointment with a remote online notary.
In case you're located in a state that doesn't allow remote online notarization, don't worry because you can always turn to DoNotPay for help! Our app can match you with a notary from another state that allows remote online notarization.
We can connect you with an online notary from: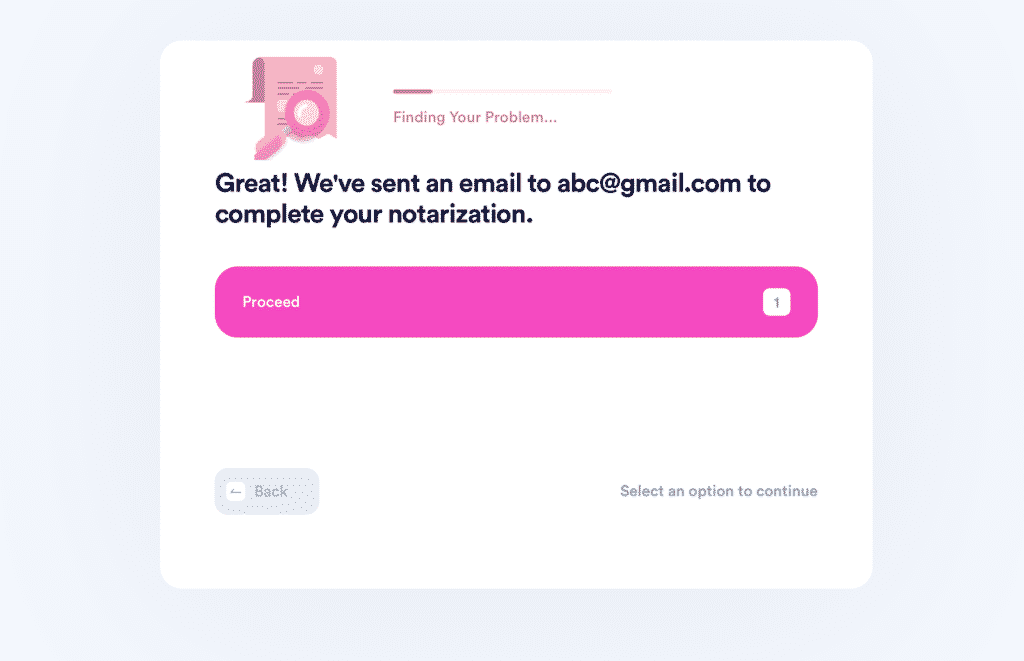 DoNotPay Gets the Job Done—Solve Any Issue Within Several Clicks
DoNotPay is an ever-growing app, which is constantly adding new ways to help you with your everyday tasks and those not so common.
Count on your virtual assistant when you need to:
Have Your Cake and Eat It Too—Earn, Save, and Get Your Money Back
Not only can we help you complete numerous tasks, but we can also make sure your money stays where it belongs—in your wallet. Let DoNotPay assist you in getting different types of refunds and compensation:
Our app can also help you find your unclaimed funds, get free trials and free raffle tickets, and obtain a college fee waiver.