Planning a Visit to a Notary Public in St. Louis? Get the Scoop First!
Many people think that getting their documents notarized in the state of Missouri calls for visiting a notary public. We are here to tell you that paying a visit to a notary public in St. Louis is not the only option!
Instead of spending a ton of time researching notary offices, you can have your documents notarized online in no time!
and gain access to the various features that allow you to write or notarize contracts online from the comfort of your couch!
What Does a
Notary in St. Louis
Do?
Notaries in St. Louis, Missouri, are appointed by government officials to prevent forgery or fraud by witnessing the signing of documents and verifying the signer's identity. Notaries in Missouri notarize the following documents:
Property deeds

Loan documents

Wills

Trusts

Executorships

Custody and guardianship agreements

Court documents

Articles of incorporation

Memorandum of understanding documents

Vendor contracts

Commercial leases

Employment contracts

Construction and loan agreements
What You Should Know Before Visiting a
Notary Public in St. Louis
Before going to a notary public in St. Louis, you should be clear on how the process works and what documents you should bring with you. We list the important steps in the notarization process:
Finding a notary

Inquiring about notary fees

Preparing the documents
Notary Search
There is no shortage of methods you can choose to locate a notary, from online registries to certain public places that offer notary service. The table below provides all the details regarding the notary search:
Notary Fees
Before you schedule an appointment with a notary, you should get acquainted with the costs of their service.
The usual fee per one signature in Missouri is $2, excluding the fees of additional signatures, travel costs, and other expenses you may encounter.
Essential Documents
Gather all of the required documents, such as:
All the documents you wish to get notarized

A document proving your identity (your ID, passport, or driver's license)
A notary won't provide his or her signature nor proceed with the process unless you offer proof of identity.
Once you are certain all the above-mentioned steps are done, you can schedule your appointment. A notary will set a time and date for your meeting, and this usually takes a few days or sometimes weeks. If you are looking for a faster alternative, DoNotPay can provide you with a quick remote notary service.
Online Notarization—Benefits
The online notary services are a better and faster option to get your documents notarized.
One of the biggest benefits is that you can schedule your meeting from any location you choose, be it your living room or your office.
You also don't have to do anything in person. All you have to do is show up to your video meeting and let the notary witness the signing process. They will provide their signature digitally, and you're done!
DoNotPay Has the Online Notary Service You Need!
If you are on a tight schedule and want to avoid wasting time on handling the notarization process in person, DoNotPay's online notary service is exactly what you need. The way it works is quite simple:
Hit the

Notarize Any Document

feature

Provide the documents for notarization along with your email address
After you complete the steps, we send you a link to schedule a meeting with a remote notary. The best part about this service is that you won't have to go anywhere in person, and the notary will conduct the entire notarization procedure virtually!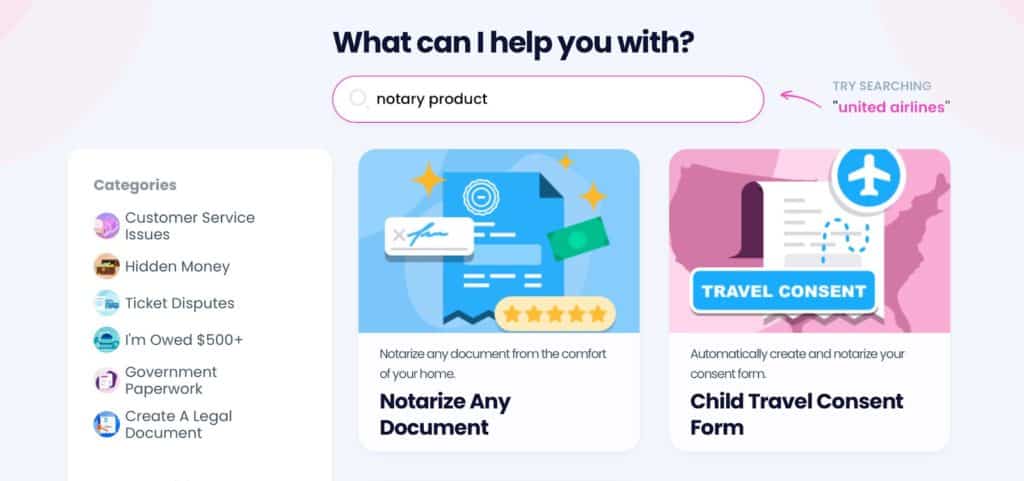 Searching for More Notary-Related Info? Look No Further—We Provide the Answers!
In case you are still unclear on some of the facts regarding notary service, we can clarify them for you. We'll explain:
DoNotPay Helps You Claim Your Money
Our virtual assistant app makes sure you get back funds that are rightfully yours.
Whether you need to claim insurance, warranties, or your property held by the state, we will help you do it in minutes.
DoNotPay can also help you initiate a chargeback on any transaction you disagree with. We can help you secure compensation from airlines, robocall and text scammers, or in case you've been a victim of a crime.
In case you are dealing with an unfair company regarding your subscription cancellation or any other matter, we can help you get your money back by suing them in small claims court.
Bypass the Administration With DoNotPay
There's no more need for extensive research, abundant paperwork, or endless phone calls with customer service reps.
DoNotPay brings the administrative nonsense to a minimum.
Book DMV appointments fast and easy, appeal your parking citations, sign up for free trials without disclosing your credit card info or phone number, or reach your loved ones in jail—all in less than five minutes.
We also generate any legal document, provide full access to public records, offer DMCA protection, and reduce your property taxes with a few clicks.