Find a Notary Public in Riverside, CA, With No Problem
Are you wondering how you can notarize your documents in Riverside? DoNotPay keeps track of notary services within different states and offers valuable information.
In this text, you will get familiar with the common procedures of a notary public in Riverside, CA.
What Services Does a Notary in Riverside Perform?
A notary public in Riverside, California, provides the same services as any other notary across the USA. Some states have different laws and fees, but a notary's primary duty is to verify the authenticity of the signatures on documents.
To do that, notaries will:
Ask you to present a valid photo ID document (e.g., an ID, passport, driver's license, or military ID)

Check and confirm you or witnesses (if required) are signing the document willingly and are of sound mind

Witness the signing process

Put a

notary signature

and stamp on the document
A Notary in Riverside, CA—Types
To have a contract, will, trust, affidavit, or any other legal document notarized in Riverside, you can choose the following notary services:
Notary Service
Steps To Take

Traditional notary's office

Find a notary's office

in Riverside

Get in touch with a notary public

Inquire about notary fees

Set up an appointment

Gather the necessary documents

Take an ID document with you

Visit the notary's office at the agreed time

Provide a thumbprint if you would like to get a

power of attorney

notarized

Find a mobile notary in Riverside

Contact a mobile notary public

Check the

notary costs

Schedule an appointment and provide the address

Collect the documents you would like to get notarized

Prepare an ID document

Expect a notary public to visit you at the agreed time and location
Another option is an online notary public, but you cannot get a notary public from Riverside to perform this for you since remote notarization is not allowed in California.
An online notary will take all the above-listed steps via a video call. If you prefer to get your documents notarized remotely, especially during the COVID-19 pandemic, you can seek notary services in a U.S. state that offers remote online notarization.
Be careful with this option if you live in Riverside or anywhere in California since the online notarization process uses electronic signatures, and these might not be valid for some documents in your state. You can check this with a notary, the California Secretary of State, or an attorney.
Use DoNotPay's Remote Notarization Service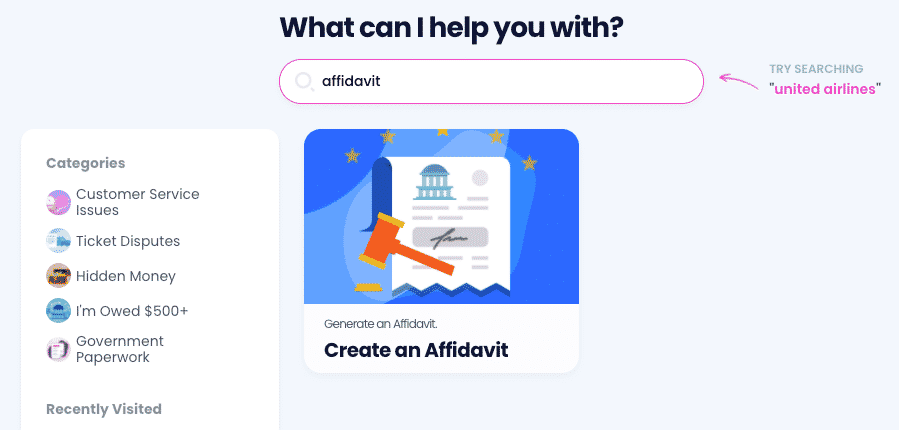 DoNotPay keeps developing new features to make administrative procedures as simple as possible. Our app uses artificial intelligence to help you overcome a lot of issues you come across.
Get your documents notarized remotely via DoNotPay without trouble. To make an appointment with an online notary, take these steps:
from your web browser

Choose the

Notarize Any Document

feature

Upload the document you would like to have notarized

Enter your email address

Go to your email and click on the provided link
The link will direct you to a notary's calendar, where you should choose an available appointment.
Here are some American states we can help you access a remote notary public in:
If you need help preparing a contract, you can turn to a lawyer or use DoNotPay's assistance with this matter, too.
Create a Document Using DoNotPay
A notary in Riverside, CA, cannot help you prepare or complete any documentation. To get assistance with this issue, you can 's Standardized Legal Documents feature.
Select the type of document you would like us to provide for you, enter some essential data, and receive some of the following:
Lease agreement

Prenuptial agreement

Non-compete agreement

Non-disclosure agreement

Independent contractor agreement
Browse through our extensive database and pick a document to meet your personal or business needs.
Where To Search for a Riverside Notary Public
If you are on the lookout for a notary in Riverside, CA, you can use some of the following platforms:
Another option is to find a notary at:
Libraries

Law offices

Courthouses

Stores, e.g.,

AAA

Real estate agents

Police departments

Shipping companies, e.g.,

UPS

Banks

or other financial institutions, e.g.,

Bank of America

or

Wells Fargo
How Much Does a Notary Public in Riverside, CA, Charge?
For regular notary services, such as acknowledgments, jurats, or verbal oaths and affirmations, a notary public in Riverside, CA, will charge $15.
The fees may vary depending on:
The documents you need to get notarized

Whether you would like the notary to visit you at your home, office, or any other place (extra travel fees will apply depending on the mileage and type of place—e.g., notaries might charge you more if you would like them to come to a hospital or jail)
Make sure you inquire about the fees the first time you get in touch with a notary.
DoNotPay Is Your Shortcut Through Bureaucracy
With our app, you don't have to spend hours figuring out how to request a refund, cancel a service, or book a DMV appointment.
We take over all the hard work! Forget about waiting in a phone queue for hours in hopes of reaching a customer service rep. Our AI-powered app will call any company for you and ping you when a human appears on the other end of the line.
DoNotPay also speeds up the process of filing insurance claims, claiming warranties, reducing property tax, and drafting various legal docs.
Keep the Communication Lines Clear With DoNotPay
Do you know how powerful DoNotPay's virtual credit card is?
This super-smart feature can not only sign you up for no-risk free trials but can provide you with an alternative email address. You can test any service without giving out your real email, which will keep your inbox clean from spam!
If you have family or friends within the U.S. prison system, our app helps you get in touch with them quickly.
We can also make sure you don't become a target of text and robocall scammers! Keep your phone number private and avoid this type of harassment by using our Burner Phone feature!
In case you need to fax a document, there is no need to search for the instruction manual on how to operate a fax machine. DoNotPay makes it simple to send online faxes anywhere!